1. When is the best time to visit the Three Gorges region?
The best time to visit Yichang and the Three Gorges region, and especially to take a cruise, is spring or autumn such as the months April, May, September and October because that is when the weather is most cool and comfortable. Other times in the year may be monsoon season, hot and humid summers, or winter chill. The wintertime, however, offers some discounts on cruises.
2. How is the weather in the Three Gorges region? What should I pack?
There are all 4 seasons in the Sanxia area. The summers are hot and humid, making it difficult to enjoy the outdoors at times, and the winters are very frigid. Rainfall is common throughout the year. Because of this, it is always recommended to pack raingear during your Three Gorges cruise or tour. In the summer, light and cotton clothing is best, also with some sun protection such as long sleeves and hats. In the winter, due to the freezing cold, be sure to bring protective clothing such as down jackets, hats, gloves, scarves, and warm shoes. In the spring or autumn, layers are best since the weather could go either way. Comfortable walking shoes is recommended year round since the cruises and land excursions involve a good amount of walking.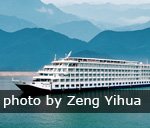 Want to go to Three Gorges Region? Join our Yangtze Cruises. We can customize a trip for your requirements as well.
3. How do I arrive to the Three Gorges region?
One of the most popular and memorable ways of seeing this amazing landscape is via cruise from Yichang to Chongqing. These are generally 3 or 4 night cruises depending if you are going downstream or upstream. If you are in Yichang, it is also convenient and economic to get to Sanxia by bus.
4. How do I arrive to the Three Gorges region by air?
The closest airport is in Yichang city, and the airport is 40 minutes driving from the city center. These flights connect with the rest of China such as Beijing, Shanghai, Guanzhou, Shenzhen, Wuhan, Xian, etc.
5. How do I arrive to the Three Gorges region by train?
There are no trains that go directly to Sanxia. However, it is easy to take a train from throughout China to Yichang, the closest city to the Three Gorges region. There is an old train station in the city center, but most new train routes now stop at the Yichang East station about 10 kilometers away. Take a bus from this train station to the Yemingzhu bus station to catch bus 8 to the Three Gorges Dam.
6. How do I arrive to the Three Gorges region by bus?
Yichang city is about 30 kilometers (18 miles) from the Three Gorges scenic area and 55 kilometers (36 miles) from the Three Gorges Dam. To get to the Three Gorges Dam, take from Yichang buses 1, 10, 21, 100, or 101 to Yemingzhu Station, then take bus 8 to the Liuzhashou Tourist Reception Center, from which you will take one more minibus to visit the dam area. Or, from Yichang you can take buses 3, 4, 9, 21, or 100 and get off at Dongshan Dadao (opposite Pinghu Hotel) and continue your journey via small tour bus or bus 8 to the same Liuzhashou Tourist Reception Center. Outbound bus lines also connect the area to the city of Wuhan.
7. How do I travel by cruise in the Three Gorges region?
Many people arrange with a travel company to confirm their cruise through the beautiful gorge landscape. There are Yangtze River cruises that sail between Yichang (the closet city to Sanxia) and Chongqing regularly; this is a tourist favorite. These journeys are 3 nights when sailing downstream and 4 nights when sailing upstream. Along the way, the vessels make various stops to visit onshore highlights, and all meals are included. This is a great way to relax and sightsee at the same time. As for getting out of the region, there are boats that arrive from various outside destinations, getting to the scenic site around 1 or 1:30pm every day. When they depart, they can take to connect with a bus to Wuhan and then the rest of China.
8. What souvenirs can I find in the Three Gorges region?
The best souvenirs you might find are photos you take on your own, so be sure to bring your camera! In shops, you'll find many items recalling the beauty of the Yangzte River which defines the geography of this region, such as paintings. In Yichang, be sure to try some citrus fruits such as red citrus and navel oranges. Some of these trees are said to have been planted over 2 millennia ago! Another Yichang favorite is tea, especially green, chunmei, jasmine chunjian, yihong kungfu, cactus, and luyuan tea.
9. Where can I buy regional Sanxia items and local products?
In Yichang, one of the best shopping areas is Yiling Square which covers a large 55,200 square meters. Many shopping malls and boutique shops can also be found in the small city, such as the International Trade Building on Dongshan Road in Yiling Square and Shui Jing Chang (Crystal Factory) on Tao Hua Cun Road. Yasi Shopping Plaza is a big supermarket where you can try local foods.