1. When is the best visiting time to Shigatse ?
Famous for legendary Mountain Everest, the small Tibetan town Shigatse drives countless adventurers. It is subject to a typical plateau monsoon climate with semi-arid feature. Known as an ideal place for summer, Shigatse has a relatively comfortable weather in summer yet harsh in winter. The annually highest temperature is 23C (73.4F) and it gets down to -25C (-13F). The annual average temperature is 6.3C (43.34F). A trip to Shigatse is often featured with a leg to Mt. Everest, thus the best time to come is April to June. 
Mountain Kailash (冈仁波齐), the Holy Mountain, is located 4-day-drive-away from Shigatse. Circumambulation around the Holy Mountain is a grand occasion for Tibetan Buddhists. If planning to be a part of it, do come during July to September when it is not snowing and road condition is good.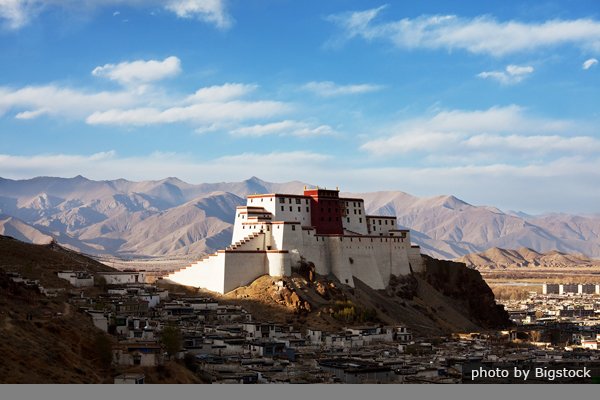 2. How is the weather in Shigatse? Any tips for clothing?
   Due to its high elevation, an average of 4,000meters (13,123.3ft), Shigatse presents its travelers with a cold, harsh and dry weather. Winter lasts from October to next April, spring is extremely short and suddenly it's summer from June to August, leaving one month before the freezing wind blows. The best travel time, namely April to June, has a relatively welcoming weather, average temperature of 3℃to 20℃, dry, breezy and always sunny. Must-wear clothes include down coats or thick over coats (better with water-proof layer), sweater, scarf, gloves, long pants and sun glasses. Sunblock is also needed.
3. How to go to Shigatse?
Travelers can get in and out of Shigatse by air, train or overland. Air and train would be nicer transportation than overland in winter.
4. How to go to Shigatse by air?
Shigatse Peace Airport (日喀则和平机场, IATA code: RKZ) is known as the highest airport in the world, also Shigatse's one and only airport. It is located 43km outside Shigatse. Flight between Shigatse and Chengdu is the only route in operation of this airport, flying every Monday, Wednesday and Friday. With 40-minute drive to the airport, travelers should leave enough time for the early flight at 6:20am departing from Shigatse. 
5. How to go to Shigatse by train?
A ride to the roof of the world can be adventurous and romantic. There is only one train to Shigatse, K9822 from Lhasa (and K9821 versa vice). K9822 departs at 5:30pm and arrives at 8:27pm.
6. How to go to Shigatse by bus?
Travelers can take a bus to Shigatse from Lhasa, costing CNY50 to 80 per person and taking 4 1/2 hours to 5 hours en route. Bus stations in Lhasa: Xijiao Bus Station (西郊客运车站), 30 minutes away from downtown and 1 hour from Lhasa airport. Note that the bus doesn't set off until it's fully loaded and most of the buses are old and dingy. Most travel companies have their own cars or vans, the drive along G318 Express, taking 4 hours.
7. How many bus stations/train stations in Shigatse? How to get in and out?
Bus station
There are two bus stations in Shigatse: Dongjiao Bus Station (东郊客运站) and Shigatse Bus Station (日喀则汽车站). The former one is located in 15, Qingdao Road, 20 minutes to downtown by Bus No. 1. Airport shuttle bus gets passengers to the Aviation Community (民航小区) and you can get a taxi elsewhere. Shigatse Bus Station is located 1, Shanghai Road, also 20 minutes to downtown by Bus No.1, 1 hour to the airport.
Train station
Newly open in August, 2014, Shigatse Train Station (日喀则火车站) is the very terminal of the Lhasa – Shigatse Railway (拉日铁路), 253km from Lhasa. It is located in Zhandui Village (占堆村) of Jiacuoxiong County (甲措雄乡), 2 1/2 km away from Shigatse City. So far, the train station has only one route between Lhasa and Shigatse, passing 4 cities en route. Travelers need to take a shuttle bus or a taxi to get to downtown.
8. What souvenirs can we buy in Shigatse?
Shigatse, just like other places in Tibet, keeps the old fashion of traditional craftsmanship much alive. Things that people are using from household to household can make great souvenirs for shoppers. Tibetan knives and carpets are the most famous items.
Tibetan knives
Regardless age or sex, Tibetan people used to carry a knife for self-defense, cutting meat or bones, or even used for Water Burial and Sky Burial as a tool. Up to meters of length and down to just over a handbreadth, Tibetan Knives now serve more like an elegant accessory than a living tool. The handles are made of nice yak bones, horns or hard woods. Covered in wood or leather, sometimes entwined with silver and copper, the scabbard conceals the bright and sharp blades that are made of nice steel.
Note that Tibetan knives cannot be brought onto flights. Foreign travelers shall mail the knives back home, via UPS or FedEx. Get this done at a local post office or at the hotel.
Tibetan carpets
The craftsmanship of Tibetan carpets is a form of art that traces back to over a thousand years ago. However, it was a lowly-respected industry with quite a few high-end products owned by prominent spiritual figures. The carpets are made of highland sheep's wool, oftentimes in rectangle shape. Most makers use natural dyes such as madder (red), indigo (blue), Tibetan rhubarb (yellow), Tibetan walnut (brown and grey) and greenish colors. The designs and motifs show larger diversity that before, as a result of the international travelers' growing interests in such traditional art. May it be complex patterns or brighter and more colors, Tibetan carpets hold a strong relation with Tibetan Buddhism and local tales. These carpets are very practical, too: small one can be table clothing, cushion wraps, wall-hanging clothe and simply carpeting.  
Most of the Tibetan carpets on the market are bulk produced, yet some top-notch ones are tailored and hand-made. Factories always produce one pattern by the pair, so the customers should also purchase by the pair, not one by one.
Other things to go in your shopping list
Aside from Tibetan knives and Tibetan carpets, travelers will be thrilled to find some very tasteful silver/gold wares, wooden bowls, Tibetan-style boots, furry hats, silver/gold accessories (such as earrings, bracelets and hair ornaments), hand-made smoking pipes and kitchen supplies (such as bowls, spoons and plates).
9. Where can we buy Shigatse souvenirs and local products?
Consider Shigatse is the best shopping place to fill up your suitcase before you leave China. The following locations are where the locals shop, just go and check them out!
Shigatse Fair Market (日喀则集市)
Located in the north corner of Shigatse City, the market sells daily household supplies, trinkets, tourist souvenirs and local snacks. Watch and learn how the local shoppers bargain.
Address: North corner of Shigatse City
How to get there: Take a taxi to get there, 15 minutes
Zahi Jicai (扎西吉彩)
The small village by the south edge of Shigatse City is the birthplace of Tibetan metal wares. Here travelers can not only purchase gorgeous items just right out of the workshop, but also learn about the process.
Address: South corner of Shigatse
How to get there: take a taxi to get there, 10 minutes
Xigezi Pedestrian (喜格孜步行街)
It is a pretty much modern commercial street featuring with Tibetan-style houses on both sides. Travelers can shop, walk and dine after a visit to Tashilhunpo Monastery at its east side. The street focuses on local food and Tibetan medicine.
Address: between Zhufeng Road and Qingdao Road
How to get there: take a taxi to get there, 10 minutes; walk westward from Tashilhunpo Monastery, 5 minutes.