How to go to Xishuangbanna?
Located at the ultmost southeast part of China, Xishuangbanna is not only the major city link Southeast Asia and south Asia with China, but also a window of Yunnan province faced to the visitors all over the world. The varieties of transportation to Xishuangbanna make it convenience for visitors to enjoy the charming view.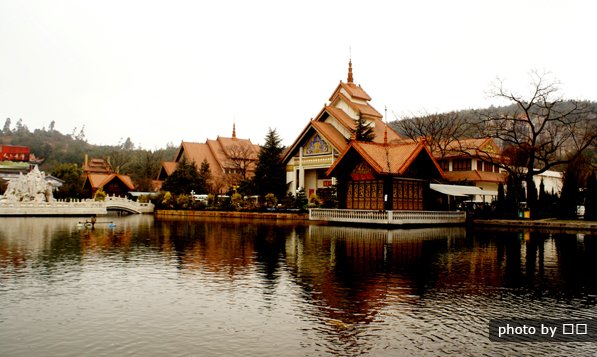 Air Transport
There is no nonstop flight to Xishaungbanna. Visitors can fly to Kunming and transfer the flight to Xishuangbanna. There are a large number of Flights from Kunming to Jinghong City every day. From Kunming to Jinghong, it will take about 45 minutes. Jinghong city is the capotal city of Dai Autonomous Prefecture of Xishuangbanna. Xishuangbanna Airport is only 5 kilometers away from Jinghong City. There are more than six flights every day for visitors to choose from.
Highway System
With the fast development of China, the transportation net in China tends to be mature. Visitors can go to Xishuangbanna from the cities neighbouring to it, like Kunming, Nanning and Dali.
Travel from Kunming to Jinghong:
The expressway from Kunming to Jinghong is so fully complement that visitors will only cost 9 hours between the two cities. The bus services between Kunming and Jinghong are up to 20 in Kunming Long Distance Bus Station. Ticket ranges in price from 150Yuan to 200Yuan.
Travel from Nanning to Jinghong
The expressway between Kunming and Bangkok of Thailand makes it convenience for travelers to go such a long distance buses to and from Nanning and Jinghong and provides a good chance for Xishuangbanna to develop its tourism. It takes 22 hours from Nanning in Jiangnan Long-distance Bus Station to Jinghong and it is available at 9:30am every day.     
Travel from Dali to Jinghong
From Dali to Jinghong there are two buses start at 19:30pm and 20:30pm everyday at Dali Long-distance Bus Station.
How to get to the Jinghong City?
Jinghong City is located in center of Dai Autonomous Prefecture of Xishuangbanna, south of Yunnan Province, which is the capital city of Dai Autonomous Prefecture of Xishuangbanna. Jinghong is an edge city with subtropical scenery and rich ethnic characteristic. 
The length of highway traffic between Xishuangbanna and Jinghong City is 602 kilometers. At present, the highways from Mengla and Menghai to Jinghong have already opened. It is about 9 hours to take a regular bus from Kunming to Jinghong. Besides, it is very convenience for visitors to take a bus at the Jinghong bus station to all the scenic spots of Xishuangbanna. It takes about 20 hours with the ticket price varying from 100 to 170Yuan. From Kunming to Jinghong City, visitors can take a bus at Kunming bus station.
How is the transportation in Xishuangbanna?
Buses
There are several buses driving you to all the scenic spots in Jinghong city.
Taxis
In Xishuangbanna, the flag-fall price of all the taxies in the urban district is 7Yuan. It is guarantee to make sure that the driver uses the meter. If the drivers don't obey the rule, you may refuse to pay or complain to the company by call.
Travel Taxi Rental Company: Tel: 0691-2127150
Address: Mingzu Nanlu(The Southern Minority Road)
Wanli Travek Taxi Rental Company: Tel: 0691-2124704
Address: Northern Jinghong Road
Bicycle 
Bicycle is the best transportation means to enjoy the sightseeing In the small city. All the Hotels offer bicycle rental service
Rickshaw
Rickshaw is a highlight in Xishuangbanna. Visitors can hire a rickshaw to experience the transportation of old China and visit the city with fare of 2 Yuan.
How to go to the National Minorities Park?
It is four kilometers from the airport, visitors can take No.1 Bus to get there or can hire a rickshaw or walk there from Jinghong city.
How to go to the Manfeilong White Pagoda?
Visitors can take the bus from Jinghong city to Damenglong. Every 30 minutes runs a bus which costs 10 Yuan.
How to go to the Wild Elephant Valley?
It is located 47 kilometers from Jinghong City. There is nonstop bus from Jinghong bus station to the Wild Elephant Valley. Visitors can take it and the ticket price is 12 Yuan. In addition, visitors can take a bus from Simao to Jinghong or Mengla, which passes by Wild Elephant Valley. But you should remind the driver to stop at the Wild Elephant Valley stop.
Is there any local featrued food?
The residents of Xishuangbanna mostly are people of Dai Minority. Dai ethnic cuisine is one of the famous cuisines among Yunnan Cuisine. Local people use stick rice, vinegar, grill and aquatic products as the basic ingredients and seasoned with wild flavor. The highlight representative dishes are Fragrant Bamboo Rice, Boiled Fish with Pickled Bamboo Shoot and Chili and Fish Grilled by Fragrant Grass and Charcoal. Nanmi(南秘), Rice Cooked In Fragrant Bamboo(香竹饭), Toasted Fish with Xiangmao(香茅草烤鱼), Sour Ant Eggs(酸蚂蚁蛋) are famous local cuisine.
What local specialties can be bought in Xishuangbanna?
Puer Tea
Puer tea is famous in China and Xishuangbanna is the home of China's famous Puer tea. The oldest tea tree in Xishaungbanna has a age of 700 years. All the six most major Puer tea fields in China are all located in Xishuangbanna. Dating back to the Ming Dynasty, Puer tea was sold to the middle and eastern Asia and was one of the most important trading goods and gift for keeping good relationship to other countries in the ancient Tea-Horse Trading Route.
Local Handicraft
Women of Dai, Hani, Laku, and Jino are good at weaving cloth by themselves. They also have the tradition to embroider beautiful pattern on the clothes of their own. Therefore, brocade and embroidery with local ethnic characteristics are also popular with visitors.
Rare Medicinal Herbs
Medicine in Yunnan is popular in China and the effect runs from mouth to mouth. Local people can pick a lot of rare medicinal herbs in the forest of Xishuangbanna. Among them, Xiejie (Sanguis Draconis), also known as Qilingsha in Chinese, is the most famous. It has a remarkable curative effect on injuries from falls, fractures, contusions and strains, to relieve the pain from rheumatism and to treat some gynecological diseases in the Chinese medicine.
Silver Ornaments and Jewelry
It is common to see the minority ethnic people in Xishuangbanna wearing silver ornaments and jewelry, such as chaplet, earring, bracelet, armlet, hairpin, anklet, plastron, finger ring and waistband. In ancient time, the silver ornaments used to be made by hands, but now in order to increase the efficiency of making ornaments and jewelry, factories are built to produce local golden, silver ornaments and jewelry the same as the national standard.
Where to buy the specialties?
Visitors had better not to go to the bazaar or street market to buy the specialties because there are always fake goods in those markets. On the contrary, the quality of the specialties in the big shopping malls is guaranteed.
What should be prepared to go to Xishuangbanna?
On the high altitude in Yunnan, the position of Xishuangbanna is at a relatively lower altitude. Because of it is close to the equator, it has a tropical climate. With plenty of sunshine, it is a place where all the year there will be not very cold day and the average temperature is 16℃ during January, when it is winter in most places throughout China. The hottest day in Xishuangbanna is as warm as autumn. The highest monthly average temperature is 28℃. In a year, Xishuangbanna is divided into dry season and wet season. The dry season is from November to April and the wet season is from May to October. Local people say that "it is a region without winter where summer lasts long; autumn comes after raining." Therefore, visitors can prepare some clothes for spring.
When is the best visiting time to Xishuangbanna?
From November to April is the best time to visit Xishuangbanna is. During this period, the weather gets dry and it is agreeable and the temperature is gentle. Xishuangbanna has plenty of tropical fruit and if you would like to taste the fruit here, it is a good choice to travel from June to September. Thanks to the high quality of the highway, tourism is free from the rainy season from May to November.