1. When is the best visiting time to Yuayang?
Unlike Beijing, Xi'an, Shanghai or other popular tourists cities, Yuanyang has a comparatively distinguish timeline for traveling. Considering the main focus for a Yuanyang trip is to photograph the rice terrace fields, travelers might want to plan the trip during the best photographic time according to the local farming schedule.
Planting starts in May, harvest comes in September and the rice terrace fields are being watered in December. Thus it is rewarding to come between November and next April, January and February being the best time for chance of misty terrace fields at dawn. Ahead booking is needed if come during Chinese New Year, normally in late January or early February. Summer time is the secondary best visiting time, especially combined Yuanyang with Dongchuan (东川), the later location is famous for colorful earth-lands and exotic minority life.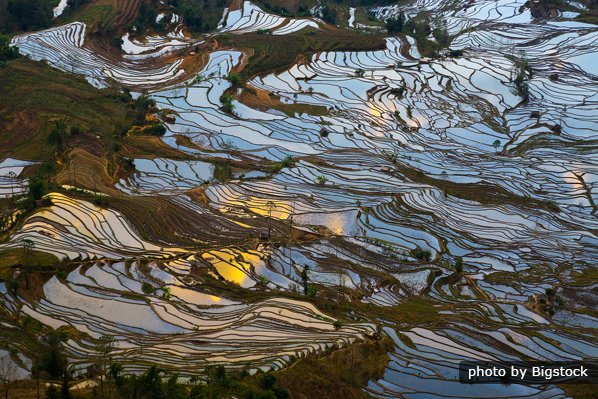 2. How is the weather in Yuanyang? Any tips for clothing?
   Yuanyang is subject to the influence of subtropical monsoons and has a hot and wet climate. Due to its rapid-changing landforms, Yuanyang has a vivid vertical distribution of temperature that gives a large temperature variation. Scenic area of the terrace fields is located on the mountain with 1,800m altitude, where the average temperature can be 10°to 20°year round. Most online weather forecast shows the data of Yuanyang Town, which is a big higher than the scenic area.
   Come between December to next February, travelers should prepare for cold weather. Down coat, long pants, hiking shoes and scarf, gloves if needed. Summer and autumn are hot and wet, easy-dry clothes, short pants, sun glasses, sun screen and hats should be in your packing list.
3. How to go to Yuanyang?
Overland is the only way in and out of Yuanyang. Kunming is the starting point for any road trip to Yuanyang. A coach to Yuanyang from Kunming takes 6 to 8 hours. Kunming South Bus Station has bus to Yuanyang three times a day, price from CNY100 to 140/person. Another way is to get to Jianshui by train first and take a bus to Yuanyang. Kunming to Jianshui is 3 hours en route and costs CNY44/person. 3 hours from Jianshui (建水) to Yuanyang. Mengzi (蒙自), less than 100km away from Yuanyang, has a train station and trains from Kunming take about 4 hours. 
Some travelers want to pack up Yuanyang with Dali or Lijiang. However, they are at the opposite directions with Kunming in half way, which means you will have to get back to Kunming no matter which destination to go first.
4. How to go to Yuanyang by air?
There is no airport in Yuanyang. Taking domestic flight, travelers can either fly to Kunming or Wenshan (文山), respectively 6 to 8 hours to Yuanyang and 5 hours overland.
5. How to go to Yuanyang by train?
There is no train station in Yuanyang. Travelers can enter Yunnan by train to Kunming, Mengzi and Yuxi, and then change to bus to get to Yuanyang. 
6. How to go to Yuanyang by bus?
Kunming is the biggest hub for buses to Yuanyang, second ones are Jianshui and Mengzi. Buses from Kunming set off at Kunming South Bus Station three times every day, taking 6 to 8 hours, with a cost of CNY100 to 140/person. Yuanyang tour booked with a local travel company will have exclusive private car for transportation, which goes the highway and cuts the road to 6 hours from Kunming.
7. How many bus stations in Yuanyang? How to get in and out?
There are 7 bus stations in Yuanyang town, but only 1 that is in good condition and major use, Nansha Bus Center (南沙客运中心). It is located in the new town of Yuanyang on Renmin Road. Buses from Kunming, Jianshui, Mengzi, Gejiu and other cities hit the final destination. 1 hour away from Nansha, buses get to the old town, aka Xinjie Town (新街镇), which is the accommodation center for travelers. Terrace fields are located in Duoyishu Village (多衣树) and Hani Village (哈尼村), just a little distance away from Xinjie by local minivan.
8. What souvenirs can we buy in Yuanyang?
The best and most common souvenir must be the postcards. Terrace fields at dawn or dusk, Hani people planting in the fields, and simply village scenery can make a nice present to mail home. Yuanyang is home to the Hani people (哈尼族) and Yi people (彝族). Their multi-colored handmade clothes or silver trinkets are hit items in local markets. One of the most interesting souvenirs is the handmade smoking pipe. They are made of fine timber, common woods or metal, size down to a handbreadth or up to an arm-long. Yuanyang treats foodies well. Travelers can pack away some local snacks, including beef jerky, rice wine, Yuanyang Foggy Tea (元阳云雾茶) and red rice. 
9. Where can we buy Yuanyang souvenirs and local products?
Shopping is part of the fun in a Yuanyang trip. For tourist souvenirs, such as postcards and some table craftworks, you can find them in the shops near the scenic area or gift shop of a hotel. There are no big shopping malls; only local markets open on schedule, which are called Ganji (赶集). There are 5 major markets worth checking out: Xinjie (新街), Shalatuo (沙拉托), Shengcun Village (胜村), Laomeng (老勐), and Majie (马街). The market dates are different, so travelers must ask the locals for a certain time. There is also a daily market in Nanshan Town, Yuanbao Trading Market (元宝集贸市场). It would be nice to simply watch people come and go.