Chengdu and Guangzhou offer 72 hour free visa travels after Beijing and Shanghai in June in 2013
Published by  meimeili at 2013/6/28;
When you fly to Chengdu Shuangliu International Airport with a flight ticket to a third country, you can apply for a 72-hour visa-free stay in Chengdu in June in 2013. Besides, you have to be a member of 45 countries which can benefit from the policy. And the policy will be carried out in Guangzhou Baiyun International Airport soon. Travelers can enjoy a short travel without a Chinese visa in Chengdu and Guangzhou after Beijing and Shanghai. 
Chengdu is the fourth city where travelers can apply for the 72-hours visa-free stay, however, it is the only city in Southwest China. During your stay, you can only stay in administrative areas of Chengdu. Guangzhou is the third city which successfully applied for the policy, and more detail information about 72 hours visa-free travel in Guangzhou will be updated soon. 
45 countries in Chengdu are as same as the ones in Beijing and Shanghai. They are: 
24 countries in the European Union: Austria, Belgium, Czech Republic, Denmark, Estonia, Finland, France, Germany, Greece, Hungary, Iceland , Italy, Latvia, Lithuania, Luxembourg, Malta, Netherlands, Poland, Portugal, Slovakia, Slovenia, Spain, Sweden, and Switzerland.
Other 7 European Countries: Russia, the United Kingdom, Ireland, Cyprus, Bulgaria, and Romania, Ukraine.
6 countries in the Americas: United States, Canada, Brazil, Mexico, Argentina, and Chile.
2 countries in Oceania: Australia, and New Zealand.
6 countries in Asia: Korea, Japan, Singapore, Brunei, the United Arab Emirates, and Qatar.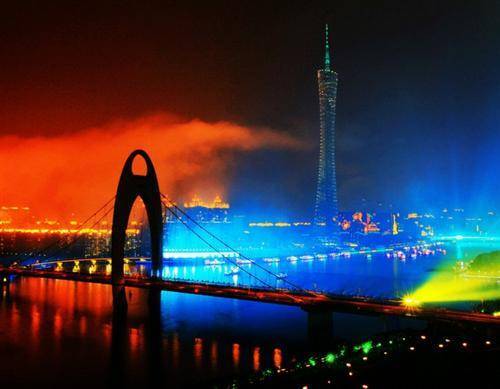 Guangzhou
As a famous leisure travel destination in China, Chengdu has rich travel resources. Jinli Street and Kuan Alley and Zhai Alley are old ancient streets which stand for ancient Southwest China's streets. As the hometown of unique Giant Pandas, you should not miss Chengdu Panda Breeding and Research Center during your stay in Chengdu. And you can visit some historic relics such as Du Fu's Thatched Cottage, Wuhou Memorial Temple. Chunxi Road and Tianfu Square are the most prosperous and bustling areas in Chengdu.
You should also try some authentic Sichuan cuisine or Cantonese cuisine during your stay in China. To take a night cruise along the Pearl River is a great choice to enjoy Guangzhou's night life. Canton Tower, White Cloud Mountain and Xiguan Ancient Houses are popular attractions in Guangzhou.
If you want to visit some attractions in Chengdu or Guangzhou, China Travel can tailor-make a tour including them, which can save your time, money, and trouble. Please feel free to tell us your tour ideas!
Related Links:
Travel Confidently with Us

10,000 Satisfied Customers

50 Years in China Travel Industry

Quick Response within 24 hours

Secured Online Payment

Group Tours with Solo Adventure
No Hidden Fees and No Traps