2013 Yi Torch Festival in Xichang Starts on July 31th
Published by  meimeili at 2013/7/11;
Welcome to play fires in Xichang! Large-scale Yi People's Torch Festival will start from July 31th to August 30th in 2013. It will be grandly held in Liangshan Nationality Culture and Art Center Ji Torch Square of Xichang in Sichuan Province (in Southwest China). Numerous travelers from the whole world will head to Xichang to join in the Torch Festival carnival.
Yi Torch Festival Culture and Activities
The Yi ethnic group inhabit in Xichang where the traditional and original Torch Festival culture is well preserved. There will be dozens of bonfires burning on a 106 meters long avenue, and thousands of people will take part in the carnival with torches in hands.
Held in summer every year, Xichang Torch Festival has a more than 1,000–year history. During the Torch Festival, Yi people dress festive costumes to hold a series of activities such as singing songs, dancing, horse racing and traditional wrestling.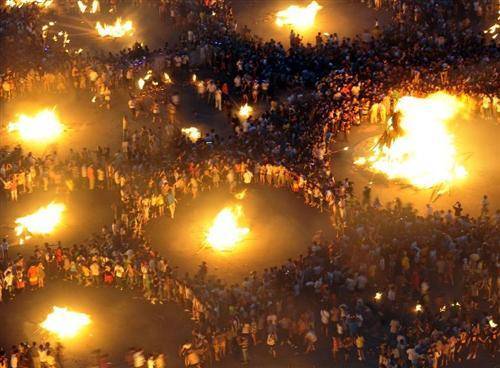 Torch Festival Carnival
With a theme of "cool summer; burning passion torches", the Torch Festival in 2013 will have more than 40 activities divided to tourism, culture, sports and trade. The opening Torch Festival Gala will be grand held on the first evening. During the festivals, there will be a lot of traditional activities such as Yi beauty contest, the" daughter of the moon" selection contest, Qionghai Lake Cycling Match and bull fighting. The Torch Festival carnival will start at 20:00 on August 3th with a fire sea of 100,000 torches.
Other Travel Information
Location: It will be held in Liangshan Nationality Culture and Art Center Ji Torch Square, Xichang City, Liangshan Yi Autonomous Prefecture, Sichuan Province. (四川省市凉山彝族自治州西昌市凉山民族文化艺术中心暨火把广场))
Duration: July 31th to August 30th in 2013
Transport:
1. You can transfer from Kunming in Yunnan Province or Chengdu in Sichuan Province by train. There are no direct trains from Chongqing and Guiyang in Guizhou Province.

2. You can take Bus 6 to Mingdian Street(名店街) from the Xichang Railway Station, and then Bus 14, 105 and 106 are available to the Torch Square.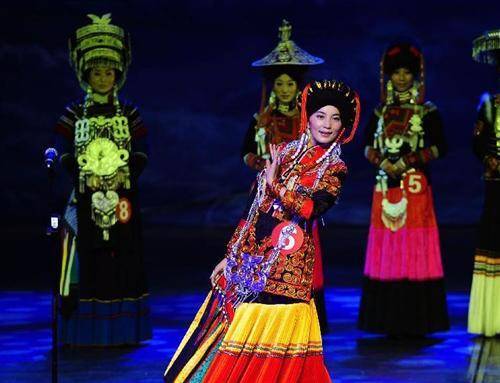 Yi Beauty Contest
Luoji Mountain and Qionghai Lake Scenic Area are popular destinations in Xichang. China Travel is specialized in Group Tours with Solo Adventure! If you want to see the Yi's Torch Festival in Xichang, China Travel can tailor-make a tour including Xichang, which can save your time, money, and trouble. Please feel free to tell us your tour ideas!
See more on China Travel:
1. 5 Day Chengdu Panda Tour is from 809 USD per person.
2. 4 Day Panda Keeper Program and Chengdu Highlights Tour is from 749 USD per person.
3. 3 Day Memories of Kunming Tour is from 319 USD per person.
Travel Confidently with Us

10,000 Satisfied Customers

50 Years in China Travel Industry

Quick Response within 24 hours

Secured Online Payment

Group Tours with Solo Adventure
No Hidden Fees and No Traps