2013 Lhasa Shoton Festival Celebration Will Start on August 6th
Published by  meimeili at 2013/7/15;
Lhasa will celebrate Tibetan Shoton Festival from August 6th to August 12th in 2013. Hundreds of Buddhists will take part in the grandest and longest festival in Tibet.
Shoton Festival Celebrations
Shoton Festival is one of the most important and longest traditional festivals for Tibetan Buddhisists. The festival usually is held at the end of June or the beginning of July in Tibetan calendar.

At the beginning, Sho Dun means "yogurt banquet" to Tibetan people as family members bring yogurt to welcome Buddhists who have finished their Nazaritism in the temple. Nowadays, there are a series of celebrations consisting of "Buddha Displaying", Tibetan Opera, dangcing, singing and horsemanship performances. So it is also called a "Tibetan Opera Festival" or "Buddha Display Festival".

The theme of Lhasa Shoton Festival in 2013 is "Happy Lhasa, Colorful Shoton". The most exciting and spectacular"Great Buddha Displaying" will be held on August 6th, the first day of the festival. It will begin at 8:00 from Drepung Monastery and ends at 15:00. A 600 square meters thangka of the Buddha will be unfolded, which is the most exciting activities during the festival. And thousands of Buddhists will head to worship the picture of Buddha, which is a magnificent sight.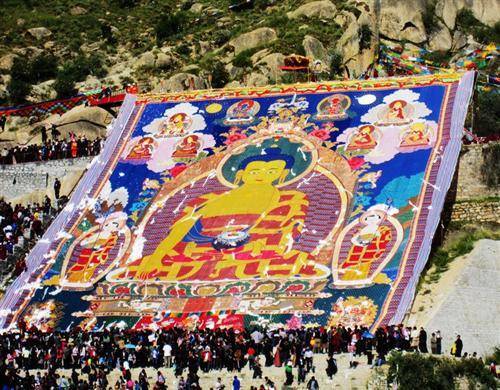 See more on China Travel: Tibet Shoton Festival
Travel to Tibet
Due to the unique Tibetan Buddhism culture and beautiful natural scenery, Tibet is one of the most popular destinations in the world, however, Lhasa Shoton Festival' unique charm has attracted more and more travelers from home and abroad. Potala Palace, Jokhang Temple, Drepung Monastery, Sera Monastery, and Gandan Monastery in Lhasa are widely loved by travelers.

Norbulingka, Dalai Lama's summer palace, usually is the center of the celebrations in Lhasa. If you miss the Shoton Festival in Lhasa, you can try to catch the festival in Shigatse where the celebrations are later and less than Lhasa.

China Travel is specialized in Group Tours with Solo Adventure! If you want to see the Shoton Festival in Lhasa , China Travel can tailor-make a tour including Lhasa, which can save your time, money, and trouble. Please feel free to tell us your tour ideas!
Recommended Tours:
1. 4 Day Essence Tour of Lhasa is from 499 Y USD per person.
2. 5 Day Essence of Lhasa and Nakchi Tour is from 879 USD per person.
3. 6 Day Tibetan Discovery Tour is from 1019 USD per person.
Travel Confidently with Us

10,000 Satisfied Customers

50 Years in China Travel Industry

Quick Response within 24 hours

Secured Online Payment

Group Tours with Solo Adventure
No Hidden Fees and No Traps