Dukezong Ancient Town in Shangri-la caught a big fire On Jan.11th in 2014
Published by  meimeili at 2014/1/16;
Dukezong Ancient Town, an ancient Tibetan town in Shangri-la caught a big fire on Jan.11th, 2014. The fire happened at 01:27 on Jan.11th, luckily, there are nobody injured and died in the disaster. Fire suppression lasted to 17:46 on Jan.11th.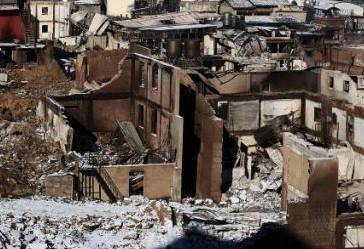 Dukezong Ancient Town in Shangri-la was firstly built in the Tang Dynasty. It was a key town on the Ancient Tea Route with a more than 1300 years history. The town becomes a popular destination in Shangri-la in recent years, unfortunately, 2/3 of it was destroyed after the fire. More than 100 ancient houses were destroyed in the fire. The fire started at Ruyi Hotel in the east of the ancient town. Some historic relics are survived, but it is a pity that a large-scale of ancient houses disappeared in sight.
Travel in Shangri-la
Hotels in Dukezong Ancient Towns are destroyed, but travelers can choose to stay in downtown of Shangri-la County. At the same time, it's low season. The fire won't influence tourists' travel in Shangri-la.
Yunnan Province is a popular warm destination in winter. Travelers can escape a chilly winter and a hot summer there. It is a place that to experience minorities' culture such as Bai, Naxi, Tibetan, and Mosuo people's culture. Shangri-la is likening to the Lost Horizon in the world. If you want to visit Shangri-la or other places in Yunnan Province, China Travel can help you to arrange a tour to Yunnan, which can save your time, money, and trouble. Please feel free to tell us your tour ideas!
See more on China Travel:
2. 3-Day Essence of Ancient Lijiang Tour
Travel Confidently with Us

10,000 Satisfied Customers

50 Years in China Travel Industry

Quick Response within 24 hours

Secured Online Payment

Group Tours with Solo Adventure
No Hidden Fees and No Traps