2015 Tulip Expo Starts in Guilin Zizhou Park
Published by  vincentg1991 at 2015/2/2;
The 5th Tulip Expo has been started in 1st, Feb, 2015 in Guilin Zizhou Park. There are 100 thousand basins of tulip on display. In the past, the tulip expo would be shown around the Spring Festival, but because of the warm weather, the tulips are blooming earlier. Since the year Guilin Zizhou Park built, the tulip expo has been held for 4 times and it has been no doubt the highlight of Guilin Zizhou Park.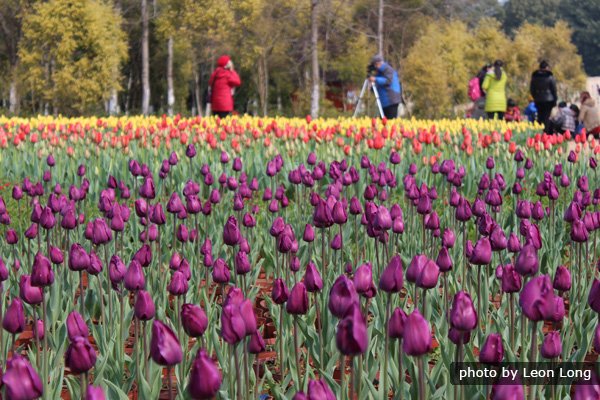 Colorful Tulip Sea
100 thousand basins of tulip are elaborately arranged in different shapes according to the color in 1st, Feb. A part of tulips are blooming in advance because of the warm weather. The greatest highlight is the black and white tulips used to be the fantastic finale is being the first batch of flowers to welcome the visitors. Some tulips cultivated later than the first batch will be shown as the second and third batch in the middle and later periods of the expo.
In addition to the tulips professionally cultivated by the botanical garden department, there are more than 200 basins of tulips cultivated by the citizens who take part in the activity to adopt the tulips. These adopted tulips would be developed for two months by the citizens and put on show together with the 100 thousand basins of tulip in Guilin Zizhou Park.
Related Guilin Tour
"Scenery in Guilin is the finest under heaven". Whether visiting in Guilin ever or not, the saying is known for all. Guilin is a charming city lying in the hug of the green mountains and nourished by the limpid Li River. The tulip expo will be an appetizer or snack for the tour in Guilin. We highly recommended the 4 Day Yulong River Hiking Trip in Yangshuo to see the best landscape in Guilin. 5 Day Longsheng Hiking Tour is elaborately prepared to see the magnificent scenery in Longsheng. If you want to Tailor-Make Your Trip, please contact us.
Travel Confidently with Us

10,000 Satisfied Customers

50 Years in China Travel Industry

Quick Response within 24 hours

Secured Online Payment

Group Tours with Solo Adventure
No Hidden Fees and No Traps