China Travel linked by BBC
Published by  elysees at 2015/6/18;
On 17 June, 2015, BBC introduced the world highest and longest glass bottom bridge at Zhangjiajie and linked to a Zhangjiajie Grand Canyon article from China Travel.
Zhangjiajie Grand Canyon - a wonderland
Zhangjiajie Grand Canyon, a top Zhangjiajie scenic spot, is close to Zhangjiajie Wulingyuan Scenic Area. There are a lot of picturesque spots in the Grand Canyon, like the newly created world longest glass bottom bridge.
Zhangjiajie Glass-bottom Bridge 
Zhangjiajie Glass-bottom Bridge is another jaw-dropping achievement in China. It will open in October, 2015 and is set to be the world's longest and highest glass bottom bridge, extending 430 meters (1,410 feet) in length and 6 meters (20 feet) in width.
Spanning two cliffs in Zhangjiajie Grand Canyon, it will hover over a 300-meter (984-foot) vertical drop. The bridge will also feature the highest bungee jump in the world.
It will be able to support up to 800 people at once. It will not only serve as an observatory, but also as a skywalk for events like fashion shows.   
Zhangjiajie
A Chinese saying goes, "to see mountains, go to Zhangjiajie." The city of Zhangjiajie was created because of tourism. A mountain peak in Zhangjiajie named the "South Pillar of Heaven" provided inspiration for James Cameron's film -- Avatar. In the film, the mountain is called Hallelujah Mountain.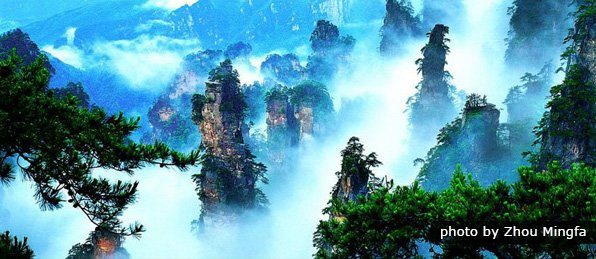 China Travel- a top choice for China exploration
Founded in 1998, China Travel is one of the biggest inbound travel websites in China. Our website has helped thousands of travelers from all over the world explore China. China Travel has received hundreds of compliments from customers. They posted their positive reviews on the websites like TripAdvisor.
We specialize in group tours and tailor-make your own tours in China and neighboring countries, such as Vietnam, Thailand, Singapore and Indonesia. Our mission is to provide customers authentic, unforgettable and comfortable travel experience at a competitive price.
Travel Confidently with Us

10,000 Satisfied Customers

50 Years in China Travel Industry

Quick Response within 24 hours

Secured Online Payment

Group Tours with Solo Adventure
No Hidden Fees and No Traps