I traveled to Xi'an with my friends last year, spending several days there, which was my first trip to Xian. My friends told me that Xian is one of China's seven ancient capitals in Shaanxi Province and in China and it's also the biggest city in the northwest of China, with a mild climate, beautiful scenery, abundant products, and numerous historical relics and sites. Thus, we decided to travel there. We booked the flight tickets, train tickets and hotels online from www.chinatravel.com and the trip went smoothly.
Eating and Drinking
I've heard that Xian boasts various snacks and the food there is quite different from that of other areas of China. We had a taste of some specialties, such as Beef or Mutton Paomo (Pancake slices with beef or mutton soup), Cold Noodle, Dumpling Banquet, Dumpling in Sour Soup, Fenchaoyu (Fried flour fish), Roujiamo (finely chopped pork stuffed in baked pancake) and Jiasan guantang steamed bun (steamed buns with sauces inside). Beef or Mutton Paomo is cookes with pancake slices with beef or mutton soup, whose soup is rich and thick and smell is tempting with everlasting taste. There are a lot of Paomo eateries in Xi'an, among them," Old Sun Family's" (in the Luoma and East-street crossing) and the "Tong Sheng Xiang" (Prosperity and Fortune) Beef and Mutton Paomo Restaurant(in Xi'an Bell and Drum Tower Square)are timely-honored restaurants. The specially pickled mutton with a unique fragrance is also a delicacy to those who don't like the smell of the mutton. Two pancakes cost 13.8 Yuan.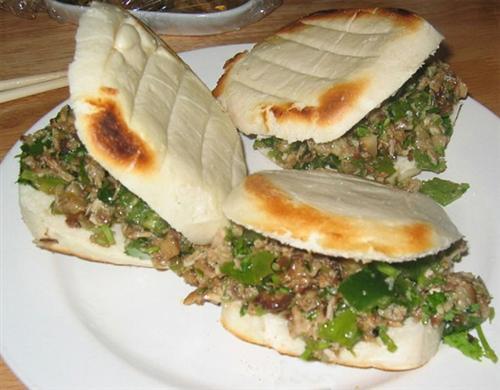 We went to Xi'an Muslim Food Street, which is a 500-meter-long and 10-meter-wide snack street, featuring exquisite Muslim food with strong ethnic delicacies. There were really a number of snacks, such as Liu Yang Rou Paomo (Pancake slices with beef or mutton soup), Cured Beef and Mutton, Guangtang Steamed Bun, Shaozi noodles (noodles flavored with a layer of minced meat), fried persimmon cake and other ethnic snacks. It you like the flavor of Muslim food, Muslim Food Street is a good choice.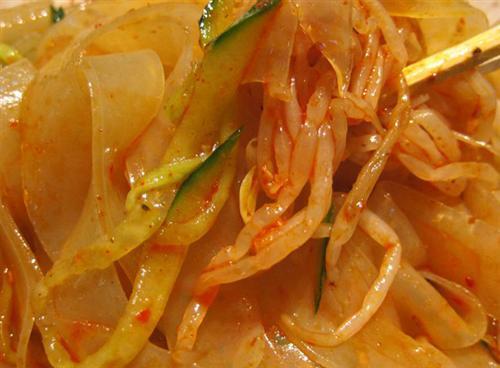 Best Visiting Time
The period from March to May when the blossoms are in full bloom and the period from September to November when the weather is pleasant are the best periods for visiting Xi'an. However, among these periods, you should avoid the peak travel season, including May Day festival (May 1st to May 3rd) and National Day (Oct.1st to Oct.7th).
Touring and Sightseeing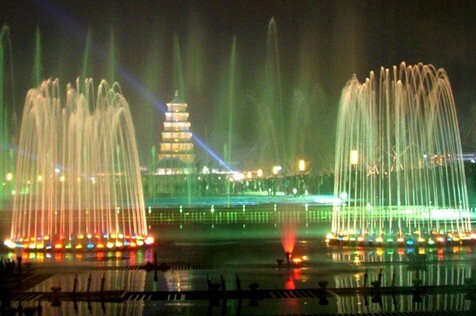 There are really a large number of attractions in Xi'an. At the suggestion of my friends who has been to Xian, we went to the north square of the Big Wild Goose Pagoda in the evening of the first day. The whole square consists of waterscape fountain, cultural square, garden landscape, cultural gallery and tourist business facilities. We watched the music fountain show, which is currently the most marvelous and largest fountain performance in Asia. We watched it on the top of the pagoda which is said to be the best place to appreciate the imposing show. On the top of the pagoda, we can also take a bird's eye view of the whole square and the whole Tang Town. The music and the fountain seem to take us back to the glorious Tang Dynasty. The show starts at: Mon-Fri. 12: 00, 20:00; Sat and Sun and public holidays: 10:00, 12:00, 14:00, 16: 00, 18: 00 and 20:00.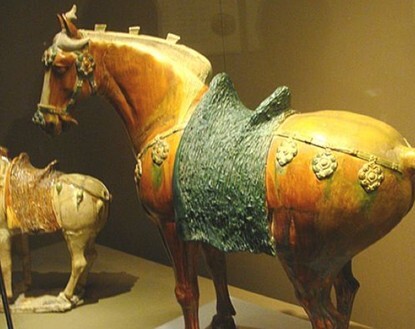 On the western side of the Wild Goose Pagoda, Shaanxi Historical Museum is located. It is situated No. 91, East Xiaozai Road, Xi'an, with the ticket price of 45 Yuan. It opens from 8:30 to 18:00 in autumn. There are over 370,000 collections in the museum, spanning over 1,000,000 years. There are than 3,900 pieces of bronze wares from the Shang Dynasty to Qin and Han Dynasties, the murals of the tomb of Tang Dynasty, ceramic tomb figures of different time period, porcelain wares, building materials and gold, silver and jade wares. You must take notice that an additional cost of 200 Yuan per person is charged for the admission to the exhibition of Zhao mausoleum antiques and the gallery of the tomb murals.
Departure
Time flies! We had to leave because we would leave for Chengdu. We took a flight from Xi'an Xian yang International Airport which is situated in the suburb of the city of Xianyang, 50 km from the downtown of Xi'an. It took about 100 Yuan and less than one hour to get to the airport from central Xi'an by taxi. If we have chance, we will visit Xi'an again and visit those scenic spots that we haven't visited.