A beautiful street in the city may make the city famous in the world; a romantic street can impress many people and leave them lots of wonderful memory. The central avenue in Harbin, known better as Zhongyang Dajie in Chinese, is such a street.
The central street all the year round exudes its charming beauty—balcony concerts in summer, Kissing Contest in Valentine's Day, a big parade of cartoons roles from Snow White and the band of Old Street's cool show etc. Traditional and modern, ancient and fashionable things can be enjoyed at the same time in the same place. Tourists can drink beers from all over the world in the street and take cold dishes of northeast China, mutton kebab as snacks. This is the central street in Harbin, a place where elegant and forthright co-exists.
During the 2012 grand Harbin Ice and Snow Festival, a parade of reindeers and inflatable cartoon roles held by Dazhuangyuan Group filled this century-old street with festive atmosphere. Reindeers and cartoon roles showed up together in the street, becoming a highlight. Only Harbin would boast such bold imagination: taking the balcony as the stage to play famous songs from home and abroad; celebrating the festival by a big parade with people and "animals" together.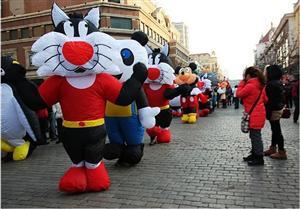 The central avenue concentrates a variety style of architecture all over the world, including European Renaissance, Baroque, Eclecticism, and New Art Nouveau architecture styles. Tourists can also find the most fashionable clothing and accessories there. It is a place worth you thousands of times to enjoy. No matter it is peaceful morning, lively day or charming night, it will impress you.