Seaside's always our best choice of relaxation. Sunshine, coconuts, beach, seafood, and BBQ. We just couldn't resist the temptation of them. As usual, the little couple made their plan, and headed off.
The first step on Sanya Land's pretty exciting, I asked my boyfriend over and over again, "are we really in Sanya, the tropical island in our own country?" You'll see.
As to travel economy, 2nights in Home Inn and 2nights in hotel really saved a lot. You can find many home inns in Dadong Hal, house condition was quite satisfying, and you still got sea view and distance to walk to the beach. Yalong Bay got the best beach in all over China, and here we stayed in Universal Resort for 2nights, enjoyed private beach, swimming, wind, and great foods.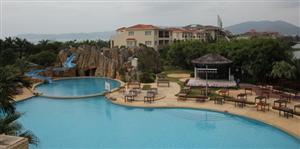 How could all those fabulous enjoyment be without wine? "Hey buddy, hit it off!" It was well worth the sacrifice of less comfortable first 2 nights.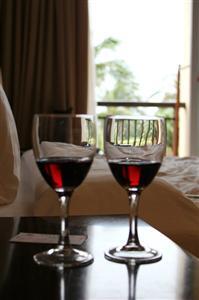 Be worth mentioning, Wuzhizhou Islands definitely overthrew my recognition of BEACH. You know, I've been to other famous seaside cities in China, such as Qingdao, Xiamen, Quanzhou. But they should really bow in front of Wuzhizhou Islands. Lucky enough, friendly Home Inn keepers would show you the best while least polluted bay, enough to compare beauty with Maldive.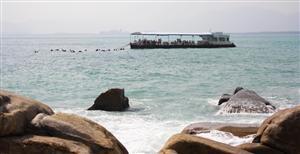 White sands felt like silk, green water appeared as emerald, wind poured on body then you clearly know that you're in breezy tropical islands. Yeah, imagine that.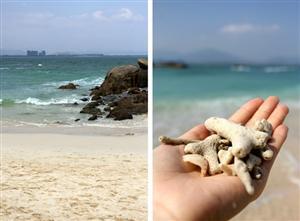 We didn't visit many sight spots. Because I really got tired of hurry on the journey and "sign in" spots , and took "Hey, I'm here" photos. This is not what travel should be, what do you think?
The purpose of visiting Sanya is to FEEL. And you can get it everywhere, why the trouble to toil ourselves? So far, I've presented most of good parts of my journey.
Last but not least, I have to remind you, my friends, watch out your belongings all the way! Crowded sight spots are always happy hunting-ground for pick-pockets.
Thanks for reading.