Hiking through sky touching mountains has always been considered as something risky and full of adventure. Only tough and daring people can go for experiencing these scary yet exciting moments. Located in China's one of the most wonderful and attractive provinces, Yunnan, The Tiger Leaping Gorge is considered as the deepest Gorge of the world. The place has got its name from a legend that tells that it was named as Tiger Leaping because of being crossed by a tiger once, from one side to other one. It has been tourists' most favorite spot in Yunnan and for adventure loving people, nothing can be best except hiking through these giant mountain range of the world.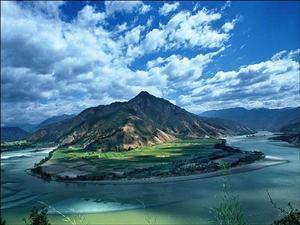 It is easy that you take a bus from Lijiang that takes you to a town Qiaotou, which is at a distance of two hours from Lijiang and this is the place where the climb starts. Then you can start high road track climbing, where after covering a distance of about one and a half hour, you will reach at Naxi guest house. From here, you can experience much steeper trail. If you continue walking, you would find another guest house. After arriving at the peak, an amazing sight of the gorge and the nearby mountains will be seen that will make you pass by a small village along hill side. The high road ends at Walnut Grove, a smaller village with a diversity of eating places and guesthouses. From this point, a side trail takes you down the river to the rock, the tiger apparently used to use to cross the river.
The waterfalls flowing on another side of the gorge, dipping down in to the river is such a soothing and beautiful scene that you won't forget ever in your life. You can do enjoy the dreadful yet life's most memorable moment by hiking here.
Click for more detailed information on the Tiger Leaping Gorge.
And I highly recommend this 5-day Tiger Leaping Gorge Hiking tour, from only 649 USD.