Haiyang Village is a good place to see hundreds of golden ginkgo trees in Guilin. My husband and I went to take photos of ginkgo trees on Dec. 2rd, 2012. To be honest, it was a little late as some ginkgo trees had no leaves. Every year, the best time to photo the yellow ginkgo trees in Haiyang is November.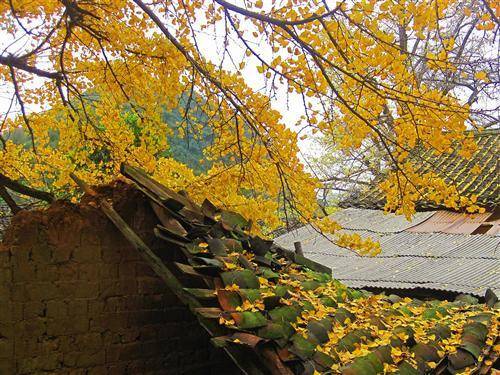 We took No. 16 bus at the opposite bus stop of Guilin Railway Station and got off at Sanlidian bus stop. There are coaches in Sanlidian Square (三里店广场) to Haiyang Village and Daxu Ancient Town. The journey to Haiyang took one hour and 40 minutes and the tickets cost 10 CNY per person. The coach overloaded terribly and run on the bumpy road. While some parts of the road are in construction which caused traffic jams. I strongly suggest travelers avoid riding bicycles because some parts of the road are too dusty and muddy.

Haiyang is a quiet and peaceful place with a lot of golden gingko trees. Big Tongmuwan Village is one of the villages which are filled with yellow gingko trees. Travelers can spend about one day exploring in Haiyang such as Big Tongmuwan and Small Tongmuwan Villages.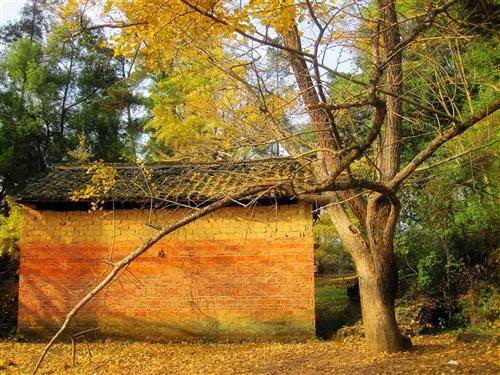 Big Tongmuwan Village
There is a Buddhism temple with a long history on the way to Big Tongmuwan Village. Local people come to worship in the temple. After 20 minutes' walk, we arrived at Big Tongmuwan Village. The ticket for the Big Tongmuwan Village is 3 Yuan per person.

This Village has an ancient building on the main street which makes Big Tongmuwan Village more historic than other villages in Guilin. And the ginkgo King in the Village has existed over 500 years. The tree is so big that it needs about six persons to hug together.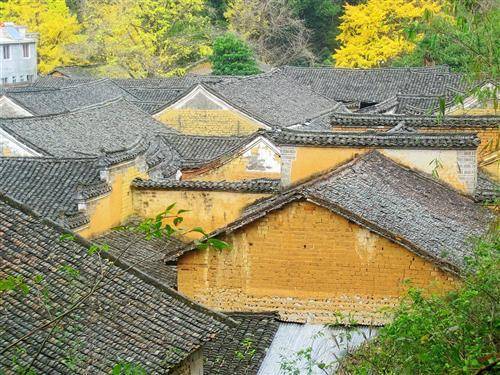 Big Tongmuwan Village is not a big village. Some local people sell snacks such as purple sweet potatoes and home-made cakes. Some families service travelers delicious meals with their own vegetables and livestock. Sometimes, they can even offer people a snack meal. All the dishes with local countryside style give visitors impressive taste, and there is no need to worry about food there.
My husband and I were busy taking photos and we got some very good photos when it's sunny. There were a lot of yellow gingko leaves lying on the floor. Combined with Guilin local countryside houses, this village is an absolutely nice place to photo. We had taken hundreds of photos there and enjoyed this trip very much.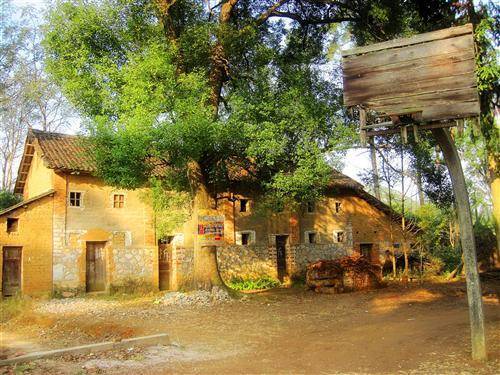 There is an old tower which is visited by a few people near the centre street of Haiyang. My husband and I were very curious about the tower while there was nobody climbing up the tower. We did try to climb up on the tower, however, there are no signs near the tower. We gave up climbing after we climbed up to the 1st storey, as we can't make sure our safety.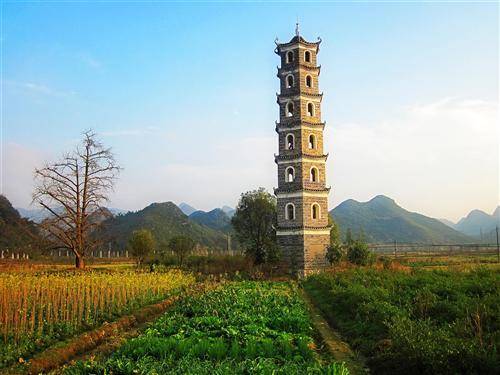 A local people tell me, this tower is a historic relic and the inside original tower was destroyed during the Cultural Revolution. Although the local people told me it is safe to climb up the tower, I don't suggest doing it.

It was late when we left. The coach was full of passengers on the way back to Guilin and tickets went up to 15 CNY per person. But we had a nice photography journey of golden ginkgo trees in Haiyang.