Built in the year 1709, Labrang Monastery used to be the political, religious and cultural center of the Tibetan nationality in the border land of Gansu and Qinghai provinces. It's located in the western suburb of Xiahe County in Gannan Tibetan Autonomous Prefecture of Gansu Province, which is about 65 kilometers from Hezuo City and 238 kilometers from Lanzhou City.
Labrang Monastery is one of the six major monasteries of the Gelug Sect of Tibetan Buddhism and the largest monastery of the Gelug Sect in Gannan Prefecture. At present, Labrang Monastery has preserved the best teaching systems of Tibetan Buddhism in the whole country. In 1982, Labrang Monastery was included in the list of the national key cultural relic protection units.

Labrang Monastery is built in the style of Tibetan architecture with the vast scale, which looks spectacular and magnificent. Covering an area of about 1,300 mu, Labrang Monastery consists of 6 major academies, 16 Buddha halls, 18 living Buddha palaces, 2 pulpits and vast areas of Lama residences. In the monastery, Shouxi temple is the largest, which is more than 20 meters tall and composed of 6 storeys. Inside the temple, there is a 10-meter-tall gilding Buddha statue which is the masterpiece of Nepali craftsmen.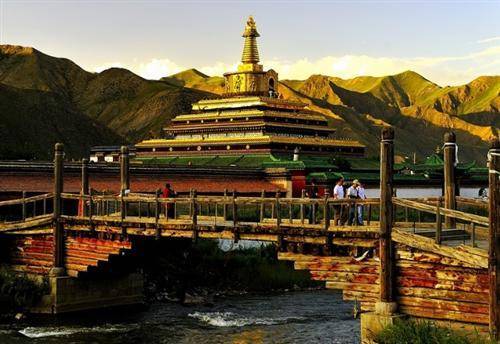 Labrang Monastery boasts a large number of Dharma meetings in different months. The grandest one is the prayer Dharma meeting in the first month of the lunar year. It begins from the 3rd day of the first lunar month and lasts for 15 days. During the Dharma meeting, all the monks in the monastery will chant sutras for 6 times in the main assembly hall every day.
On the 8th day of the first lunar month, freeing captive animals is held, and the animals tied with colored ribbons on the ears will be freed. The freed horses, cattle and sheep are not allowed to hunt by people. On the 13th day of the first lunar month, the exhibition of embroidered Buddha figures will be exhibited on the stage at the foot of the mountain.
Customize a Tour to Labrang Monastery
If you'd like to visit Labrang Monastery while traveling to China, China Travel can customize a tour to Labrang Monastery, which can save your time and money and trouble-free. Please feel free to tell us your idea!
Tips
1. As Labrang Monastery is Tibetan Buddhist monastery, visitors need to respect the customs of Tibetan Buddhism while paying a visit, such as taking off hats and glasses.
2. No photographing in the monastery.
3. Ticket Price: 40 yuan for adults; 20 yuan for children
4. Opening Time: 8:00 to 18:00
5. Best Time to Visit: September, December