As a bright pearl in south China, Guilin is famous for its fantastic natural landscape, featuring green peaks, clear water, grotesque caves and spectacular rocks. Guilin boasts the best natural scenery in the world, and it attracts millions of visitors from far and near every year.

For those visitors who want to have one-day tour in Guilin, you are highly recommended to take the classic travel route, namely, taking a cruise along the beautiful Li River in the morning, going biking along Yangshuo countryside roads in the afternoon and hanging out on Yangshuo West Street in the evening.
Li River Cruise
Originating from Mao'er Mountain of Xing'an County, the Li River runs through Guilin before emptying into Gongcheng Estuary in Pingle County. The 83 -kilometer (52 -mile) long stretch from Guilin to Yangshuo is the essence of Li River scenery, and it's praised as "the One –Hundred Li Gallery", where the river is like a green ribbon and the hills are emerald hairpins.
The One –Hundred Li (31 miles) Gallery is composed of 3 sections, namely, the first section from Guilin downtown to Yellow Ox Gorge, the second section from Yellow Ox Gorge to Shuiluo Village and the third section from Shuiluo Village to Yangshuo. A common Li River cruise starts from Jingpingshan Bridge to Yangshuo, during which you'll pass the Father and Son Cave, the Millstone Hill, the Bamboo River Pier, Yangdi, the Watching Husband Peak, the Yellow Cloth Beach, the Nine Horse Fresco, the Cool Wind Ferry and then to Xingping Ancient Town. It seems as if you were in a fairyland as you appreciate the beauty of green peaks, flying waterfalls, idyllic farmlands and ancient cottages on the banks.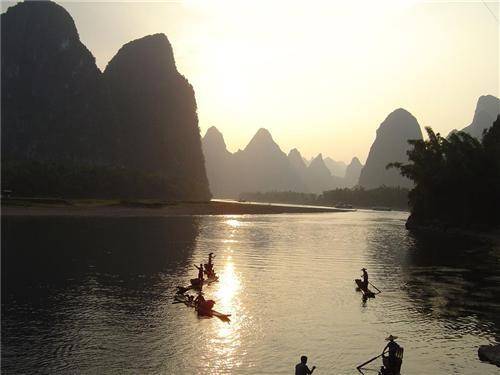 Going Biking in Yangshuo Countryside
A number of routes for biking have been developed in Yangshuo in the recent years, where it's not rare for you to see young teenagers going biking in groups along the country roads. You're advised to go biking from Yangshuo to the Big Banyan Tree to Moon Hill to Fushan Temple and to Tianjiahe and then back to Yangshuo, along which you can appreciate the idyllic countryside scenery, and the whole journey is about 20 kilometers (12 miles) long.

Hire a bike (15 RMB /Person /Day) at West Street and start from there, and you cycle along Yangshuo-Lipu Road for 20 minutes to Gongnong Bridge. On the left side of Gongnong Bridge stands the Camel crossing River, and the other side run the Yulong River and Jinbao River. After about 500 meters (1640 feet) on from the bridge is the Big Banyan Tree Scenic Area (18 RMB /Person), where you can see a 1,000-year-old banyan worshipped as God by the locals. You will find yourself in the front of Moon Hill Scenic Area if keeping on riding for 1.5 kilometers (0.9 miles). Turn left and cycle along Shangyue Road, and you're in Yueliang Village, the best place to appreciate Moon Hill.
Cycle along the countryside road (in the front of Fushan Temple) and pass a stone arch-bridge after a brief rest at Yueliang Village, and you arrive at Yan Village, where you can buy something to drink. Keep on riding, you'll find yourself in a beautiful village –Tianjiahe Village, where you're highly recommended to watch sunset. After that, you can cycle back to Yangshuo by the way that you came.
Yangshuo West Street
With a long history of over 1,400 years, Yangshuo West Street is paved with marble tiles with 527 meters (1,729 feet) long and 8 meter (26 feet) wide, where the buildings have an antique flavor, and a wide variety of tourist souvenirs and local snacks assemble there.

Yangshuo West Street is also known as the Westerner Street, where you can often see foreigners of various colors of skin sitting around to drink beer, taste coffee and chat, and almost every local (young and old) can speak some English . Hundreds of stores are available on the sides of the street, including craftwork shops, painting and calligraphy shops, cafes, bars, specialty shops, snack shops and Chinese Kung Fu Houses, over 20 of which are opened by foreigners, making it an ideal place to hang out.
The exotic nigh scene is exceedingly fascinating and charming on Yangshuo West Street, where the pubs and bars are crowed with handsome guys and pretty girls from all over the world, and it's easy for you to start a romantic relationship.

Location: West Street, Yangshuo County, Guilin
Opening hours: all day long
Transport: A bus from Guilin Bus Station will take you there in an hour with 14 RMB ticket fare.
Ticket fee: free