Xi'an is the capital of Shaanxi province and one of the oldest cities in China. With more than 3,100 years of history, it has been home to several of the most significant dynasties in Chinese history, including Zhou, Qin, Han, Sui, and Tang. As an important cradle of Chinese civilization, Xi'an is the eastern terminus of the Silk Road.
While one of China's four ancient capitals, Xian is a popular tour destination with numerous cultural sites which make tourism an important industry. The best time to visit Xian is from spring (March) to autumn (November), especially June, July, August and September; weather is cooler than the stifling midsummer and the sun still shines and warms. With Beijing, it is an inescapable cultural place of China.
Xian Must See will lead you to the highlights of Xian which you should never miss during you tour in this ancient city. Recommended Attractions: travel around the city by bike, stroll in the Muslim quarter, build your own opinion on the "Terracotta Warriors and Horses" army (Terracotta Warriors), go back to the past by visiting one of the most beautiful museum of China.
Xi'an has many areas that are easily accessible on foot. In many commercial zones in the city, especially in the shopping and entertainment districts around the Bell Tower, underpasses and overpasses have been built for the safety and convenience of pedestrians.
Electric bikes are very trendy and offer easy transportation in and around the city. Taxi services are abundant as well as busses.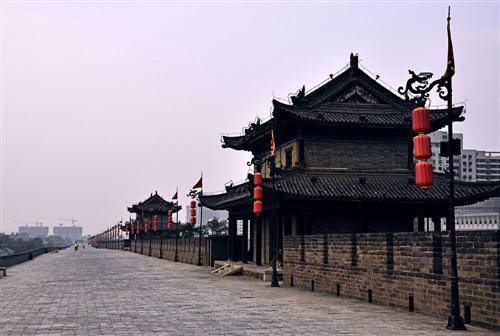 Internet?
× China Telecom: opposite main post office, west to the Bell Tower- Y18 per hour or Y10 for 30 minutes - opening hours: every day from 9:00 a.m. to 10:00 p.m. - 15 computers;
×Internet site, south South Gate, No58 North Chang'an Rd, near Little Goose Pagoda: Y16 per hour or Y8 for 30 minutes – 12 computers.
What to see / visit?
Shaanxi History Museum
The Shaanxi History Museum is situated on Yan Ta Road in Xi'an City and is one of the most beautiful museums of China. Representative pieces from all periods have been selected to show the development of civilization in this region.
The foreigners are supposed to enter by a special door via a souvenir shop: the privilege costs Y5 more. You can doubtless buy your ticket with Chinese people...
Tel.: 86-29-85219422
Admission fee: 4,000 free tickets available per day
Opening Hours: 8:30 a.m. - 6:00 p.m. (March to Nov) - 9:00 a.m. - 5:30 p.m. (Nov. to March)
Recommended Time for a Visit: 2hours
Bus Route: 5, 19, 24, 26, 27, 30, 34, 400, 401, 521, 527, 701, 710, 721, 722, Tourist Bus No. 6, and Tourism Bus No. 8 (610)
Big Wild Goose Pagoda
The Big Wild Goose Pagoda and Small Wild Goose Pagoda are both impressive towers; both are well over 1,000 years old and have survived massive earthquakes. Big Goose Pagoda was the place where early Buddhists translated Sanskrit texts into Chinese. Walking to the top of the Pagoda is expensive so instead to go inside bike around it.
On the North Square of the Big Wild Goose Pagoda founds the enchanting Music Fountain, the reputed largest music fountain in Asia. The Tang Dynasty Palace is another must-have, where the flavour of Tang dynasty would be experienced. Travelling to Big Wild Goose Pagoda is incomplete without visiting these must-haves, each of which has much to offer to you.
Admission Fee: 30RMB
Opening hours: 8:00 a.m. - 6:00 p.m.
Suggested Travelling Time: 2-3 hours
Little Goose Pagoda
Little Wild Goose Pagoda (Xiǎoyàn Tǎ), sometimes The Small Wild Goose Pagoda has survived nearly 70 major earthquakes over its 1,300 year lifetime. The surrounding garden and the Jianfu Temple are quite peaceful when the swarm is replaced by T'ai chi practiser.
Unfortunately locked into a building a huge bell dating back to the Jin Dynasty (1192) is standing in one of the courtyards. (See able through a window).
Entrance Fee: CNY 50 (including Jianfu Temple and Xian Museum)
Bus 610 runs here from the Bell Tower; from the South Gate take bus 203.
Great Mosque & Muslim area
One of tourists preferred places! Go to Mosque via Drum tower and leisurely walk between the souvenirs stalls up to the entrance. This mosque was founded in 742 during the Tang Dynasty (618-907). Since the fourteenth century, the mosque has undergone numerous reconstructions; most of the buildings extant today are from the Ming and Qing Dynasties of the seventeenth and eighteenth centuries.
The Great Mosque covers a total area of 12,000 square meters. As for all the mosques, you cannot penetrate into the place of prayers. One trick is to go to toilet to admire more sculptures...
Army of Terracotta warriors
It is the essential reason of the tourist invasion of Xi'an: admire what was described as the Eighth Wonder of the World. It is a major archaeological treasure listed by UNESCO in 1987 and national pride: a clay army of more than 8,000 life-size terra cotta figures of soldiers and horses discovered in 1974 after they were buried underground for more than 2200 years.
The Terracotta Warriors Museum contains four partial excavated pits named: Pit 1, Pit2, Pit3, and Pit4.It is not certain that you will be enthused by what you will see (most are) as the three sections of the museum are visible only from a circular heightened route and that numerous figures are covered or outside access. You will also surely not see all the announced 6,000 figures …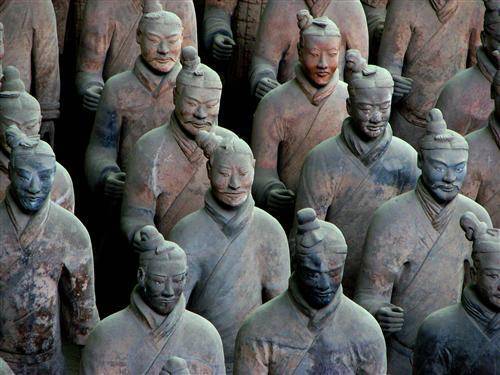 The tourist crowd does not either help to manage the space-time (the best period is at the opening at 8:30a.m; also more quiet at noon and after noon). In theory, it is forbidden to take pictures (there are symbols everywhere) but as the Chinese tourists pay no attention to it, do the same and try!
At the second floor of the second pit are exposed some of the 40, 000 bronze weapons which were discovered.
But the most beautiful objects are doubtless both bronze chariots made of 3,000 pieces. When they were found in 1980, they were respectively broken into 1338 and 1555 parts.
The 360 degrees cinema is a funny way to obtain some historic facts (the show is alternately in English and in Chinese) and the tactile computers (placed in Pit 1 are clearly the best mean to get information and to be amazed.
The discovery of the terracotta warriors has gripped the imagination of people around the world. Those who have been fortunate to visit the site will never forget the experience.
Besides, 30 free shuttle buses have been available for visitors' convenience to travel between the Lishan Garden and the Museum of Qin Terracotta Warriors and Horses from then on.

Location: Lintong District, Xian, Shaanxi Province
Tel.: 86 – 029 – 81399338
Suggested Travelling Time: at least 3 hours
Other information
Area code : 029
Tourism hotline: 526 1437
Transport: 7293052
Post office: Beida Jie. 97210573
Emergencies, health:
Ambulance: 97213460
Xi'an Medical University: 95252981
Shanxi People's Hospital: 95251331
Xijing Hospital: 93232971
Police: 110
Police, Foreign Affairs: 97216795