Guangzhou Zoo opened in 1958, located in the east part of Middle Xian Lie Road,Panyu District, Guangzhou. Having over 500 species with a population of 20000 animals from all over the world, Guangzhou Zoo is acclaimed as the biggest comprehensive scale of wild animal zoo with international standard. According to the layout of zoological classification, the zoo could be divided into four separate districts, which are the Central Exhibition District, Bird Paradise, Amphibians and Garden of Reptile.
The Central Exhibition District is popular for a variety of mammal such as giant panda, golden haired monkey, lions, giraffes, tigers, rhinos, hippopotamus, elephants, deer, and zebras. You will be very excited a thrilled when you see a lot of wild and giant animals. If you like Kangaroos, there is a Kangaroo House for visitors to watch the behaviors of movements and understand their lifestyle. Or if you are fan of panda, come to panda house and take a look at these lovely big animals, which are named "the Treasury of China". There are some theme scenic spots here, such as Animal Behavior Exhibition, Animal feeding show, Animal Square. The Animal Behavior Exhibition is a very interesting one, where you will see a lot of crazy things. For example, a little orangutan is riding a bicycle as well as human. The Animal Behavior Exhibition is trying to send us a positive message that animals are smart, vivacious, and lovely, in order to deepen our understanding and respect of animals.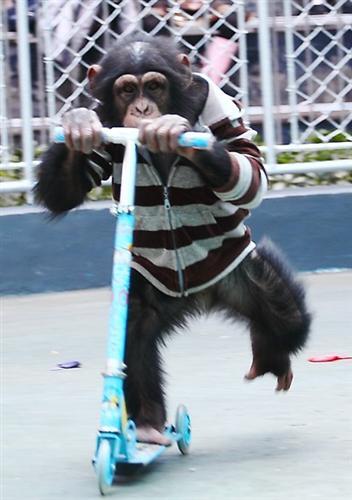 The Bird Paradise is located in the middle-west of the zoo, covering an area of 8000 meters. In the bird paradise, there are more than 100 different kinds of birds and fowls, while black-necked crane and the black swan are two popular stars among them. Not only visitors can watch birds and fowls, but also appreciate the ecological garden with casual elegance and enjoy the beauty of nature. While birds are left outdoors, grass-made cages take place of the wire fence, visitors will have a better visual perception.
As soon as you enter into the Garden of Reptiles and Amphibians, watching numbers of fish and reptile species which make you feel like living in an ocean world. Actually, there is an ocean world in the zoo. Built in 1998, covering an area of 13,000 square meters, the Ocean World accommodates over 200 kinds of fish and other rare marine life. Travelers also can enjoy the amazing shows in ocean world, such as Ocean Theatre, Mermaid Show and Dance with Shark.
Recently, more scenic spots have been opened to attract travelers, such as the Goldfish Garden, Butterfly World, Dinosaur World, and Lake Scenery there. The Goldfish Garden exhibits nearly 100 species in total of 10,000 famed and precious fishes. It set up some games special for children and parents. Travelers can enjoy the fun of angling and dragging for fish. As the name suggests, the Butterfly World mainly shows different kinds of butterflies. Visitors will view beautiful butterflies flying around you, but also see biscuits of all shapes and sizes of butterfly specimens that may enlarge your scientific knowledge. Through modern technology, visitors can have a vivid visual effect of the dinosaurs when they go to Dinosaur World .Lake Scenery are made of three lakes all together, visitors here will see swimming birds, small islands and pavilions. Each theme scenic spot has its specialties, visitors are welcome to find their joys in Guangzhou Zoo.
Transportation:
Metro: the Zoo Station of Line 5
Bus: take No. 6, 16, 11, 65, 84, 122, 192, 201, 209, 218, 547 and 534 to the station of Zoo, or Line 33, 133, 191, 233, 269, 272, 234, 282 and 545 to the station of the South Entrance of the Zoo
Opening hours: 8:30—17:30
Admission Charge: RMB20