Family Friendly Activities and Attractions in Xian
Last updated by meimeili at 2013/11/28; Destinations: Xian
Xian is one of China's most antiquated cities; some say that the history of Xian is the history of China itself. For starters, it was the starting point of the Silk Road and once held the status as capital of the nation for many dynasties (including the Zhou, Qin, Han, Sui, and Tang); today it is known as one of the Four Great Ancient Capitals of China. And throughout its centuries of evolution to its existence today, Xian remains faithful to its heritage while nodding promisingly towards the future. With so many dimensions to offer, Xian is ideal for a family holiday. Here are some of the top family friendly activities and destinations in China's heritage city for all ages and interests.
1. Museum of Qin Terracotta Warriors and Horses
The treasure trove of Terracotta Warriors and Horses contains more than 8,500 unique pieces of what is understood as the replica army of the first emperor of China, Qin Shi Huang from the first dynasty, Qin. Dating back to about 210 BC, the tomb was discovered by accident in 1974. In additional to military army figures, horses, chariots, and more, there are representations of other characters of imperial such as officials, acrobats, strongmen, and musicians. The Museum of Qin Terracotta Warriors and Horses is a perfect place for young and old alike to get familiar with one of the oldest chapters of Chinese history. A guide can first introduce you to the significance of the terracotta figures, then it is recommended to visit the on-site museum for more in-depth exploration of the first dynasty and its star emperor.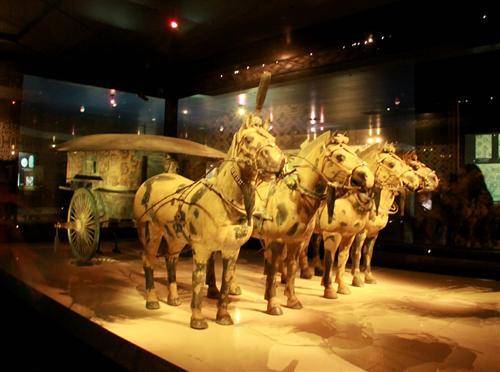 • Address: Qinling North Road, Lintong District
• Hours: 8:30 am – 5:00 pm
• Phone: +86 29 8139 9001
• Entrance: 150 Yuan; 75 Yuan for students
• Getting there: Bus 306, 5, or local bus 914
2. Xian City Wall
No ancient capital existed in the past without at least a few enemies. The fortifications of Xian are one of the oldest and best preserved in all of China. The project took 4 years to complete and the final result encircled the most important parts of the old city. With your family, it can be quite fun to ride a bike along the top of the wall today. Rentals can be found in the nearby vicinity for about 50 Yuan for 2 hours, not including a deposit. Tandem bikes are also available. There are various stations where you can return your bike when finished with your explorations. From the top of the wall, whether biking or walking, it is delightful to see the city from up high as well as the famous South Gate, particularly beautiful when illuminated at night.
• Address: Old Xian City, Lianmeng Alley, Lianhu
• Entrance: none; about 50 Yuan for 2 hour bike rental
3. Kite Flying
Kite flying has long been one of the Chinese's favorite pastimes. It is a relaxing and almost meditative way to enjoy the outdoors with friends and loved ones. In Xian, it is easy to find an affordable kite in many shops. If you are in the city at the right time, you might even catch a kite flying competition! Feel free to go to any park or public square to enjoy yourself; you might even attract a crowd!
4. Big Wild Goose Pagoda and Dayan Pagoda Northern Square
Big Wild Goose Pagoda is a rather austere pagoda by Chinese standards, not as elegant as many of its counterparts. Still, it is worthy of a visit for its large public square right outside and for its exquisite example as a Buddhist construction. Nearby is Dayan Pagoda Northern Square, a very fun place for children. Here you will find what is known as the largest musical fountain in Asia. Try to go in the evening when you can better enjoy the symphony of music, water show, and illuminated backdrop of Big Wild Goose Pagoda altogether.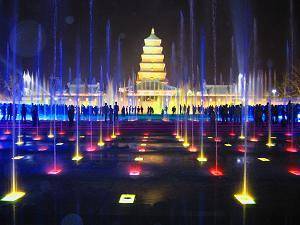 • Address: Enci Temple, the southern part of Yata Road, Yanta District
• Hours: 8:00 am – 6:00 pm
• Phone: +86 29 8552 7958
• Entrance: 50 Yuan to enter the complex, 40 Yuan additional to enter the pagoda
• Getting there: Bus 610, 609, or 41
5. Drum Tower
For one of the best views the city has to offer, visit Xian's Drum Tower. It is found in the heart of the city and a symbol of the city since the Ming Dynasty. Traditionally, the drum here was struck at sunset to signify the end of the day. A drum performance is conducted daily here and a museum offers unique insight into this part of Chinese culture.
• Address: the southern axis of Xi'an West Main Street Beiyuanmen
• Hours: 9:00 am – 6:00 pm
• Phone: +86 29 8727 4580
• Entrance: 27 Yuan
6. Huaqing Hot Springs
Take a break with your family. At the Huaqing Hot Springs, about 30 kilometers outside of Xian at the northern foot of Mount Lishan, you can enjoy a spa experience in a beautiful setting. The springs are believed to be more than 6,000 years old with Guifei Pool being the most popular. The magnificent Huaqing Palace on the grounds was constructed by King You from the Western Zhou Dynasty. More than anything, it is the history and the landscapes here that make Huaquing Hot Springs such a fun place for the whole family.
• Address: 38 Huaqing Rd, Lintong
• Hours: 9:00 am – 5:00 pm
• Entrance: 110 Yuan; 60 Yuan for students
• Getting there: Bus 306
7. Visit the Muslim Quarter (Huifang Style Street)
Huifang Style Street, known as the Muslim Quarter, is a fascinating blend of Middle Eastern culture with Chinese culture. The local Muslim street is more than 1,000 years old and still has a strong native community living there. Here you can try many traditional foods from the Islamic world. Be sure to visit the Great Mosque in the northern section. Nearby, there are countless shops and commercial areas for your enjoyment. There are food and snack stalls everywhere, small items and souvenirs for sale, and the energy of a steady stream of people coming here to entertain themselves. This area is even more alive at night!
8. Daming Palace and Park
The Tang Dynasty called Xian its capital, so during its rule, an immense complex was built for imperial purposes. Daming Palace is known for the beautiful Danfeng Gate and the 3 main courts that compose the property. Overall, Daming Palace National Heritage Park is a fine destination where the entire family can admire the various exhibition halls that showcase excavated cultural relics from throughout China's history.
• Address: No.78 Xuanwu Road, Yanta District
• Phone: 029-86708192
• Getting there: via DaMing Xi subway station