Top Tea Houses in China
Last updated by meimeili at 2013/11/28; Destinations: Beijing,Chengdu,Shanghai,Hangzhou
In Chinese, tea room spells茶馆, literally tea house.
Tea houses are abundant in China. In ancient times, they symbolized entertainment and debate. It was a pleasant place to savour a tea and discuss, listen to a poet, or simply to sit and enjoy the song of the caged crickets.
Today tea houses are very trendy. They prosper everywhere in China and it is interesting to notice that very young clientele frequents them with assiduousness even if tea is not always cheap, especially if concerned tea house is located in a popular tourist area like at the heart of Kunming, at the edge of the fascinating Green Lake (Yunnan Province).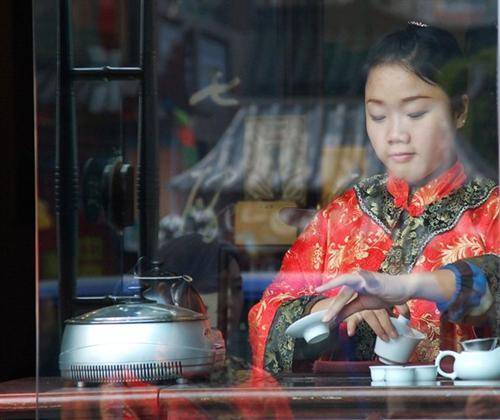 Locals are passionate about going to tea houses, not only for tea, snacks, and entertainment, but also for social gatherings and business meetings. Tea houses have also served as unofficial courthouses where local people resolved conflicts under advisement of community leaders.
Sichuan Tea Houses
Sichuan is not only known for its spicy cuisine, but also for its lifestyle and tearooms: the elegance and the professionalism of the waiters in tea houses are famous in all China.
Tea is cultivated and consumed in this province since almost 2,000 years. Some green tea is cultivated in the mountainous zones.
Summer and winter, sitting in bamboo armchairs, locals love drinking their Hua Cha (literally "tea in flowers" and in fact local jasmine tea) while playing Ma Jong.
At the heart of Sichuan is Chengdu; it shelters numerous tea houses among which some are very old and echo the style of past times.
True institutions, tea houses are for Chengdu what cafés are for Paris. Of very diverse style, they preserved their specificity: bamboo chairs, coffee tables, specific teacups and of course the famous pewter teapot.
Locals go at any time of the day in these popular meeting, relaxation and discussion places: for the first cup of the day, at noon after the meal or in the evening at the end of work, to finish the day pleasantly.
The price varies according to the place and the time in the day (in the evening, drinks tend to be more expensive and especially tea. Most of the parks in the city possess one or several tea houses. The most typical places are at People's Park, Municipal Museum Garden and especially Wenshu monastery.
Sichuan Huadu Chafang (Sichuan Huadu Tea ceremony), 182 Taisheng Nanlu, Tel: 6258056; this new generation tea house opened in one of Chengdu night districts. Musicians revive a typical and traditional atmosphere every evening.
Hangzhou Tea Houses
The low Yangze valley in the Zhejiang province is one of the cultural and architectural cradles of China. The region is famous for its green tea Longjing tea (also called dragon well tea) produced on the West of Xihu Lake. Another local specialty is the lotus seeds and jasmine flowers porridge: refreshing when it is warm.

Hangzhou, the capital, was the most populated city in the world within the 12th and 14th century. It possesses a rich architectural heritage where the tradition of tearooms is very present and are more artistic characterized than in Sichuan.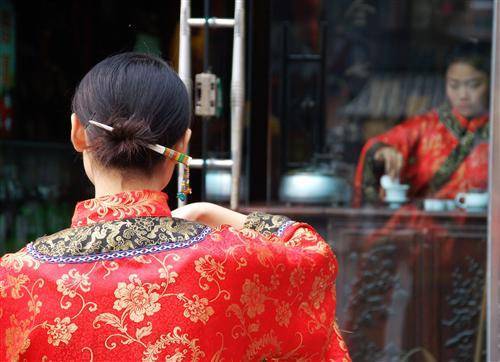 Musicians, painters, calligraphers and philosophers like to get together in the tea houses of the city which are transformed for the occasion into a stage "philosophy- café" or "studio".
Customs and traditions being particularly well anchored in Hangzhou the typical refreshments like soda and snacks are rarely served in tea houses. On the other hand, most of them have a small adjacent workshop where there are crafts and ornamentals: calligraphy, Chinese paintings, sculptures, fans.
Many tea houses in Hangzhou also propose calm spaces convenient for reading and resting. Tea houses are often near water or temples where the noise of the water flow, the ringing of bells or the incense scent encourages to meditation.
Hangzhou counts also numerous tea houses around lakes and on islands. The table is rented per hour for an all-inclusive price: locals spend generally their afternoon at the terrace. It is thus preferable to ask the waiters at which moment the next table will be free: the waiting time can get to 2 hours during the high season.
Shanghai, Canton and Tianjin Tea Houses
Although they are not located in the same province, these three Chinese big cities hold cultural and economic similarity.
Most of tea houses of these megalopolises propose secondary activities as swimming pool, sauna, spa, massages, and restaurant.
In Shanghai, tea houses offer classes in the evening or at weekends for children or families wishing to gain knowledge of Chinese manners.
Other establishments have several floors: one reserved to businessmen, the other dedicated to listen to poetry and a last level available to bird lovers who bring their companion with them.
The Huxinting Tea House, Yu Yuan, Tel: 63736950; one of the oldest houses of Shanghai inside the old town.
Mingyuan Chayiguan, 1 Yueyang Lu, Tel:64378088; house of Chinese traditional tea. Organize regularly tea ceremonies demonstrations.
Wangyiji, 28-38 Jinling Lu, Tel: 63276155; Specialist of the tea art.
In Canton, tearooms distinguish themselves by their vastness and the dimensions of rooms. Another difference is the culinary tradition of Dim sum. The tea is the central element in the life of the Cantonese. In this region, if somebody wishes to invite you for lunch, he will tell you that he invites you to drink a tea.
In Beijing, as very frequently in China, people only very rarely invite at home. The restaurant can seem formal and expensive that's why tearooms are a very used alternative. Perhaps due to its status of capital of all China since the beginning of the 15th century (Ming Dynasty), Beijing is proud of its tea houses.
Beijing tea houses are classified in six categories
- Da Cha Guan: literally "big tea house".
Generally furnished tastefully, these establishments consist of several rooms and propose a catering service where businessmen or academics like to meet up.
-Ye Cha Guan: "popular tea house"
Originally built close to a source, this type of tea house prospered in a time when it was difficult to find good quality of water.
- Shu Cha Guan: literary "tearooms in which the good storytellers were paid".
- Qing Cha Guan where only tea is served
Usually composed of one or several rooms and an inner courtyard; they are particularly appreciated by bird owners.
- Er Un Pu where snacks and sodas are served
- Hong Lu Guan
At the same time tea houses and cake stores give the possibility to savour particularly refined cakes while drinking a cup of tea.
Sanwei Bookstore (Sanwei Shuwu), 60 Fuxingmennei Dajie; Tel: 66013204
The bookstore is connected to a teahouse. The first floor is the bookstore and the second floor is the teahouse which is decorated with various old paintings, lanterns, and classic sunblind. After your purchases, you can go to the teahouse upstairs for recital of live jazz or traditional Chinese music.
Lao She Tea House (Lao She Chaguan), 3/F Da Wan Cha Bldg, 3 Qianmen Xidajie; Tel: 66036830
The teahouse affords a traditional tone, Beijing-styled environment, where you can attend brilliant performances by celebrities from folk arts and drama every day while enjoying famous tea and palace snacks.
Tianqiao Tea House (Tianqiaole Chayuan), 113 Tianqiao Market; Tel: 63040617
This teahouse was once the most important meeting place for local residents. Now it attracts locals and tourists alike with its welcoming flavour and historic past. Tianqiao offers an amazing range of teas and Beijing snacks. Each night, customers are entertained by Beijing opera and other traditional performances. Numerous tea houses opened recently in Wuhan, the last trendy place for young people:
Languafeng, Hankou, 970-972 Jiefang Dadao, Tel: 85844713; Situated near the Holiday Inn, a small very friendly establishment. Houyuanxuan Chaguan, Hankou, 826 Jiefang Dadao, Tel: 85855036; a special place to have tea and regional specialties. Dahou Xiaochuan Chaguan, Taibei Lu; it is certainly the best tea house of Wuhan: Sophisticated cuisine, excellent teas, and an extremely pleasant moment.