This city of the Guangxi Zhuang Autonomous Region became one of the most visited places in China and is renowned for its unique scenery of karst topography. Guilin is besides a lovely city and a particularly interesting destination as its climate is pleasant all year round.
Transportation
All the trains lead to "Guilin" (or almost!)
Buses cost generally from 1 to 2 RMB and taxis about 7RMB.
Bicycle rental: Count 30/45 RMB a day; check bike -brakes, saddle, tires…-before leaving.
Internet: no problem to find an access; the connection is not excellent but improves constantly; a good place "Jiao Tonglu" (2 RMB / hour).
Tea: "Lin Gui Lu" tea shop selling traditional Chinese tea. A small store which exists for a very long time and where the quality is good - go there confidently!
Chinese Massage: there is a clinic "Wu Mei Lu" – specialized for back pain, they will accept you rather quickly for an effective and professional massage of approximately one hour for 40/50 RMB.
How to get to Yangshuo: at Guillin train station there are frequent buses leaving every 10 minutes. Price: 14 RMB for small buses and 13 Yuan for a more comfortable one with air conditioning. Time needed: 1 hour to 1.30 depending on traffic and weather.
Hotels
Guilin Backstreet Youth Hostel is highly recommended as "one of the most economic accommodations of Guilin".
Ideally located, just ask for the Sheraton hotel -- it is right next door.
Wada Hostel, 212 Huanchengxi Road, Tel. 00867732154888; Free internet, Wi-Fi- Free movies - Free towel rental -Free blow dryer-Bike rental.
Yangshuo
Bed and Breakfast at the end of Universe, 43 Pantao Road; Tel: 086/ 773 881 4905; Single Room (25/50 RMB) - Double: (45/80 RMB) + 15RMB for breakfast.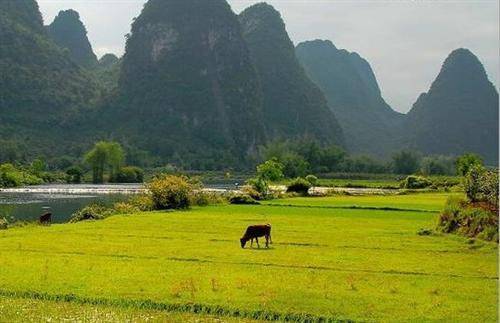 Tao Hua Yuan Hotel, 1 Baoquan Road; much more remote while staying in the city centre - A family house which offers some rooms - clean place (60 RMB for 2 persons).
The Giggling tree (Aishanmen village); not really in the centre of Yangshuo, this very recent hotel should suit those who wish to feel close to liveliness with undergoing the hassle. The price of rooms full of charm goes from 180 RMB to 360 RMB.
The owners are going to welcome you with great pleasure and will make you discover that there are many places still little known around - You can practice tai chi, take cooking classes, climb, rent a bike to visit surroundings, ….
Happy Hotel, (102/106 PanTao Lu; this small hotel is nice with beautiful rooms not too big and clean - TV - Air Conditioning – Price: up to 80 RMB - email: happyhotel2000@hotmail.com.
Mountain retreat should delight the amateurs of peace....
Restaurants
Xiax sho Fa Yi (Xicheng Road) is an appropriate place if you enjoy Muslim kitchen. Affordable dishes, not to spicy. The fish is particularly tasty especially when steamed.
13-2 Lingui lu; simple, good and cheap (2/10 RMB) –Rice Noodles is the specialty.
Taiping Lu; has to be discovered absolutely. There is a cook who prepares a delicious pancake without any drop of oil! (3,5 RMB)
5-5 Wen Min Lu and 2-3 Rong Yin Lu; famous noodles.
To savour "local" tea (green / garlic / ginger or green onion tea) walk in «Long Zhu lu» district, (after "Fubo Shan") you will find some tables.
One day in Guilin
Less urbanized than the right bank, the left bank of Lijiang allows escaping quickly in Guilin's magical surrounding countryside. Explore Seven Star Park before have a high regard for Karstic Peaks.
End your beautiful day and take an exciting chairlift ride to the top of Yao Mountain for unforgettable panoramas. Discover the immense reed Flute Cave and go up at the top of Fubu Hill for stunning views of misted limestone hills and villages to close the program of this day.
Other suggestions
Enjoy the most popular way to explore gorgeous Yangshuo – on a bike! Get pleasure from scenic continuing hills, beautiful karst mountains, sprawling rice paddies, sparkling rivers and old villages. In addition, see the area's highlights including Moon Hill and Dragon River.
A Li River cruise from Guilin to Yangshuo is one of the most popular activities in a Guilin holiday.
Begin your day with a relaxing tai chi lesson with the locals beside the Li River.
Visit the home of a farmer for a pleasant home-cooked meal before ending your day with a relaxing traditional Chinese massage.