Life and travel in Guangzhou can be pretty hectic. It's a large tract of urban land with a lot of places to see and several hours of accumulative walking and riding buses and trains. If you're in business, then stress is another factor to consider. Let's not forget that, like a lot of cities in China, traffic in Guangzhou can be horrendous. Fortunately, if you're looking for temporary salvation from all this crazy—but mostly positive—madness, you can hop on any of these night bars found all around the city.

These are some of the hottest clubs, lounges, pubs, and bars in Guangzhou. We've added a short "how to get there" section to help you find it quickly. Take note that point A is pegged at Guangzhou Baiyun International Airport. Moreover, the entries are listed in no particular order.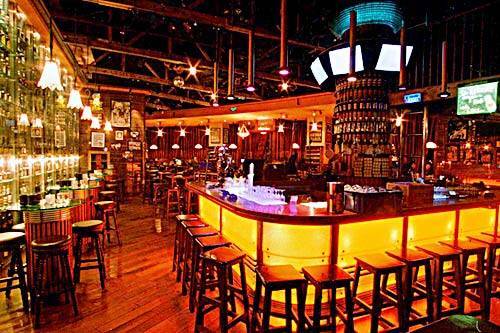 Fei
Fei is located in Zhujiang New Town in Tianhe District, one of the most barren areas in Guangzhou but now a fast-rising cosmopolitan destination especially among tourists. It's a section where restaurants and other bars are abundant. Fei, nevertheless, shines because of its very cool music (it plays some of the hottest tunes) and fantastic cocktails. The venue is well designed as well. Saturdays are incredibly busy, and almost always the place is jam-packed.

Address: 26 Xian Cun Road, Pearl River New Town, Tianhe District, Guangzhou, China
Phone Number: 86 20 6680 7825
Operating Hours: 8:00 p.m. to 3:00 a.m. (Thursday to Saturday), 8:00 p.m. to 2:00 a.m. (Sunday to Wednesday)
How to Get There: Take the Metro Line 3 from the international airport and bound for Tiyu Xilu. Disembark at Guangzhou East Railway Station and walk to Fei for around 20 minutes.
Soho
It may look rather plain, but the truth is Soho doesn't disappoint, particularly if you're a certified dancing machine. Every nigh the floor is populated by men and women who love to keep up to the beat, whether it's R&B, pop, or techno, with the strong guidance of the resident DJ. It's a well-thought-out social club that is frequented by some of the hippest crowds in the city. Unlike other dance clubs, it doesn't have those ultra-flashy laser lights, so it's a very cozy venue.

Address: 87 Changdi Road, Yuexi, Guangzhou, China
Phone Number: 20 8336 6611
Operating Hours: 8:30 p.m. to 3:00 a.m.
How to Get There: Go to Metro Line 3 bound for Tiyu Xilu. The ride takes about 33 minutes. Alight on the third stop, Jiahewanggang. Proceed to Line 2 toward Guangzhou South Railway Station. Travel for 30 minutes until you reach Haizhou Square. Walk for less than 10 minutes to Soho Bar.
Tavern Sports Bar
One of the favorite bars in Pearl River New City and within Zheijiang New Town, Tavern Sports Bar is extremely casual. It's an ultimate "free your mind and enjoy your pint of beer" club. There are many things to do here, including watching your favorite sports, playing pool, and listening to some feel-good music. Compared to other bars and clubs in the area, this one opens early, before noon, so it's able to serve late breakfast or brunch. The menu is eclectic as it offers Mediterranean, American, and British dishes. You can also order delicious tapas and decadent desserts. Happy hours are from 4:00 p.m. to 8:00 p.m.

Address: Poly 108 Residence, No 6. Hua Jiu Lu, Zhu Jiang Xin Cheng, Guangzhou, China
Phone Number: 20 8550 3038
Operating Hours: 11:30 a.m. to 2:00 a.m.
How to Get There: Proceed to Line 3 toward Tiyu Xilu. Arrive at Panyu Square and into Zhujiang New Town. Walk toward the restaurant for about 10 minutes.
Coco Track
Guangzhou night clubs aren't as expensive as those of other Asian cities, but the costs are definitely increasing. Should you find yourself in a shoestring budget but still want to party, you can go to Coco Track located at Yanjiang Middle Road in Yuexiu. It doesn't have any spectacular interiors, and the music and food are comparable to other clubs and bars, but they prices are significantly cheaper. Moreover, there's no admission fee and very strict dress codes. These may also explain why it's a favorite among college students and young adults.

Address: 203 Yanjiang Middle Road, Yuexiu, Guangzhou, China
Phone Number: 20 3321 4868
How to Get There: Take Line 3 toward Tiyu Xilu and stopa t Jiahewanggang. Move to Line 2 toward Guangzhou South Railway Station. After about 30 minutes, alight at Haizhu Square and walk. The club is only 700 meters away.
Donga Tapas Wines and Cocktail
Night life isn't just about parties and dancing. It can also be a comfortable, laid-back night out with friends and family. A perfect choice is Donga Tapas Wine and Cocktail at Yuexiu District. It serves different Italian and Asian fusion dishes to tease your taste buds, but most of those who go there are after their wide range of tapas. The cocktails are well prepared and surely tasty you would probably ask for more. There's also an elegant wine bar where you can choose among the local and imported bottles. Since it caters to large groups, tables extend until the outdoors.

Address: No. 15, Heping Road, East Huang Shi Road, Yuexiu District, Guangzhou, China
Phone Number: 20 8348 1288
How to Get There: To get to the bar, disembark at Jiahewanggang from Metro Line 3 of Guangzhou's international airport. Proceed to Line 2 toward Guangzhou Railway Station where you will also stop. The entire travel time is less than 30 minutes and is composed of 8 stops. From the railway station, transfer to Line 5 to Wenchong and alight at Taojin. Heping Road is approximately 15 minutes.
La Marina Restaurant Bar
La Marina reminds you of the warm summer breeze by the sea as it serves some of the best mussels in the country. In fact, it prides itself as the first mussel bar in the city. The seafood is fresh from the bays of France and prepared by no less than a French chef. You can then complement the dish with a round of beer. Other choices also include paella, tuna and salmon cornet, chicken brochette, and salmon tagliatelle. If you want to go light, you can choose between their signature garden salad and spinach salmon salad.

Address: 11–17 Xing Sheng Road, Liede, Guangzhou, China
Phone Number: 20 3888 0805
Operating Hours: 11:00 a.m. to 2:00 a.m.
How to Get There: The restaurant is within Liede. From the airport, it's around an hour and 45 minutes away. You can take Line 3 to Tiyu Xilu then to Panyu Square, and Zhujiang New Town. Change to Line 5 bound for Wenchong and alight at Liede station.
Tian Bar
Tian Bar is one of the resident night clubs of Four Seasons Hotel. Located on the 99th floor of IFC Building, it gives you an ample view of most of the city and its amazing skyline at night. It's an intimate well-designed space where there's a dedicated section for the smokers. Most of the tables also don't have any additional charges, so you can spend all your money on food and cocktails. The bar can accommodate up to 77 people at any time. One of the highlights is the tall bar decorated with multi-colored agate stones. It serves cold and warm tapas, as well as sweets.

Address: 99F IFC Building, 5 Zhujiang West Road, Guangzhou, China
Phone Number: 86 20 8883 3888
Operating Hours: 5:00 p.m. to 1:00 a.m. (Sunday to Thursday), 5:00 p.m. to 2:00 a.m. (Friday to Saturday)
How to Get There: From Tiyu Xilu, proceed to Linhexi and change to APM Line to Chigang Pagoda. Stop at Huacheng Dadao and walk toward the hotel for 3 minutes.
The Strand Beer Café
As its name implies, it's a café that specializes in beer. What makes their products very interesting, however, is that these ales are handcrafted right at the city. Today there are more than 40 local beers to choose from. You can then pair every glass with meatballs, barbecue chicken, and toasted focaccia. You may also find yourself dining with the owners.

Address: 1 Chunfeng Road, Wuyang Xincheng, Yuexiu District, Guangzhou, China
Phone Number: 20 8735 7179
Operating Hours: 6:00 p.m. to 2:00 a.m.
How to Get There: From Tiyu Xilu, take the subway to Panyu Square and then to Zhujiang New Town. Proceed to Line 5 toward Jiaokou and then to Wuyangcun. The beer café is less than 500 meters away.