In September, my best friend and I went to visit Beijing on a sunny day. We booked the plane ticket and hotel a month in advance. Later on, we scheduled our itinerary, ways of transportation, dos and don'ts. Anyway, we tried to make everything clear.
Day 1. Nanluoguxiang Hutong
We lived in an inn called Yijingxiaozhan, which was located near Beixing Bridge. The inn situated in a hutong, so it is very quiet there. I can see that the inn was a quadrangle before, having turned into an inn after reconstruction. The inn is quite comfortable for us. We would like to sitting on the quad, chatting with others and enjoying the sunshine in the late afternoon.

Heading to the west from the inn, we came to the famous hutong- Nanluoguxiang. There are many Chinese knickknack shops in the hutong, but the goods here are a bit expensive. So I did not buy a lot but some postcards and hand – drawn map of Beijing. In addition, the food here is awesome. Some are local special snacks like Candied haws (Bingtanghulu) and character cheese.

I quite prefer the café and bars here with salubrious and elegant decoration. Well, I really want to have some relaxed time here, if I really time. But my friend may not want to do that because she has been hungry for a while. Of course, it was 8'oclock already, time for dinner! Finally, we found a restaurant in Yandaixie Street, which is an old street with lingering charm.
Restaurant:Kaorouji Restaurant
Address: 14 Qianhai Dongyan, Xicheng District
Price: 58 per

As I have received some information from the Internet before, knowing that Kaorouji Restaurant is a famous restaurant in Beijing Muslim flavor characteristics. The food was well priced and delicious. We particularly loved the spicy lamb ribs and beef, especially a large plate of stir-fried vegetables was very worthwhile. The skewers were also cheap and tasty. In a word, the service was quick and friendly, food is delicious and easy to get to, and everything is highly recommended.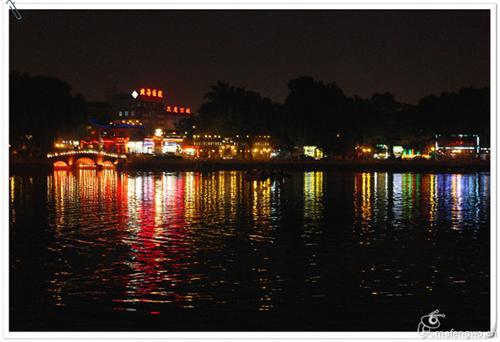 When dinner is done, we took a walk along the Houhai, appreciating the beautiful scenery here. The whole street is filled with bars and cafes. The singers' voices are pleasant to listen to. In particular, the views are present by the colorful lambs which make it extremely beautiful. I took out my camera and took a few pictures here. Even now, the lovely moments are still vivid in my mind while seeing these pictures.Walking along the lake for a while, we came to the Hehua Market, which is lively and worthy for a visit. However, we felt exhausted and cannot help to take a rest in the hotel. So, we took a taxi easily on the road.
Day 2: the Great Wall, the Bird's Nest, Water Cube
Fee for Mutianyu Great Wall CNY 40
Cable Car/Skidway CNY 80
We booked a group trip to the Great Wall in our inn. And they recommend us to visit Mutianyu.It is available to take a cable car to visit either go up or go down to the mountain. In particular, it will be exciting to choose skidway to go down from the mountain. That's, driving a pulley and enjoys the views along the skidway.No1-No5 peak towers were kind of steep since they have not been repaired.No.6-No23 peak towers had been reconstruction so they slopes gently, compare to the ones we mentioned before. Anyway, I admired for the spirit and intelligence of the ancient Chinese. It is amazing for them to built such a great construction in the mountain. The green mountain, grey wall, blue sky makes up a magnificent scene of feast to our eyes.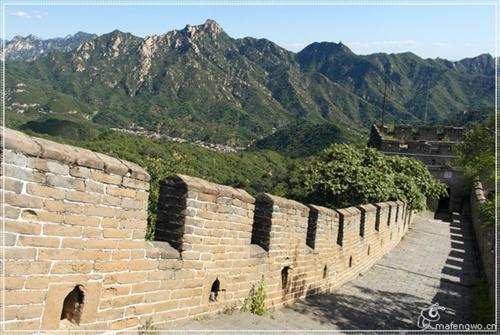 We had our dinner in MR YANG's. It is absolutely the best group dinner we ever had. I was surprised to see a German girl and her mother were skillful with using chopsticks. I was a bit embarrassed because I was not good at using chopsticks as a Chinese. Anyway, though the people sitting around the table are from different countries and speak different languages, we really enjoy being together and having a great meal together.At 4 o'clock, we went back to our inn and took a rest. According to our plan, we were going to visit the Bird's Nest and the Water Cube in the evening. As I required the information before, it would be more beautiful to appreciate these two buildings in the evening, when they were lit with colorful lights. So that's the reason why we go at night.

For our dinner tonight, we decided to taste the local dumplings. The Jianglaomang Restaurant is best known for its dumplings so we made up our mind to give a try, though we were told that food are good but the price could be a bit decent. To our surprise, we two spent 62 yuan in total, this is far under our control. We tried all kinds of dumplings, which are made of pork, shrimp and squid. Also, we ordered potato noodles and some fresh vegetables. They were very amazing.

It is not far to take a subway to arrive at National Stadium (the Bird's Nest). The water cube is located on the west side of Landscape Avenue in the Olympic Green and to the west of National Stadium (Bird's Nest). Both Bird's Nest and Water Cube are great constructions as I see. The Water Cube is made up of numerous blue bubbles. To our pity, it did not change its colors since the lights inside were not lip up. Guess it is only lit up on festivities, in order to save energy. Big louder were making noises and secure were trying to expel those people who fly kites here. Anyway, I did not have a good impression here,

Day 3 Tiananmen Square, Forbidden City, Summer Palace
There are many scenic spots around the Tiananmen Square, such as National Centre for the Performing Arts, Mausoleum of Mao Zedong and Monument to the People's Heroes. After we brought tickets of The Forbidden City, we rent a electric guide for 20 yuan. The electric guide will introduce these historical sites as soon as we get to them. In my opinion, this machine is useful, making our trip more meaningful by learn these great historical sites. It is an amazing place to think that this was once the private domain of the emperors of ancient China .We spent extra ten yuan for visiting Zhenbao Museum, where stores numerous priceless treasures. The imperial garden is well worth visiting - they moved a mountain for the emperor himself! Awesome!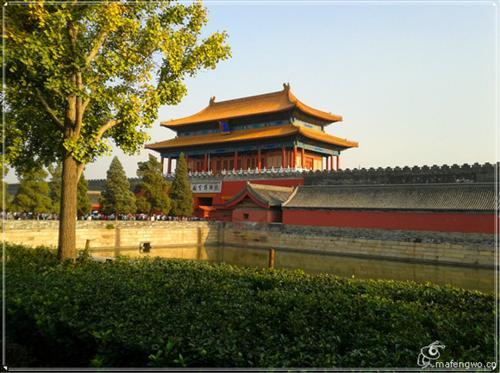 To have a special visit, we chose to take a cruise to visit the Summer Palace, which proves to be an outstand idea. We set off from Beizhan quay, passing through Waishou Temple, Maizhong Bridge and Changhe Bridge. The Summer Palace is the longest pawn in the world, 700 meters in length. It is like a colored ribbon links all the views together. We could not help proud of these magnificent architectures and exquisite paintings.
Recommended itineraries:
1. 4 Day Classical Beijing Tour
2. 5 Day Essence of Beijing Tour
3. 2 Day Great Wall Hiking at Huanghuacheng, Jiankou and Mutianyu

Source from: http://www.mafengwo.cn/i/1009749.html

For any questions with our pictures used, please contact marketing@chinatravel.com