If there are 2 things that Hangzhou is known for in China and throughout the world, it is the West Lake and tea. Indeed, the tea produced in the Zhejiang Province around Hangzhou such as in town like Manjuelong, Longjin, and Meijiawu, is among the best quality that exists. In particular, the city is known for its longjing tea, a type of green tea. Springtime is when longjing leaves are harvested, so visit during this time for the freshest brews. More than 700 teahouses can be found in Hangzhou, with those around West Lake offering among the most impressive views and atmospheres.
A visit to a teahouse can be an affair that lasts as long as you desire. You can stop by for a quick drink, or more preferably, a longer, lingering stay that includes good food and even better company. These teahouses are also often great places to reflect, read, and perhaps do some creative work on your own. Foods and snacks can typically be ordered such as fruits and dim sum dishes to accompany your hot cups of tea.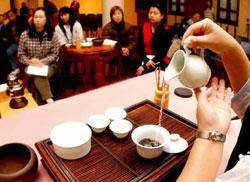 A teahouse visit serves many purposes in Hangzhou and China. It is a popular place to meet and catch up with friends, as well as an appropriate location to gather with business partners and colleagues. This tea culture dates back to the Southern Song Dynasty (1127-1279) when they were often also used as public meeting areas, and continues strongly to this day. The establishments tend to close around midnight.
Indeed, Hangzhou is a true tea lover's paradise. See below for your top picks of teahouses in Hangzhou! Prices are presented as per person averages.
Hu Pan Ju Teahouse
Of the various teahouses that encircle West Lake, this one offers one of the most premier views from any of its 3 stories. It is no wonder then that Hu Pan Ju teahouse is among the very top in Hangzhou. Near the window, you can see almost all of the lake. Hu Pan Ju teahouse has 2 branches in Hangzhou, both of which are alongside the lake with open air seating. There are over 100 types of teas to choose from, with the West Lake Shifeng Longjing variation the homegrown pride of the establishment. Snacks and foods come free with your purchase of tea. You really can't go wrong at either location!
Address:
• Wang Hu Branch: 7/F, Wang Hu Hotel, 2 Huan Cheng Xi Lu, Xihu District
• Sheng Tang Branch: 1 Sheng Tang Scenic Area, Xihu District
Average Cost: 180 Yuan
Qingteng Teahouse
Found on the 2nd floor of Yuan Hua Plaza, this teahouse was founded in 1996 and offers an unlimited buffet of food (such as chicken wings, egg tarts, fruits and ice cream) to go along with your tea order as is typical of a teahouse experience. The building is covered with lush green plants and has a typical architecture from the southern region of the Yangtze River. West Lake can easily be seen here while you enjoy your tea. It was the first teahouse chain in Hangzhou, with 4 total locations today. With such a rich history and wide offerings, Qingteng Teahouse is the most famous of its kind in Hangzhou due to its legacy and reputation, with reservations very much recommended if visiting during a holiday or weekend. The owners remain very dedicated to sharing the craft and significance of tea in this region in China. There are also folk music shows on stage every night with a classic tea ceremony presentation as well.
Address:
• Nan Shan Lu Branch: 278 Nan Shan Lu, Shangcheng District
• Huangcheng Xi Lu Branch: 30 Huangcheng Xi Lu (near the Hubin Mage KTV), Shangcheng District
Average Cost: 80 Yuan
Taotaoju Teahouse
Taotaoju is another very well beloved and respected teahouse in Hangzhou, in part due to its wide selection of wonderful teas. The teahouse is very close to Hangzhou Zoo and has more than 60 types of teas for visitors to choose from. As well, the water used to brew the teas is from a fresh spring, which is brought down from the nearby mountain on a daily basis. The buffet of foods and snacks such as dim sum, barbeque, and more really complete the tea drinking experience.
Address: 248-250 Hupao Lu Siyan Jing (near Nanyu Shanzhuang), Xihu District
Average Cost: 80 Yuan
Xinyuan Teahouse
This old teahouse offers a buffet of food and snacks as well, such as sunflower seeds, pine nuts, raisins, lamb shanks, fried dumplings, various succulent fruits, and much more. It is a great place to relax and unwind with friends, with many locals playing cards or just chatting with each other. There are 4 locations in Hangzhou with the Qing Chun Lu branch being the most atmospheric. The Ti Yu Chang branch tends to have lower prices.
Address:
• Teapot Qing Chun Branch: 278 Qing Chun Lu, Xiacheng District
• Huang Long Branch: 5 Huang Long Lu, Xihu District
• Feng Qi Branch: 285 Jian Guo Bei Lu, Xiacheng District
• Xiang Ji Si Lu Branch: 40 Xiang Ji Si Lu, Gongshu District
Average Cost: 62 Yuan
Niwo Teahouse
This teahouse is known for 3 main things: its exceptional service, its bird's nest soup, and its tea. The owner is a graduate of Zhejiang University's Tea Studies program and has more than 20 years of experience in this craft product. The interior design of the teahouse is also very impressive.
Address: Niwo Teahouse, 163 Yugu Lu (near Qiushi Lu), Xihu District
Average Cost: 90 Yuan
He Teahouse
This teahouse is found inside the luxury 5-star resort Amanfayun. Its aesthetic is very verdant and beautiful, making it a popular place for photo shoots. A well known type of tea to try here is the mingqian longjing tea which is enjoyed typically before the national holiday of Tomb Sweeping Day. A buffet of fruit and dim sum is included with your tea.
Address: He Teahouse, 22 Fayun Long (inside Amanfayun Resort near Lingyin Temple), Xihu Jiedao, Xihu District
Average Cost: 88-140 Yuan
Wen Ying Ge Teahouse
This is another West Lake property, although Wen Ying Ge teahouse is found within Liu Lang Wen Ying Park. In the foreground of the vantages here, you will see the lake, and in the background you will see Lei Feng Tower. The foods and snacks are also unlimited while you enjoy your tea drinks.
Address: 3 Liu Lang Wen Ying Park, Qing Bo Men, Nan Shan Lu, Shangcheng District
Average Cost: 60 Yuan
Zi Yi Ge Teahouse
If you are equally interested in tea as the local food, then pay a visit to Zi Yi Ge teahouse. Here, you get to try some of the famous fresh fruit the establishment has to offer, decorated and presented in a traditional Chinese style. These delicacies are free as you enjoy your tea.
Address: 172 Shu Guang Lu, Xihu District
Average Cost: 67 Yuan
Other top teahouses in Hangzhou:
Tao Tao Ju Teahouse
Address: 619 Feng Qi Lu, Xiacheng District
Average Cost: 66 Yuan
Hao Yue Liang Cha Guan Teahouse
Address: 162 Tian Mu Shan Lu, Xihu District
Average Cost: 56 Yuan
Hu Pan Cha Ju Teahouse
Address: 18 Yang Gong Di, Xihu District
Average Cost: 112 Yuan