Before heading to Qingdao for your holiday, check out what things you should not miss when visiting this city. Here's a brief guide.
Badaguan Scenic Resort
Badaguan Scenic Resorts (八大关) literally means Eight Great Passes Resort, due to the eight main roads. The eight main roads (nowadays 10) are named after the eight grand passes in China: Shaoguan Pass (韶关), Jiayuguan Pass (嘉峪关), Hanguguan Pass (函谷关), Yangguan Pass (阳关路), Linhuaiguan Pass (临淮关), Ningwuguan Pass (宁武关), Zijingguan Pass (紫荆关) and Juyongguan Pass (居庸关).
The attraction is located at the eastern point of Huiquan Bay (汇泉湾), facing Zhanshan Mountain and Taiping Mountain on its north, covering 1.5 million square meters. Shady walkways, seasonal flowers and sunny bathing beach are the major features of this attraction.
Boulevards are lined with trees, gardens and villas dating back to the 1920's in different styles. Huashi Building (花石楼), one of the most famous buildings at NO.18 Huanghai Road, was built by the Russian back in 1932. Its Goth-style exterior is quite graceful and used to be the residence of Daili (戴笠), who was the head of the secret service agents back in the civil war.
NO.16 of Juyongguan Road lies the famous Princess Building (公主楼). It is just like the castle that is only seen in fairytales. In 1929, the Prince of Denmark found this building quite a nice spot for retreat. He spent money and time rebuilding it into a resort for the princess, who eventually never got the chance to enjoy.
Bathing beach by Huashi Buidling has an open ocean view. When Qingdao was a colony to the Germany in the late 1890s, the general used to come down here on horseback for hunting and swimming. Nowadays, this beach is more widely known as the Second Bathing Beach (第二海水浴场). The small shed on the beach was the place for an important meeting held by Chairman Mao in 1957.
Address: Huiquan Bay, Taiping Cape, Qingdao
Opening Hours: All-day
Suggested Visiting Hours: 1-2 hours
Admission: Free
Getting There: Take Bus NO. 26, 304, 315, 31, 202, 212, 223, 228, 316, 321, 501 or 801 to Wushengguan Road Stop
Note: The Second Bathing Beach only opens during summertime.
Laoshan Mountain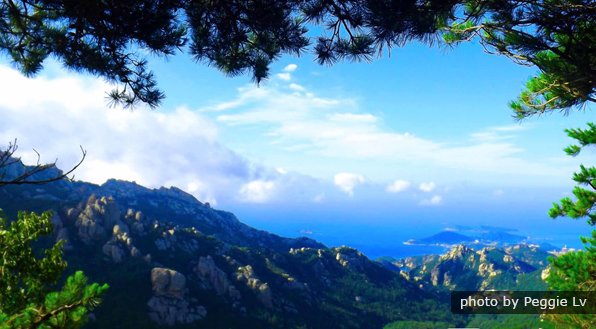 Located at the eastern end of Qingdao city, Laoshan Mountain (崂山) is the main mountain ridge running through the Sandong Peninsula. Its highest peak is Jufeng (巨峰), of 1132.7m at height and 1.5 km2 at footage. Laoshan National Park is established as a reserve and leisure park that is good for outdoor activities.
Laoshan Mountain makes its name known as the birthplace of Taosim. As early as the Warring States Period, Laoshan Mountain was crowned as the Scared Mountain at the East Sea (东海仙山). The school of Complete Perfection School of Taoism (全真派) was developed here by Wang Chongyang (王重阳) back to the late period of the Song Dynasty.
Presently, there are 13 Taosim and Buddhism temples in Laoshan Mountain, together with 6 historic ruins, 4 ancient cities, 7 ancient buildings, 6 academies and 7 mausoleums.
A trip to Laoshan Mountain shall cover its 12 Grand Sites: Jufeng Peak (巨峰), Mingxia Taosim Temple (明霞洞), Weizhu Nunnery(蔚竹庵), Baiyun Taoism Temple (白云洞), Chaoyin Waterfall (潮音瀑), Checkerboard Rock (棋盘石), Hualou Peak (华楼峰), Lion Peak (狮子峰), Narayana Cave (那罗延窟), Pat Sin Pedestal (八仙墩), Taiqing Taoism Temple (太清宫) and Longtan Waterfall (龙潭瀑).
Nearby villages keep the rich folklores alive and every Chinese New Year they will present a festival performance including Yangge (秧歌), Walking on Stilts (踩高跷), Running Land Boat Dance (跑旱船) and Dragon Dance (舞龙). During the Tomb Sweeping Day every April, the local fishing villages will worship the ocean with live sacrifices.
Address: NO.30, Meiling Road, Laoshan District, Qingdao
Opening Hours: 6:00AM-4:30PM
Suggested Visiting Hours: 3-5 hours
Admission: Ranging from CNY100 – 300 (in different parts of the mountain)
Getting There: Take Bus NO. 104, 106, 110, 112, 113, 304, 311, 312 or 371 to Laoshan Mountain.
Qingdao Beer Museum
Built in 2001 in honor to the 100th anniversary of Tsingtao Brewery, the company went out for expedition to the USA, Japan, Dutch, Germany and Denmark. Now it's more than a memorial site for the factory. Qingdao Beer Musuem (青岛啤酒博物馆) features with history of the factory, manufactory process and chances to get a cool beer.
The first section is the history hall, displaying birth and developing history of Tsingtao Beer that dates back to 100 years ago. It's also a hall of fame. Materials that are collected from aboard and home showcase each phase of the manufactory. Some of them are donated by the previous German and Japanese workers who used to work here.
The second section takes people back to the old days with its replica setting of the factory back in last century or even earlier. Travelers would like to spend more time at the third section, where samples of beer are coming nonstop. Visitors can buy some presents at the gift shop after the tour.
Address: NO.56, Dengzhou Road, Shibei District, Qingdao
Opening Hours: 8:30AM-4:30PM
Suggested Visiting Hours: 1-2 hours
Admission: CNY50/person
Getting There: Take Bus NO.1, 3, 4, 11, 15, 25, 36, 217, 225, 302, 306 or 367 to Dongtai Stop (东台站); Take Bus NO. 205, 217, 221 or 604 to Qingdao Beer Museum.
Golden Sand Beach
Golden Sand Beach (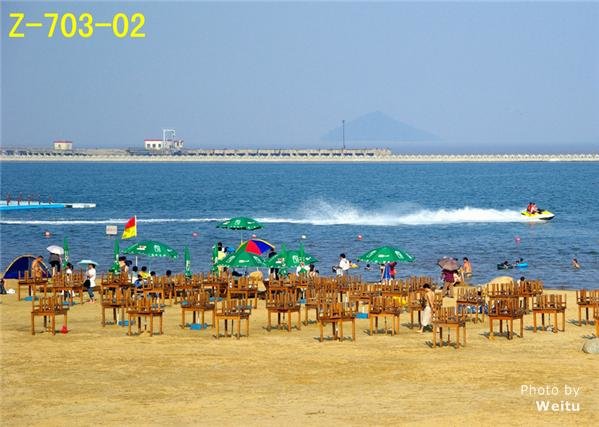 ) lies across the Phoenix Island in Huangdao District, facing the Yellow Sea. It runs for about 3,500 meters (2 miles) long and 300 meters (0.1 miles) wide. As indicated by its name, it boasts for soft golden sand and tender seawater. Over the years, it has been the place for musical festivals, beach volleyball contests and everyday beach leisure for the locals.
Address: Huangdao District, Qingdao
Opening Hours: All-day
Suggested Visiting Hours: 1-2 hours
Admission: Free
Getting There: Take Bus NO.1, 4, 18 or 808 to Huangdao Island and take a ferry to get to the beach.
Catholic Church
Firstly built in 1932 and completed in 1934, the Catholic Church (天主教堂) is noted as the ten most beautiful churches in China. Its original name was St. Michael's Cathedral. Father Franz Bartels was appointed as pastor in Qingdao and given a mission to construct a church for the European community to worship God.
The original construction plan and design were decided a three-aisled Gothic church. Unfortunately, it was interrupted by the World War I conquest of Qingdao by the Japanese in 1914. 1925, Bishop Georg Weig resumed the construction yet changed the style to a neo-Romanesque, better toning with Qingdao's townscape by that time. Bishop Georg Weig served at the church for 16 years and finally slept in peace in the church.
During the 30s and 40s in the 21st century, the church had been occupied by the Japanese (1938) and resorted again when the World War II ended. Its most glorious moment has to be when Bishop Tien was elevated to Cardinal. He was the first and also the only Chinese Cardinal. Representatives of the Shandong Government and the United States Marine Band threw him a big welcome when he came back from Vatican City.
After the Communists gained control nationwide after the Civil War, the church was shut down and missionaries were either sent back to their own countries or into prison. The impact of the government's attempt for eradication of the Western presence put the church under 30-some years of silence and sorrow. However, with the government's funding, the church was freshly resorted and reopened in 1981.
Covering 2,740 square meters, this graceful church has a typical neo-Romanesque-style exterior. Walking inside, high-lifting piers and arches, and red carpet aisles lead to the vaults under a wide coffered ceiling. Colored glasses on the window tell the stories of the Holy Bible and the whole surrounding just calls out a God-fearing silence upon its visitors.
Address: NO.15 Zhejiang Road, Shinan District, Qingdao
Opening Hours: 9:00AM – 5:00PM
Suggested Visiting Hours: 1 hour
Admission: CNY10
Getting There: Take Bus NO.1, 301, 305 or 367 to Hubei Road and walk for 10 minutes.
Underwater World
Boasting as the most interesting marine-themed amusement aquarium, Qingdao Underwater World (海底世界) creates a unique visit to the ocean underground. It is located in Huiquan Bay of Qingdao, covering an area of 7,000 sq km and water body of 4,000 tons.
Intertidal Section is the first section of the aquarium. It is consisted with waving pools, seawater pools and waterfall pools, with various marine lives living in the intertidal zones. In oceanography, intertidal zone is the transitional point between land and sea. It is strongly affected by precipitation, lighting and temperature. Marine lives of this zone include algae, mollusks, echinoderms, arthropods and a small amount of fish.
A special experience of walking on the ocean bottom is presented at the second section: Underwater Tunnel. The tunnel runs for 86.2 meters and 2.5 meters at width. It is an all-sealed tunnel with 20m-thick acrylic glass. Fish swimming by on the top while sharks are staring right at you, such a scene can only be seen in the movies. Walk pass the hallway, enters the Cylindrical Chamber. The giant cylinder, 7.6m at height and 5m at diameter, holds all kinds of ocean lives.
Show Hall has daily Dancing with Sharks, Little Mermaid and Underwater Ballet and other interesting performances.

Address: NO.2 Yushan Road, Shinan District, Qingdao
Opening Hours: 9:00AM – 5:00PM
Suggested Visiting Hours: 2-3 hours
Admission: CNY130/person
Getting There: Take Bus NO.6, 26, 202, 214, 223, 228, 231, 304, 311, 312, 501 or 504 to Luxun Park (鲁迅公园).