A Guide to a Shaolin Kung Fu Trip in Dengfeng
Last updated by vincentg1991 at 2016/4/5; Destinations: Dengfeng, Luoyang
Shaolin Kung Fu gained itself considerable fame and most foreigners were aware of it from a martial arts movie, Shaolin Si, starred by Jet Li in 1982. Because of the movie, many tourists come to Dengfeng, where Shaolin Kung Fu was born, to experience the power and stateliness of Shaolin Temple, to watch Shaolin Kung Fu performance or to learn real Kung Fu.
No matter for what reason, Shaolin Temple is worth to visit.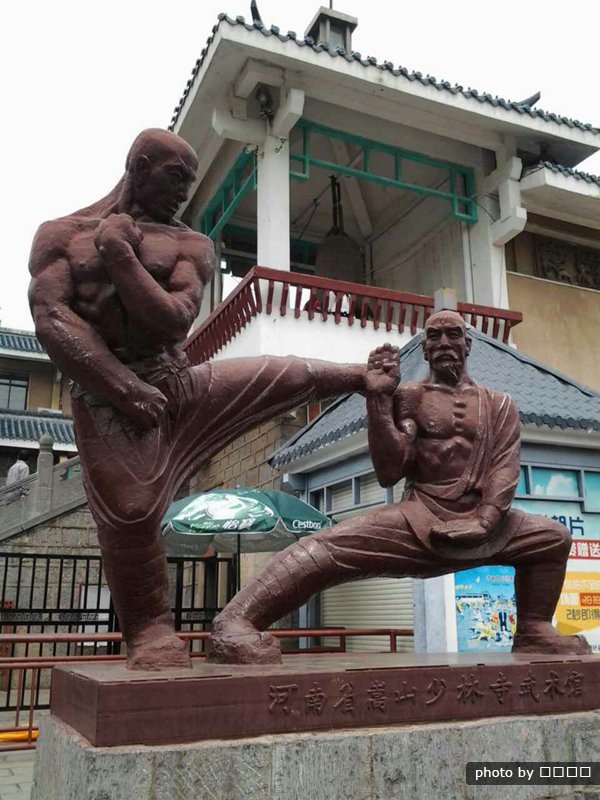 What to Do during a Shaolin Kung Fu Trip
Watching Shaolin Kung Fu Performance
Shaolin Kung Fu performance is a must-see for Kung Fu fans. The performance is played in a Kung Fu performance hall. It is a good chance to watch a Kung Fu show not on TV, but just in front of the visitors. With the flashing light and the big stage, there travelers can see an incredible performance of Shaolin Monk showing their skills. The performance is not to be missed by Kung Fu fans.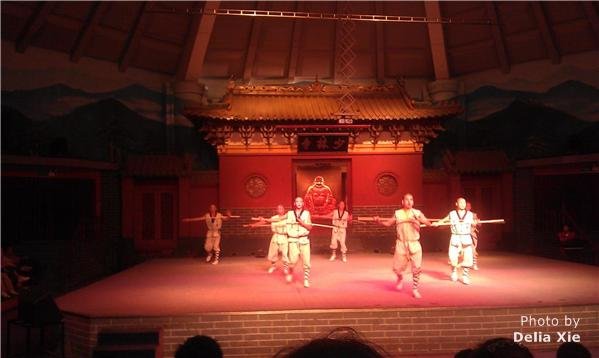 Learning Shaolin Kung Fu
Most foreigners think the Kung Fu Panda is an awesome movie and want to be as sharp as Kung Fu Panda in his or her movement. For Kung Fu fans, it is a great attraction to learn Shaolin Kung Fu.
There students can learn traditional Shaolin Kung fu, Chinese kickboxing or Sanda, Chin Na, Tai Chi, Chi kung, Ba Duan Jin, Yi Jin Jing, Xinyi, Baji, Wu Qin Xi, Meditation, and Chinese martial arts at the school. After trained in the Shaolin Temple for a period of time, every trainee can gain a lot of knowledge about Chinese Kung Fu.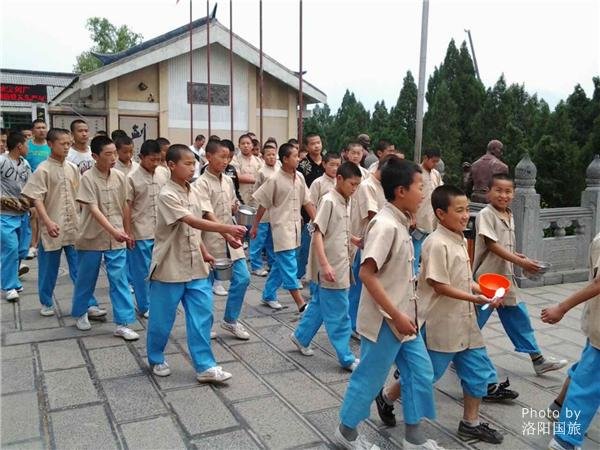 Visiting Shaolin Temple
Shaolin Temple is a witness of history and culture. There are two highlights when visiting the Shaolin Temple. One is the Hall of a Thousand Buddhas. The cobbled floor left from over hundreds of years by the monks training there shows the long history of Kung Fu. The second is Shadow Stone. Bodhidharma faced the wall and meditated for 9 years and his shadow stayed on the stone.
Explore the Nearby Highlights
Longmen
Longmen Grottoes date from 493 AD and features around 100, 000 Buddha sculptures and 1, 400 caves in a variety of sizes. Longmen Grottoes is not only an art of Buddhism culture, but some data about art, music, building, costume and medicine are well preserved. It is a place remains the most Chinese ancient monuments. Travelers can see different styles of famous penmanship on the monuments.
Luoyang Peony
The Luoyang Peony Festival is held from mid April to early May every year. This time travelers can see a lot of peony. The festival is not held in a certain place, but the whole Luoyang city will attend it. The annual festival is set for people to enjoy the beauty of peony's full bloom. During the festival, parks and gardens are awash with red, yellow, white, purple flowers mixed with a thick green background.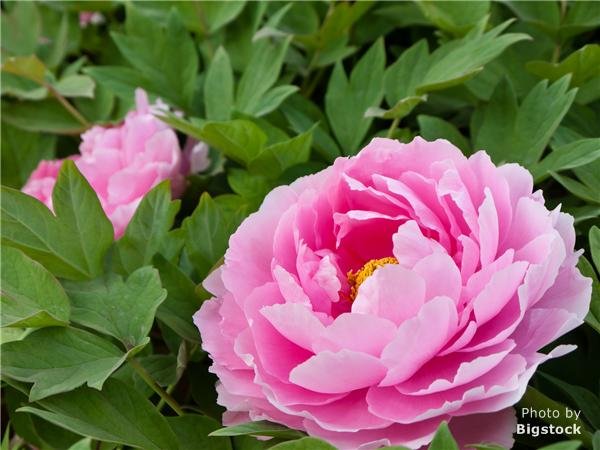 Best Time to Go and Clothing Guide
The best time to visit is between mid April and early May. During this time, the peony flowers reach their peak and visitors are attracted to meet the Luoyang Peony Festival. It is warm in these two months, so travelers can just prepare some single layer clothes for spring and summer. Umbrella is necessary to be prepared; it will be a little rain in this season.
Autumn is a nice season for visiting as well. It will be sunny and little rain in this season. Traveler can prepare some long sleeves because it will be a little cold in the early morning and evening.
Recommended Itinerary Day by Day
Day 1 Impression of Dengfeng
Dengfeng is famous for the Shaolin Temple and Shaolin Kung Fu. When travelers pay visits Dengfeng and Shaolin Temple, it is necessary to be aware of the history and culture. There are many things for travelers to do.
Travelers can take the 2800m Shaolin cableway (少林索道) to enjoy the beautiful landscape below. The cableway connects the Shaolin Temple with the Sanhuang stockaded village (三皇寨) . There is a saying: He who does not reach the Great Wall is not a true man. There is also a saying for Sanhuang stockaded village: He who does not reach the Sanhuang stockaded village equals to not coming to the Shaolin Temple.
Pagoda Forest (塔林) is also a must-see place. The Pagoda Forest is 300 meters west of the Shaolin Temple. There are over 240 tomb pagodas built for the eminent monks who served and protected the temple over the dynasties. It is where the spirit of the Shaolin Temple exists.
The Shaolin Temple and Kung Fu performance is the main part of the trip. Kung Fu performance is a good chance for Kung Fu fans to enjoy the show in close range.
Attraction Information
1. Shaolin Cableway (少林索道)
Highlights: Take the 2800m cableway to have a fresh angle to see the beautiful landscape.
Address: It is on the southeast of Shaolin Temple.
Admission: 60Yuan/person
Getting There: Travelers can walk to the cableway from the Shaolin Temple.
2. Sanhuang Stockaded Village (三皇寨)
Highlights: Sanhuang stockade village is connected with Shaolin Temple by the Shaolin cableway. It is a good place to appreciate the rocks in grotesque shape.
Address: It is 2800m from the Shaolin Temple.
Admission: Free
Getting There: Take the Shaolin cableway will take 1 hour to get there.
3. Pagoda Forest (塔林)
Highlights: It is a mark of Shaolin spirit.
Address: It is 300 meters west of the Shaolin Temple.
Admission: 100Yuan/person to get into the Shaolin Temple.
Getting There: Travelers can walk to there.
Day 2 Experience of Kung Fu learning
Travelers will learn Kung Fu from a master. It will be an unforgettable experience for the Kung Fu fans. You will go to Luoyang late today.
In the morning, travelers will get morning training from 5: 45 to 7: 30 by running and some muscle training. After it, travelers will have their breakfast in the restaurant nearby. Then there comes the real Kung Fu training. Arms, legs and all other muscles (which you did not know before) are stretched. Afterwards the basic elements of the Shaolin Kung Fu are taught: Leg movements, blocking, striking and stands.
In the afternoon, travelers will begin to learn the weapons like long stick and sword. The training ends at 6:00 pm.
Attraction Information
Shaolin Temple:
Highlights: Learning real Shaolin Kung Fu
Address: In the Shaolin Temple
Admission: 100Yuan/person to get into the Shaolin Temple.
Getting There: Travelers can walk to there.
Day 3 Longmen Grottoes and Luoyang Peony Festival
Longmen Grottoes (or Dragon's Gate Grottoes) dates from 493AD, runs about a km alongside the Yi River and features something like 100, 000> Buddha carvings and 1400 caves in all various sizes. Most of the carvings are fairly well preserved and it's quite a spectacular site – especially from the river or the other side of the river.
Travelers will see a lot of colorful peony flowers in Luoyang city when it is Luoyang Peony Festival.. There are many full-length variety shows, flower watching, lantern show, exhibitions of traditional Chinese calligraphy and painting and photography, symposiums, and business talks. Banquets are arranged for peony admirers, and all kinds of snacks and refreshments are served as well. Enjoy you cultural and colorful day!
Attraction Information
1. Longmen Grottoes:
Highlights: 100, 000 wonderful buddha statues in caves at the riverside.
Address: Longmen Town, Luolong section, Luoyang city, Henan Province
Admission: 120Yuan/person
Opening Time:
Busy season: 07:30-22:00 (April 1st. to October 7th.)
07:30-18:00 (October 8th. to October 31st.)
Slack season: 08:00-18:00 (February 1st. to March 31st.)
08:00-17:30 (November 1st. to January 31st.)
Getting There: Bus 81 from the Luoyang Train Station.
2. Luoyang Peony Festival
Highlights: The peony of Luoyang is the most beautiful under heaven".
Address: In the Luoyang city
Admission: Free
Travel Essentials
The best season to go will be a little cool, so take some long sleeves for early morning and evening. Take the umbrella in preparation for the rain. To get to Shaolin Temple, travelers can take the bus 1 to the Oil Company station and transfer to urban and rural areas bus 8 to the last stop.