Day 1: Arrival–Lijiang Ancient City-The Mufu (Wood Mansion)-Wangu Tower-Naxi Ancient Music Hall
Day 2: Baisha Murals at Baisha Village-Ganhaizi- Jade Dragon Snow Mountain
Day 3: Departure
Day 1 Visit Lijiang Old Town, The Mufu and Wangu Tower
Suggested Route
Lijiang Ancient Town for sightseeing & shopping (120minutes):
The Mufu (Wood Mansion) for photography (60 minutes)
Wangu Tower for sightseeing (60 minutes)
When one plans a trip to Lijiang, the place he or she wants to visit the most is always Lijiang Old Town. My plan starts from Lijiang Old Town as well.
Lijiang Old Town an area of about 4 square kilometers and lies 2,400 meters above sea level. It was built during the late Southern Song Dynasty (1127-1279). The village's layout is unique, being a perfect fusion of Han Chinese, Bai minority, and Tibetan styles. Lijiang Old Town is one of the UNESCO World Heritage Sites found in China in 1997. This unique architectural-cultural blend has become the hallmark of the Nakhi people there.
Unlike other ancient cities, there are no city walls built around ancient Lijiang. The town also displays a strategic method of building streets, as the major ones all go toward their main square. The inner parts have smaller lanes. Bluestones were used for their streets.
I arrived in LiJia Sanyi International Airport in the morning. Next, I spent 20 yuan taking an airport shuttle bus to Lantian Hotel. The terminal of airport shuttle buses is this hotel. Then I spent 7 yuan taking a taxi to Lijiang Old Town. Taking a taxi from airport to Lijiang Old Town is a more convenient way but more expensive. It will cost 80 yuan.
Once arriving in the Lijiang Old Town, I started my exciting explore. There too many roads in the town, so it is easy to get lost. I started from Yuhe Square and walked along the Central River. I past East Avenue, then I came to the Dayan Naxi Ancient Music Hall. However, I was told that the Naxi Ancient Music would be played only in the evening every day. So, I decided to come back in the evening.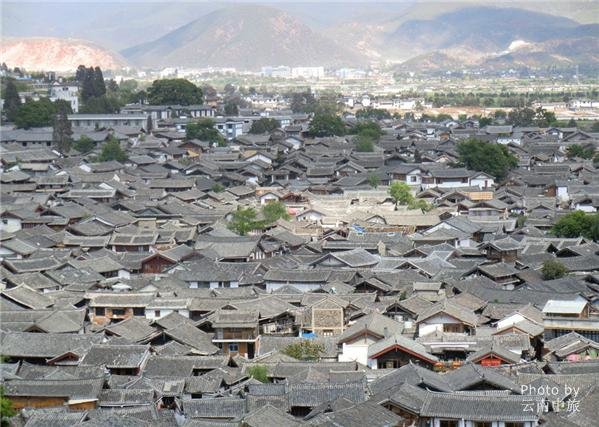 Spent about 3 hours on the street eating and walking, I came to the Mufu (Wood Mansion) which is the official residence of the ancient Lijiang ruler. It is a historical mansion. The Mufu's name was taken from a ruler's surname–Governor Mu of the Ming dynasty who used to live and meet his officials in this mansion.
Besides its history, the Wood Mansion is renowned for being the largest group of buildings in Lijiang. This has been called as the "Forbidden City of the Naxi Minority". The magnificent structure makes visitor just feel like in the palace. The style heavily reflects the Naxi people's architectural and artistic skills.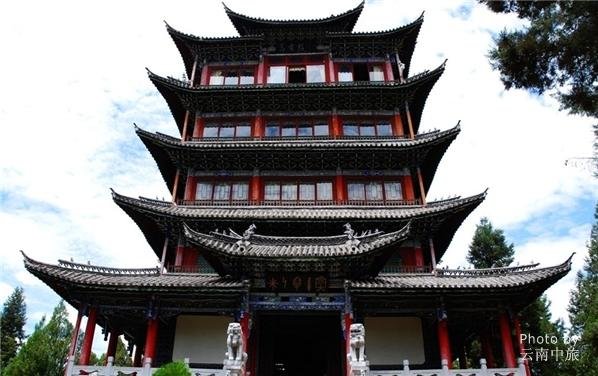 Wangu Tower on the top of Lion Hill is adjacent to Mufu. Many visitors do not know that so they come out of the Mufu and take a detour to Wangu Tower which wastes a lot of time. Walking through the backyard garden of Mufu, I came to a lane through which I went to Wangu Tower. It still forms part of the old Lijiang village. While most towers were built using bricks, this one was made of wood—all of 108 feet of it. It is composed of five levels. Many people climb the tower to get an amazing view of the village and Jade Dragon Snow Mountain.
In the evening, I went back to Naxi Ancient Music Hall. Although I could hear Naxi music in restaurants taxis and many other places, when listening the music in this hall I shocked.
Naxi Ancient Music is moving. You could feel nature, peace and tranquility when listening to Naxi Ancient Music. Many of the musicians are in their 80s or 90s now. They are not only play in Lijiang but also tour across China and Asia. This is the Chinese "Buena Vista Social Club". Old people performed old music with old instruments. It was not often to get an opportunity to experience it.
Day 2 Visit Baisha Murals at Baisha Village and Jade Dragon Snow Mountain
Suggested Route
Baisha Murals at Baisha Village (3 hours)
The Jade Dragon Mountain (with Large Cable Car from Ganhaizi) (4 hours)
6 miles northwest from Lijiang Old Town, there are several old villages storing invaluable Mural. Baisha village is one of them. Baisha, white sand in English, got its name for white sand on the ground in this village. Baisha village is one of the oldest villages in Lijiang and the birthplace of 'Tusi', chief of the Mu clan.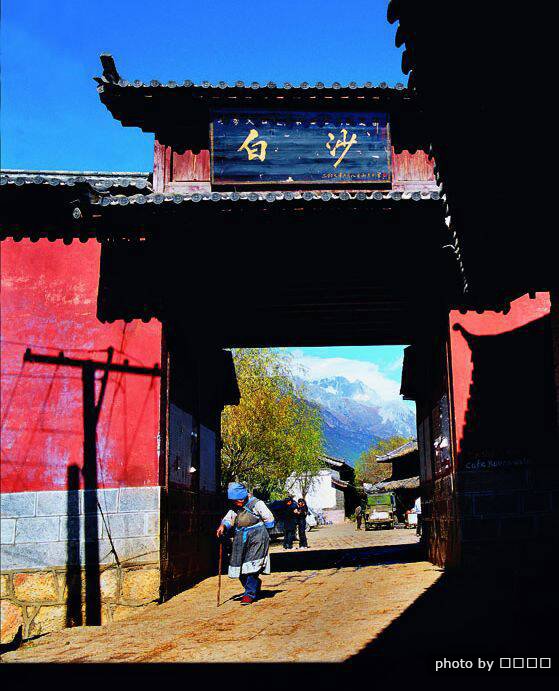 There are a lot of ways from Lijiang Old Town to Baisha village such taking a public bus, riding a bike and so on. Spending 30 yuan, I took a taxi to there. Although it was more expensive than taking a bus or something, it did save me a lot of troubles.
I got off the taxi in front of the gate of Baisha village. It is not far from Baisha Murals. Obviously, there were less people in this village than Lijiang Old Town. I did not like crowd so I enjoyed the peace and tranquility a lot in Baisha village. After about 10 minutes wandering, I saw Baisha Murals. The ticket price was 40 yuan.
The originality and figures of the mural paintings depict religious stories of Buddhism, Lamaism, Daoism and the Naxi Dongba religion and reflect the cultures and artistic forms of the Naxi, Tibetan, Bai minority and Han. Therefore, Lijiang Mural is quite different from other frescos.
The 44 pieces of Baisha murals were firstly painted in the early Ming Dynasty and finished in the early Qing Dynasty, over the course of 300 years. They are over 500 years old so visitors are not allow to photograph them.
After having lunch, I started the trip to The Jade Dragon Mountain which is near Baisha village. Don't forget to bring a warm coat. I came to Ganhaizi to ride a cable car to Jade Dragon Moutain. Ganhaizi is a vast meadow to the east of Jade Dragon Moutain. In Ganhaizi, visitors could have a best view of Jade Dragon Moutain. You can also see Naxi, Tibetan and Li minority people ride horses and their animals such yaks and sheep graze on the grassland.
The cable car rises up to 4,506 meters. Jade Dragon Moutain is a snow capped mountain. It consists of 13 peaks, among which Shanzidou is the highest with an altitude of 5,596 meters (18,360 feet). The mountains as well as the snow and rivers offer a picturesque view of nature and take some beating. Visiting Jade Dragon Mountain took me about 3 hours. Then I went back to Lijiang Old Town to a nice pub.
Day 3 Departure
After having breakfast, I went to the airport to go home. This 3-day trip to Lijiang gave me a marvelous impression. I would surely explore Lijiang again.
Tips
Transportation
There are plenty of direct flights from major cities of China to Lijiang, such as Kunming, Xishuangbanna, Beijing, Shanghai, Guangzhou, Chengdu, Shenzhen, Xian, Chongqing, Nanjing, Guiyang, Xiamen and so on. It would be advisable to book tickets early.
If you visit Lijiang with your families or friends, you may charter a car or a bus. It will be very convenient and you will have more fun.
Remember that there are always some traps such as detour when chartering cars or buses. Chartering cars or buses of formal agencies could avoid many troubles.
Accommodation
Inns in Sifang Street: Sifang Street is the central part of Lijiang Ancient town. Living in the central part is convenient to go to any places in this town. There are lots of bars nearby. So, if you like kill time in pubs or boisterous environment, you can stay in the Sifang Street. By the way, pubs in Lijiang have special Lijiang styles.
Inns Wuyi Street: There are a lot of featured shops in Wuyi Street. Living in here, people will have petty bourgeoisie sentiments. Wuyi Street is adjacent to Sifang Street but it is much quieter than Sifang Street. Going out is convenient as well.
Inns on Lion Hill: Living in this area could have a view of the panorama of the ancient town. However, if you want to go to other places, you have to ascend and descend the hill.
Food
There are a lot of Lijiang featured foods in Lijiang Old Town, like Salad of Jidou pea jelly, Lijiang Baba, Naxi Fried Rice, Dongba Grilled Fish and so on. They are delicious and worth having a taste. Some restaurants service western foods as well.