Top Things to Do in Inner Mongolia
Last updated by elysees at 2016/4/5; Destinations: Inner Mongolia
Zhaojun Tomb (昭君墓)
9km away at the south of Hohhot, there is a Han-style tomb hidden in lush grass by the Dahei River. It's known as Zhaojun Tomb, dedicated to the famous lady Wang Zhaojun. Legendarily described as "fells geese" or "drops birds", Wang is among the Four Beauties of ancient China. She was born a country girl in Zigui County in today's Hubei Province.
Among all the concubines, it was a widely-accpeted rule to butter up the imperial painter so that he would embellish the portrait that was presented to the emperor. Zhaojun did nothing, which resulted in a mole on her eye corner on the portrait.

During the Western Han Dynasty (206 BC–8 AD), Wang was selected among all the court ladies when Emperor Yuan decided to establish a friendly relationship with the Xiongnu (Huns,匈奴) by marriage. The Emperor Yuan wouldn't want to send away his own daughters. Instead, he picked a plainest concubine as replica. That was Zhaojun.
She was sent far away from Chang'an (today's Xi'an) and shortly became favourite of the Huhanye Chanyu. This marriage brought peaceful time of 50 years. Even after she died, her sons were trying to reconnect to the Han and bring civilizations back to their tribes.
Zhaojun Tomb in Hohhot, however, is actually not the place Zhaojun was buried. Just as so many things lost in history, her grave is nowhere to find. A visit at this attraction is all about the profound history behind her marriage.
Address: By the Dahei River, Hohhot
Admission Fee: CNY65/Person
Opening Hours: 8:00-18:00
Suggested Visiting Time: 1-2 hours
Getting There: Take Bus NO.10 or 44 to Zhaojun Tomb
Dazhao Temple (大召寺)
Dazhao Temple is the oldest Lamasery in Hohhot. Its humble location inside a narrow lane doesn't bring fewer visitors on a daily basis. As the largest lamasery in Hohhot, Dazhao Temple sheds some insight on the local's religious life as well as the Buddhist influence in the northern part of China.
Firstly built in 1957, it enshrined a silver-layered Sakyamuni statue that was Buddha-blessed (开光) by a most distinguished and accomplished monk. Hence, it is also known as the Silver Buddha Temple and held a very important place among the locals. Emperor Taizong had the temple renovated when he passed by Hohhot. In the late 17th century, Emperor Kangxi extended the temple and made it as a commemoration for his visit.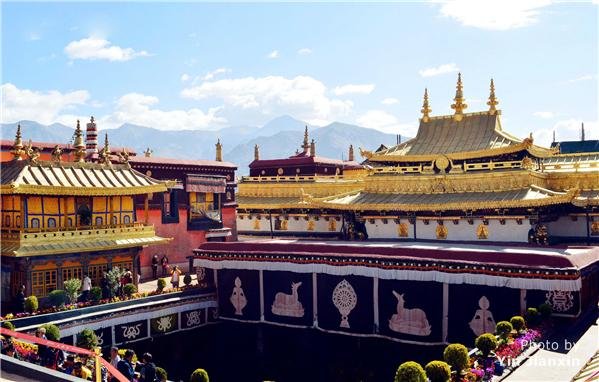 The 10ft silver Sakyamuni Buddha statue is the temple's biggest draw. Besides it, collection of Buddhist scripture, priceless treasures include interesting murals and pillars carved with dragons. A giant prayer wheel containing Buddhist scripture inside is located at the main hall. Om Mani Padme Hum is carved on the surface, which is believed to be bliss for anybody who chants while rolling the wheel.
Address: Front Street Dazhao, Yuquan District, Hohhot
Admission Fee: CNY35/Person
Opening Hours: 8:00-18:00
Suggested Visiting Time: 1 hour
Getting There: Take Bus NO.6, 38, 42, 58, 59 to Dazhao Stop.
Inner Mongolia Museum (内蒙古博物馆)
Housing a proud collection, Inner Mongolia Museum is a must-see attraction in Hohhot. The original location of the museum was in the intersection at downtown back in 1957. A new building, which is 10 times of the original one, was built at today's location and all the collections were moved here. The original museum is still in use, but just for some short-turn exhibitions.
The museum covers a land of 7,000 sq meters and has 14 sections on its 4 floors. Collections vary from natural discoveries to ancient history of Inner Mongolia as well as daily life cultures of the tribes and modern times. Rarely-seen artifacts relating to the ancient tribes known as Xiongnu (匈奴), Xianbei (鲜卑) and Khitan (契丹) offer value for history studies. Same is the collection that is dedicated to Genghis Khan.
Among all the collections, fossils of dinosaurs and mastodons are a highlight. A giant complete skeleton of a wooly rhinoceros, which was unearthed from a coal mine in Manzhouli, gets everybody's attention once walking in the museum. Dinosaur fans will be thrilled to visit those priceless collections of bone fossils of Anatosaurus and Psittacosaurus, Protoceratops, embryos of Stegosaurus and Pterosauria that date back to the Cretaceous Era and Cenozoic Era.
Address: NO.27, Xinhua Dong Road, Xincheng District, Hohhot
Admission Fee: Free
Opening Hours: 9:00-17:30 (Closes on Mondays)
Suggested Visiting Time: 1-2 hours
Getting There: Take Bus NO.K1, 2, 3, 16, 23, 27, 51, 53, 59, 66, 67 to Wanda Plaza and walk to the museum.
Wudangzhao Lamasery (五当召)
Widely known as the Potala Palace of the north, Wudangzhao Lamasery stands as more than a religious center among the locals. The lamasery is located in Wudang Valley, 70km away from Baotou City in Western Inner Mongolia. Wudang in Mongolian means willows, since the area used be covered with wispy willow trees.Firstly built in the Qing Dynasty (1662-1722), it was rebuilt 1749 and extended to a massive complex of 2,500 some houses and rooms.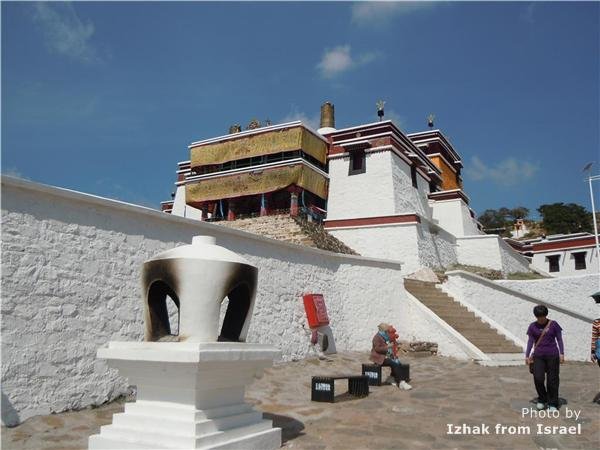 Allegedly, it shares the same construction style as the Tashilhunpo Monastery in Shigatse in Tibet, also with white walls and flattened roofs. The main structure lies against the mountain slope, consisting with 6 halls, 3 rooms and 2 dorms at both sides. Inside the halls, there are delicate colorful murals and Sakyamuni statue is enshrined.
Covering a total area of approximately 50 acres, the lamasery used to home several Living Buddhas (活佛). Their ashes were deposited in one stupa. Over 1,200 resident lamas used to practice the Yellow Hat Sect (Gelukpa) here in its prime time. The number drops to hundreds presently. The lamasery was also an academy and political facility. Astronomy, geography and medicine were among the subjects besides the Buddhism.
During the 7th and 8th months of the Chinese lunar calendar, temple fairs draw the locals and visitors to the lamasery, who will, together with the lamas, circle round the temple chanting, drumming, dancing and horning.
Address: Wudang Gou, Baotou
Admission Fee: CNY60/person
Opening Hours: 8:30-18:00
Suggested Visiting Time: 1-2 hours
Getting There: Take Bus NO.7 to Shiguai Qu (石拐区) and take a cab to the lamasery.
Xilamuren Grassland (希拉穆仁草原)
The Xilamuren River sprawls its way on the vast land and nourishes the lush prairie that is known as Xilamuren Grassland. The grassland is located in in the southeast of Damao Union Banner of Baotou, 73km from Hohhot. The Puhui Temple (普会寺) on the grassland was the summer resort for the 6th Living Buddha of Hohhot in the Qing Dynasty. Hence, the grassland is a favorite place for summer escape.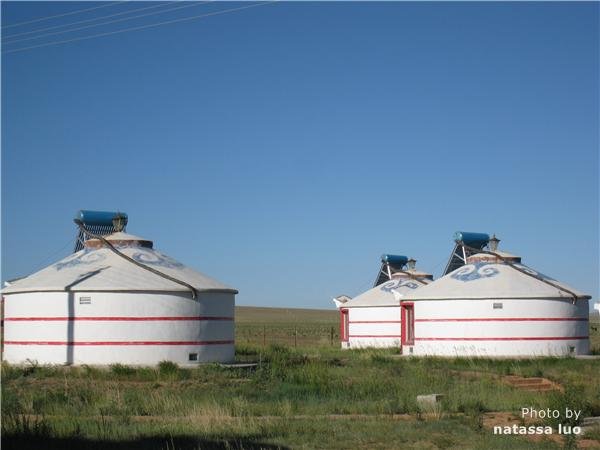 The grassland offers a wide-open view of the grassland and authentic nomadic lifestyle. Annually, Naadam Festival attracts locals and visitors to this boundless greenery. Legendarily lasting for centuries, Naadam has its activities rooted in military acts. Mongolian men take part in wrestling while the female show great bravery in horse-racing and archery. This heatedly-watched event brings a hustle on the peaceful prairie.
Address: Southeast, Damao Union Banner, Baotou
Admission Fee: CNY80/adult, CNY40/child
Opening Hours: All-day
Suggested Visiting Time: 1-2 hours
Getting There: Take bus to the grassland.
Resonant Sand Bay (响沙湾)
Located in the south of Ordos and backed by the Kubuqi Desert (库布齐沙漠), Resonant Sand Bay shapes like a tremendous crescent bay with soft sand. Its height of 90 meters and gradient of 45 degrees make it as the most wonderful sight of the Kubuqi Desert. The most amazing thing about it is that, in the condition of dry climate, the sand makes drumbeat sound when people surf down its slope.
Legends has it that there was a lamasery built in the desert long time ago. One thousand lamas were chanting, drumming and horning on a ritual. Suddenly a horrible storm engulfed them all, together with the lamasery. The lamas, however, are still alive. It is their chanting and drumming that people hear whenever the dunes are stroke.
Scholars try to explain the sound in topographical terms or whatever possible, yet none discoveries have been achieved by far. No matter what conclusion, the dry climate seems to be a key factor. Anyhow, as for traveling, the whispering sand and desert scene are just some of the unique experience. Riding on camel, sand surfing, sand gliding and spending one night in a tent, you will see desert is not always about melancholy.
Address: Dalad Banner, Ordos
Admission Fee: CNY300/person
Opening Hours: 8:00-19:00
Suggested Visiting Time: 2-3 hours
Getting There: Take long coach bus to the site.
Genghis Khan Mausoleum (成吉思汗陵)
The Mausoleum of Genghis Khan is an important religious site in Ordos, as well as in Inner Mongolia. It is located in Kandehou Enclosure, Xinjie Town in the territory of Ejen Khoruu Banner. The worship of Genghis Khan has long been an important religion among Mongolians as it was he who reunified the Mongolian tribes and established a great dynasty.
The mausoleum is a cenotaph. The coffin lays no corpse but some clothing and accessories. The real tomb of the great king is nowhere to find as it was his will to be buried without marks. Be that as it may, his body was carried to central Mongolia, today's Ordos, after his death in Gansu.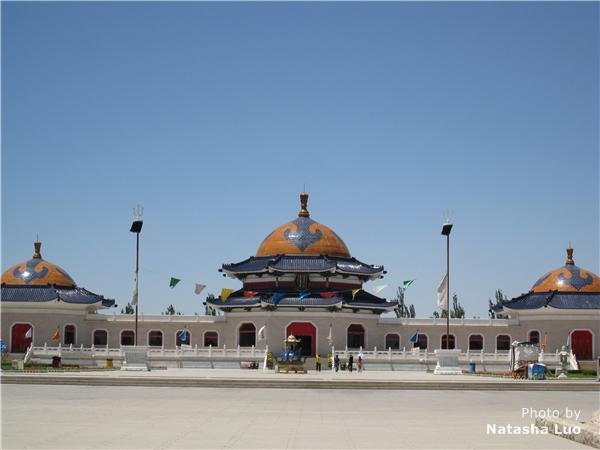 Darkhad (达尔扈特人), known as Genghis Khan's exclusive graveyard guards, is a selected excellent group from his troops. They settled down with the sacrifices and set up the worship ritual that has been passed down for over 780 years. They take no job, do no taxing, own no land and spare no effort in preserving the king's glory. Darkhad population is around 2,000 nowadays.
The mausoleum was built by the government during 1954 – 1956. The whole layout is a rectangular cemetery in traditional Mongolian style. Constructions include the Main Palace, Resting Palace and small palaces at the east and west sides.
The 5-meter high jade statue of Genghis Khan inside the Main Palace receives worship in annual rituals. There are murals around the statue depicting his great life. 7 coffins inside the Resting Palace relatively belong to the king, his 3 consorts, his fourth son and the son's wife.
Every year, the Mongols hold ceremonies four times, the 21st March one of which is considered of highest importance. The rituals are related to traditional Mongolian shamanism on some level. Offering food, wine and flowers to heaven is led by the Darkhad people.
Address: Ejen Khoruu Banner, Ordos
Admission Fee: CNY120/person
Opening Hours: 8:00-19:00
Suggested Visiting Time: 1-2 hours
Getting There: Take long coach bus to the mausoleum.
Hulun Buir Grassland (呼伦贝尔大草原)
Noted as the largest grassland in China and Genghis Khan's birthplace, Hulun Buir Grassland is the place for Naadam Festival and primary prairie lifestyle. The grassland is just outside, covering 100,000 sq meters with 80% of lush grass. Over 3,000 rivers and streams crisscross, 500 some ponds dot about, it is known for the best herbage.
According to local tales, the grassland used to suffer from wind evils and sand demons. As barren as it was, the Mongolian tribes who lived there would hardly make a living. A brilliant girl named Hulun and a brave boy named Buir strived to drive out the demons and made the grassland as the way it is today. The tribes renamed this place in honor of their great feat.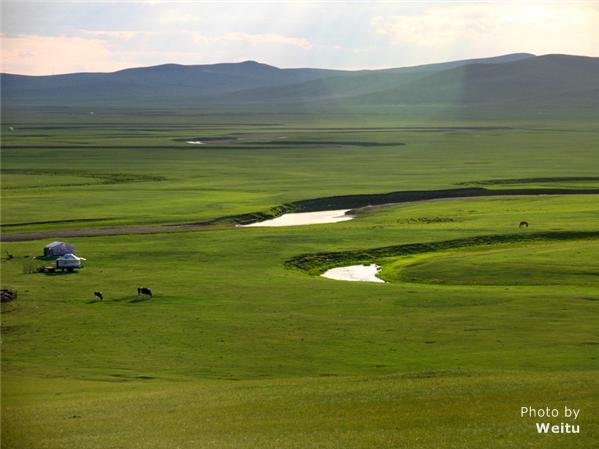 In history, the grassland is the cradle for the nomadic nations, such as the Xianbei, Khitan and Jurchen. They stroke down the Great Wall and entered the history stage of China by establishing kingdoms as the Yuan Dynasty and Jin Dynasty. With history long gone, the grassland at present offers just a memento for their people.
Address: Chen Barag Banner, Ordos
Admission Fee: Free
Opening Hours: All-day
Suggested Visiting Time: 1-2 hours
Getting There: Take long coach bus to the grassland.
Manzhouli (满洲里)
An intriguing miniscule town, Manzhouli lures travelers with a mix-up of Russian, Chinese and Mongolian cultures and lifestyles. Manzhouli is a sub-perfecture-level city of Hulun Buir, lying in the far north of Inner Mongolia. Designated a trading center ever since 1905, Manzhouli is now China's oldest and busiest land port seeing numerous traders, travelers and common denizens coming between Russia, Outer Mongolia and China.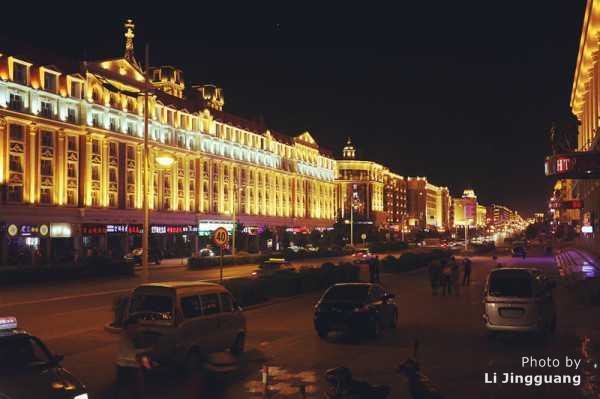 Russian-inspired buildings line up the streets of Manzhouli, making it look like a small town of Russia. A trip to Manzhouli is brimming with fascinating lifestyles. There are over 300 matryoshka dolls on the Matryoshka Square. The tallest one, 30-meter high doll has Russian restaurant and entertainment center inside. 200 some small matryoshka dolls symbolize the world's countries, painted in relatively distinctive styles.
In accordance with the Sino-Russian Secret Treaty of 1896, the China Far East Railway was completed in 1901. This might be the most famous railway route in the world. For train fans, taking a border-crossing train from China to Russia is a dream trip. It is interestingly worthy visiting the Locomotive Square just for a taste. The steam-engine locomotive was manifested in 1940, standing on a rail that was built in 1925 by the Russian.
Another fun thing to do is shopping. No matter XXXXL T-shirts or Russian-style furry hat, it's easy to spree with a wide range of quality and prices. Coins and trinkets from the former Soviet Union can be purchased at just a few Yuans. Sparking night shows featuring Russian and Mongolian dancers and international feast make this town sleepless at night.
Address: Manzhouli City, Ordos
Admission Fee: Free
Opening Hours: All-day
Suggested Visiting Time: 2-4 hours
Getting There: Take long coach bus to Manzhouli City.
A'er Mountain (阿尔山)
Located at the foot of Daxing'anling Mountains at the southwest range, A'er Mountain seems far beyond reach yet stunningly beautiful with numerous mineral springs, volcanic lakes and dense forest. A'ershan City, the administered seat, is a small city surrounded by grassland and forest, also the gateway to the mountain. A'er Mountain is a true testimonial of the old Chinese saying that extremely beautiful scenery always lies in the places that nobody reaches.
The mountain itself is a national forest park covering 7,408 sq meters and inhabited by 12 ethnic groups. The highlight of the park comes firstly with the Heavenly Lake (天池) up the mountain. The lake has an altitude of 1332.3 meters and is fully surrounded by pine forest. It takes about an hour to climb up the 484 stairs to reach this volcanic lake.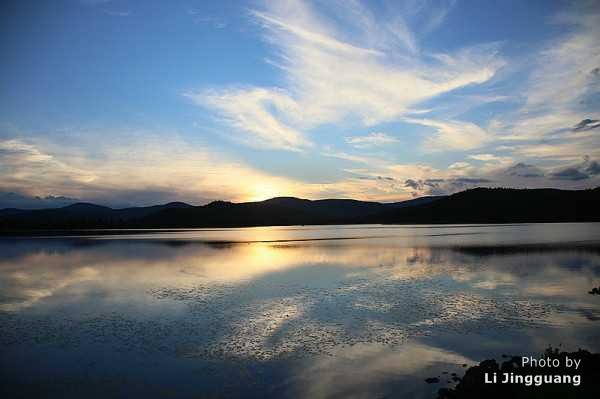 Rose Peak (玫瑰峰) is actually a group of sharp peaks that are located at the north of A'er Mountain. Shitanglin Geological Site (石塘林地质景区) falls into a stunning subcategory that offers strangely-shaped volcanic ponds, lava sheets, lava rocks and underground rivers. The town of A'ershan is a tranquil small town with 10,000 of population and walkable for only one hour. Being in the town and the mountain gives you a debonair feeling away from the madding world.
As its meaning in Mongolian, Holy Hot Spring, the mountain is a pleasure for hot spring fans. Its 48 hot springs feature with different therapeutic functions and temperatures. No matter when you come, taking a hot spring bath while being surrounded by tall pine trees is a priceless experience.
Address: Xing'an League
Admission Fee: CNY170/person (not including hot spring)
Opening Hours: 8:00-17:00
Suggested Visiting Time: 2-4 hours
Getting There: Take long distance coach from Ulan Hot City to the forest park.
Inner Mongolia Travel Tips
Best time to visit
Summer is regarded as the best time to make a trip to the grasslands, as the grasslands will be the greenest. So is it to most parts of Inner Mongolia. Some traditional festivals can also be a plus for a summer trip. If you tend to get to the desert, plan that in autumn. Spring and summer in the desert stress travelers with heavy storm and high temperature.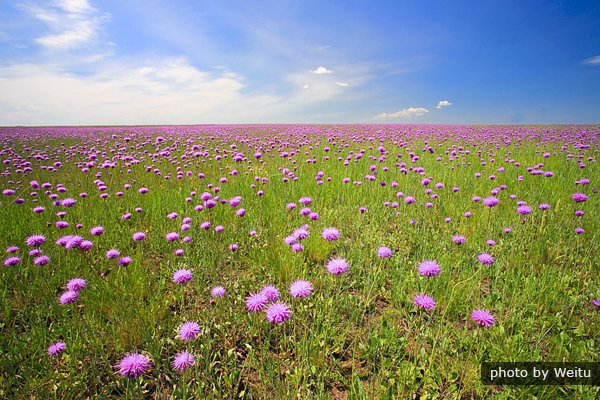 Packing list
Put these things in your pack and you will be fine in Inner Mongolia: A map, flash light, sunglasses, hat, overcoat, nice walking shoes, cellphone charger (or portable charger), boat sickness pills, parasol and diarrhea medicine (just in case the dairy food is not favorable to your stomach). As Inner Mongolia is a landlocked region with arid climate, ladies might need skin care lotion, lipsticks and extra sunblock.
Transportation guide
For entry, the capital Hohhot is always the easiest gateway. Airfare between Hohhot and other big cities, like Beijing and Shanghai, might not look so friendly to your budget and you can consider a train travel. Booking the tickets 10 days ahead will be a smart way to go. Not much online resource or bookings for bus travel, you need to connect the dots by consultation with a locals or a travel agency.
Flight is easy and cheap within the region. For one city, however, most of the travel is done by flight and overland transportation in Inner Mongolia. You will probably reach an attraction after 4 hours of driving. Thus, a little patient on the road or waiting for bus is needed.
Where to stay
Compared to inland China, accommodation choice is somehow limited in Inner Mongolia, especially the high-end ones. In major cities like Hohhot, Erdos, Chifeng and Baotou, it will be just easy to find nice stay. Outside the downtown territory, a yurt is an option if no hotel available. Most of the local yurts don't have individual bathrooms, only public ones.
Local food and drinks
Dining in Inner Mongolia brings travelers a special experience, both taste-wise and environment-wise. Local food is greatly derived from the tradition of ethnic Mongols, with considerable portions of dairy-related, dough-based and strongly-tasted dishes.
Notable food and drinks include roast lamb, hand-held mutton, roast gigot, foast camel feet, instant-boiled mutton, Shaomai, buckwheat flour, milk tea, crème, Ghee and Kumiss. If you are in the border, like Manzhouli, don't leave without a try at Mongolian Hotpot or some Russian cuisine.
When invited to a local family, travelers will probably be greeted with home-made booze or yogurt. Some will find the taste too strong and possibility for stomach discomfort. Taking in fresh fruits and veggies as much as possible is a must to stay healthy while traveling in Inner Mongolia.
Religious and custom taboos
As Buddhists take up the most of population, it is important to honor their religion and customs while traveling in Inner Mongolia. Never touch a kid's head. Never point at anybody with finger, tobacco pipe, knife, scissors or chopsticks. Prayer wheels at temples or monasteries are considered sacred and should be rolled clockwise. Talking loudly or taking photos of the Buddha statue and monks in a religious site will be thought of blasphemous.
Livestock is important to the herdsmen. Travelers or cars shall not get through a flock or disturb the sheep, for it is disrespect to the owners. Horseback riders shall stop the horses at distance to a yurt or flock. Water is critical for people and animals on the grassland, washing hands in the rivers will not be welcome.
Some things to keep in mind when visit a yurt. The in-home Buddha shrine or statue is usually at the north corner inside a yurt, visitors shall not sit in front of it. Don't dry up shoes or clothes over a fire oven. Receive the tea or milk tea with both your hands, never just the left one. Never bring a whip into a yurt, or with sleeve rolled up, which used to be an act of snatcher in ancient times.
Eating with bare hands is a custom but make sure your hands are clean. If you don't want a refill in your cup or bowl, just slight clank the edge of your cup or bowl with the tea pot or spoon.
Travel safe
Note these safety codes to ensure yourself and your belongings. Most travelers would like to try horseback riding. But before you get on its saddle, make sure you stand at the left side of the horse. Never stand at the back or front the horse, in case it kicks you hard. Settle at the price and hours with the horse owner first. When riding on a horse, don't playfully race or fight with other riders. Don't be distracted and take photos/phone calls and leave only one hand on the saddle, which is only for the pros.
Surfing down the dune slope is fun but zip up your pocket in case your phone, camera or wallet falls out into the sand. Never wear high heels or flip-flops to a dune. Don't let yourself out off the designated attraction because it is a good way to get lost in the boundless and directionless desert.
If you are traveling alone, keep some emergency numbers and a compass when you head to the wild areas, such as the remote mountains and towns. Remember the bus schedule and don't miss the last bus back to hotel. Planning on border-crossing? There are some certain rules and regulations that you should learn beforehand.
Shopping frenzy
There are lots of things that you can purchase to remember this Inner Mongolia trip. At border towns, you can buy coins, trinkets back to the former Soviet Union, or matryoshka dolls, furry hats and coats. Throughout the whole region, dairy products are good presents for kids and sweet tooth friends. Beef jerky, dried cheese cuts, milk tea and other delicacies can make a full basket of snack to bring back home.
Handmade crafts with delicate craftsmanship and strong character vary from Mongolian bowls made of birch, silverwares, snuff bottles and Mongolian swords. Be aware, however, the swords or knives are not allowed to bring onto the train or plane, nor mailed aboard.
Shopping is mostly done in Hohhot. A kitschy market near the Dazhao Lamasery is a good place to get great bargains. When visiting the grassland and herdsman's yurt, there will also be chance to buy something homemade and fresh.