Xi'an, known as one of the "eight wonders of the world" lies in the center of Guanzhong Plain just northwest of the People's Republic of China.
It has a population of around 8 million people which equates to the size of a large US metropolis such as Chicago or New York City.
As the oldest city in China, Xi'an has been established over 30 centuries ago. Being the capital of the Shaanxi province, this city claimed the position of 13 of the most prominent dynasties including Tang, Sui, Han, and Qin. It also marks the beginning of the Silk Road and the home of the Terra Cotta Army of Emperor Quin Shi Huang.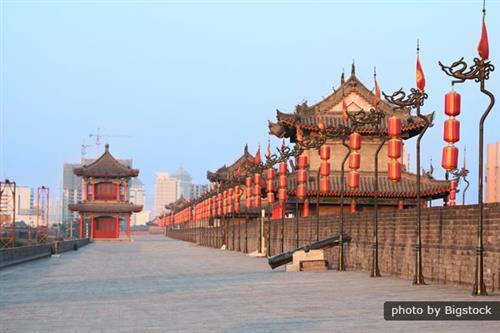 Because Xi'an is depicted as the root of Chinese civilization, it contains many historical ruins, cultural relics, and museums. Xi'an also served as a market where traders from numerous geographic locations bought and sold goods and exchanged ideas with their native countries.
Presently, Xi'an has a pleasing cosmopolitan feeling, as simply visiting the famous Terra Cotta Warriors in itself will make your trip here worthwhile. In fact, people often say: "If you have not been to Xi'an, you have not been to China!"
Coming Into Xi'an
The most commonly used forms of transit into Xi'an are taxis or buses from the airport. Typically, a taxi costs ¥150 from the airport to the Bell Tower downtown, but expect to pay about ¥ 50-75 more if you take one of the climatized Japanese-branded black taxis instead of the typical green taxis. Still, both are readily available at the airport, but the downside is that most taxi drivers are apt to charge higher rates to tourists than to residents.
If time is not an issue and you'd rather save money, your best bet may be to one of the six routes that leave the airport every half hour. Simply purchase a ticket at ¥20 before boarding any of the buses and within 30 minutes, you will be downtown. Also remember, no matter what time of the day (or night) you happen to fly in at, there will always be a bus available so you need not worry about being stranded at the airport.
Unfortunately, few, if any of the bus or taxi drivers speak English, especially outside of the regular travel season. Hence, it is best that you book a tour in advance if you want to get off at any but the most-beaten paths. Taking a taxi to the Terra Cotta Warriors, for example, can cost as much as ¥200 from the airport. Since few drivers speak English, the phrase "Bing Ma Yong" (Mandarin for "Terra Cotta Warriors") will be good to know.
Getting Around Xi'an
As you may know, Xi'an is enclosed within a city wall with the Bell Tower (Chinese:钟楼; pinyin: Zhōnglóu) as its center. When navigating through Xi'an, it is vital to know its four main streets which descend into the four points of the compass:
North-Street (北大街 Běidàjiē)
South-Street (南大街 Nándàjiē)
East-Street (东大街 Dōngdàjiē)
West-Street (西大街 Xīdàjiē)
Do not get confused by different names used in addresses, bus stops, or tourist guides such as: Nandajie, Nanda-Street, South-Street, or South-Avenue. In essence, they're all the same.
Residents often use the terms: "within city walls"or "outside city walls" when referring to any one of the Xi'an's many locations. If it's bars, nightlife, or shopping that interests you, you want to venture the southern part of the city, outside the walls.
If you choose to travel via bus, there are buses that leave practically any location, especially the main bus lines that run every five to ten minutes. However, if you are new to Xi'an or dislike crowded buses, your best bet may be to pick up an inexpensive taxi as they are readily available except during rush hours.
Buses within Xi'an cost ¥1 (¥2 for air-conditioned, marked with a snow-flake) no matter how far you go. Just be sure to get a free city map with the bus lines on it from the Tourism Office Center. Main routes regularly run to places as the Small and Large Goose Pagodas, historic museums, the Bell Tower, Terra Cotta Warrior museum, etc.
If you prefer to travel via taxi, the normal rate for a green taxis is ¥6 for the first 2 km and then ¥1.5 for each additional km. Waiting times longer than 2 minutes will be charged ¥1.5 per minute.
Unfortunately, there are no laws which regulate their taxi service and many of the drivers can be scammers, taking the long way around and thus making you pay a higher than necessary fare. Hence, it is best to request your hotel to write down the place you want to go in Chinese. From 3:00 pm to 5:00 pm taxi drivers change shifts meaning they may not pick you up, even if they are empty.
Finally, you have the option of getting around via bicycle. Most every main site in Xi'an is close to one-another except for Terra Cotta Warriors. Despite the availability of bike lanes, motorists, especially those on narrow streets may attempt to squeeze you out of their way. Quite often, places to lock bikes may be hard to find.
Places to See In or Near Xi'an
City Wall of Xi'an
As the world's largest city wall, the Xīānchéngqiáng stands 12 meters high with a top of 15 meters wide enabling pedestrians and bicyclists to walk or bike on top of it or maybe even have a picnic there. Walking the perimeter of Xi'an takes 4 to 5 hours as tourists can take in the beautiful scenery of the landscaped park and moat that surround it.
Those who appreciate Xi'an's history can get a great view of the towers around it, along with the small museum inside the city walls of Hanguang Gate. Best of all, the wall is lit up after dark making night walking even more enjoyable. Bicycles for one to three people are available for rent unless there is a chance of rain since the top of the wall becomes slippery when wet.
Shaanxi Historic Museum
Here, you will find a collection of local artifacts that date throughout the province's history from the Neolithic to the Qing Dynasty. It is known for its well preserved pottery from nearby Banpo Neolithic Village along with numerous fabulous Shang Dynasty bronzes.
Enthusiasts may be turned on to the old fashioned pots-and-arrowheads. Also there are well-made high-definition movies in the exhibition halls. The most eye-catching articles are those from the Tang Dynasty, originally used by the royal family. Up to 4,000 free tickets are handed out daily to visitors that arrive before 1:00 pm.
Terra Cotta Warriors
Though this historic site was built about 2,200 years ago. It contains the figures of 8,000 soldiers and warriors that an emperor had built for him to protect him in the afterlife.
Although he wasn't discovered until 1974, these pits with the human and animal figures are continuously being rebuilt. You may even think of it like a maze of walls with figurines. Best of all, it is all indoors protecting it and tourists from the weather.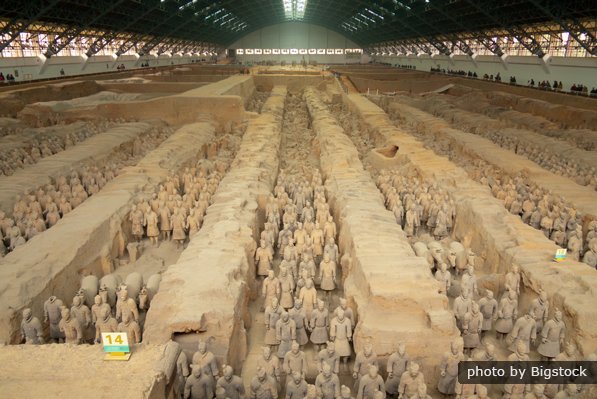 The Muslim District
Additionally, there are several other sites you will definitely want to check out while you're here. The Muslim Quarter is a market place within the Muslim district and part of the large urban sprawl containing numerous shops and restaurants and is most noted for its lamb soup and kabobs.
The Great Mosque, Drum Tower, and Bell Tower are multi-story structures you can climb up in and get a bird's-eye view of Xi'an. Best of all, they are all close together.
What to Expect
Before touring Xi'an, there are things to beware of:
Xi'an draws in great crowds, especially around the summer tourist season. While walking, you can expect to get jeered or shoved. Hence, stopping to take pictures can be difficult. This can be annoying on hot, stuffy summer days.
When exiting this city's gates, you will be approached by numerous people trying to sell you things. Some can be quite aggressive, so its best to ignore and shove your way past them.
Although Xi'an is most known as an historic site, its older buildings, such as the Bell and Drum Towers, are surrounded by modern malls and high rises. Because this city has grown so drastically that there is a great amount of air pollution and smog.
Taxi and train rides out to the Terra Cotta Warriors may seem scary, especially since none have seat belts and drivers tend to drive fast and recklessly. You can hire a driver and tour guide to get you there or have one arranged by the hotel you stay at (which is usually more expensive). A cab will get you there in approximately 45 minutes whereas a bus will take at least an hour.
Despite the minor quirks of its culture, Xi'an has some of the friendliest people you'll meet anywhere. Most people here enjoy helping tourists get around without the intention of swindling them. In fact, a greater number of people in Xi'an speak English as compared to any other Chinese city as Beijing and Shanghai. Some will even recommend great places to eat and shop at as well as great sites to see.
So, if you travel to China just to visit, touring one of its larger cities will do. However, if you absolutely value history, you must visit China's oldest city, Xi'an.