Chaotianmen Gate lies in the confluence of Yangtze River and Jialing River on the southeast tip of the Chongqing peninsula. The water level of sand spit is at the elevation of 160 meters, so this is the lowest place of the urban area. This site is the convergence of Jialing River (one of nine major tributaries of the Yangtze River) and Yangtze River. The water there runs rapidly a thousand miles into the East China Sea that forms a great spectacular view.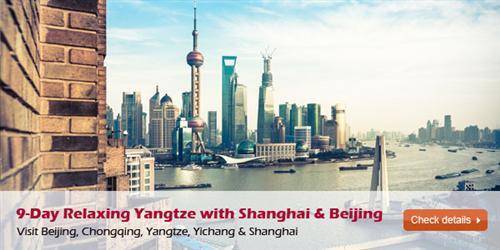 Chaotianmen Gate is one of the main transport hubs in Chongqing. The wharf has been repeatedly expanded since 1949, so this place gradually plays a more and more important role in transportation. Everyday, you could watch a large sizable of visitors shipped here to enjoy the grand Three Gorges Dam. It is the very best place for having a bird's eye view of the river. Moreover, you can enjoy the picturesque landscape of Chongqing Peninsula surrounded by Yangtze and Jialing River.
Solo Adventure Tips:
Location:

Xinyi Road Yuzhong area
How to Get There?

No.401trolleybus, NO.102, 103, 122, 251, 382, 418 Bus, and No.252, 413, 420 Minibus
Ticket Price:

Opening Hours:

24 hours
More Tips:

Information accuracy:
We try to make the information on China Travel accurate when we write/edit it. If you find any outdated information, please inform us.