Chongqing Shopping
Chongqing Local Products:
Dikuniu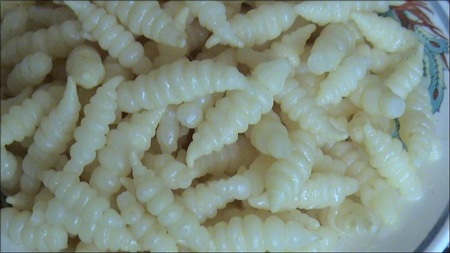 Dikuniu is also called Chaoshican, BAotacai, Shenchongcai. Its one kind of perennial herb. Its tender, sparkling and crystal-clear, fragrant and delicious. It has unique flavors and abundant nutrition. Not only its good food but also it has relatively high medical value. According to the records of Benchaogangmu (a famous medicine book), Dikuniu has the functions of increasing the discharge of urine and cholecalciferol, promoting calmness, moistening the lung, benefiting kidney, nourishing bodys essential fluid and replenishing blood etc.. Like Cordyceps, regularly eating Dikuniu can benefit your health. Eating after a meal can help digest. Eating after drinking will relieve alcoholic intoxication. It is a rare natural food to be good for liver, gall, spleen and kidney.
Tongliang Dragon Lantern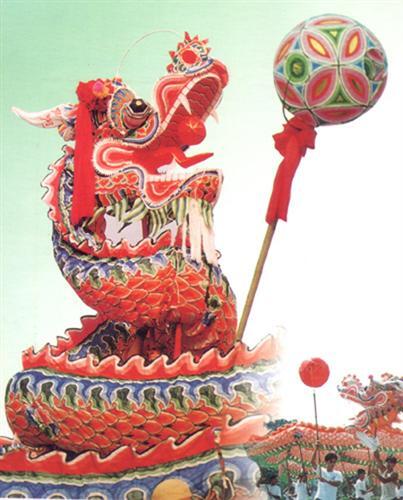 Big doesnt only mean the size, but also exaggerate sculpt. Art designers incorporate skills such as traditional Chinese Painting, sketching, paper-cut, embroidering, etc. into an organic whole. They consult drama description tactics of facial make-up, stress the temperament of dragon emphatically, and make its expression rich. Dragons height is generally about 24 knots. It is flexible to wave, with moderate proportion. Live means that the operation of waving dragon introduces mechanical principles. All kinds of dragon lanterns have been developed, such as hand power form, clockwork form, electric form, etc. It makes dragon prance and roll more gracefully and more vivid. In recent years, Tongliang has developed small creeping dragons in the forms of toy or adornment, which are in different poses and with different expressions.
Rongchang Folding Fan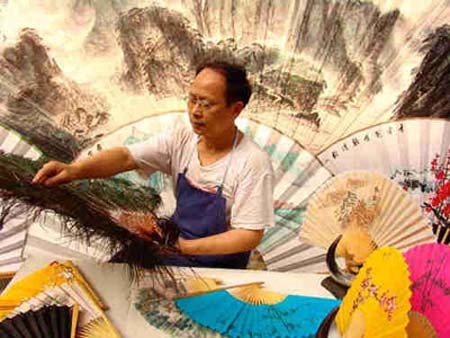 Since its creation duting the 30th year of emperor Jiajing (1551), Rongchang Folding Fan has already gone through for nearly 450 years, and has been famous ever since. Its product is refined and much more elegant now. Because Rongchang Folding Fan is made carefully, with sophisticated craftsmanship as well as graceful poems printed on it, it becomes a kind of special daily necessities as well as craft treasure. Since old times, Rongchang Folding Fan has sold well in the whole country, even found a good sale in countries such as India, Burma, etc. In recent decades, Rongchang Folding Fan has developed tremendously. There has been 345 breeds of folding fans, such as pure brown, whole Phoebe nanmu, leather bottom, hard blue and green, string, sandalwood, silk fabric, feather, colloid, etc.
Peasant Block Print In Qijian County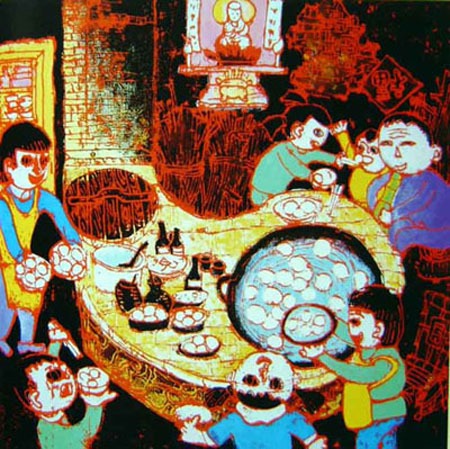 Peasant Block Print in Qijian County is a wonderful work of folk art in China. Its highly praised by the domestic and international artists. Peasants participate in creative wok enthusiastically, and expanding the field of creation mercilessly. A lot of new works are constantly created and thousands of masterpieces of pictures are published. Chinese Ministry of Culture names Qijiang County as town of China's modern folk painting.
Fengjie Navel Orange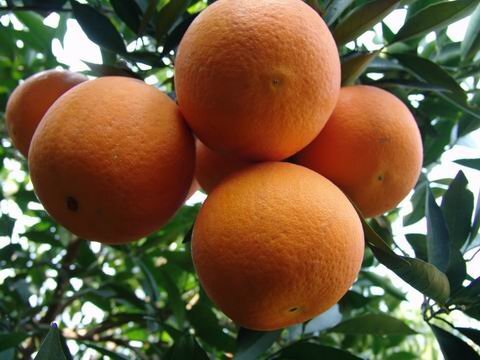 Fengjie navel orange is a famous breed of oranges. It is characterized by good shape, bright color, and not having any cores. It is crisp, tender and fragrant. It tastes both sour and sweet. Moreover, its easy to peel.
Shu Embroidery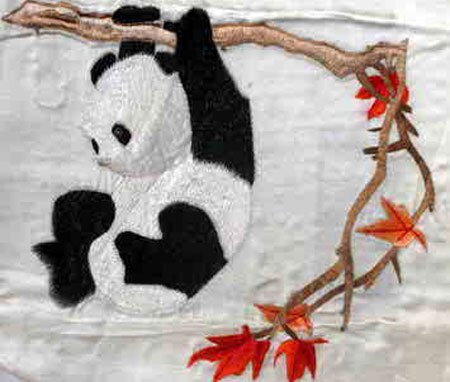 Shu Embroidery is fine, flat, bright, dense inside and loose outside. But it cant be in heaps when its dense and it cant see the bottom when its loose. The surfaces of embroidery come from all kinds of artistic works and photographic works. The contents displayed on Shu embroidery are rich and colorful. Shu Embroidery is one of China's four famous embroideries.
Chongqing Shops and Stores:
Jiefangbei Shopping Square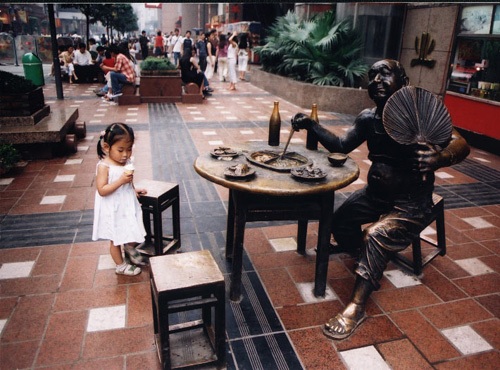 Located in the center of Chongqing City, Jiefangbei(解放碑) is the most compelling fashion landmark of Chongqing, and Jiefangbei shopping center is one of the largest commercial pedestrian blocks in western China. Jiefangbei shopping center boasts the largest retail trader, Chongqing Department Store, the largest franchiser, Chongqing trading company, the largest bookstore, Chongqing bookstore, the commercial organization with the highest quality facilities and the department store with topflight brands in West China. Jiefangbei shopping center boasts over 3,000 stores and big shopping malls, glassy office skyscrapers and recreational areas.
The Pacific Ocean Department Store In Chongqing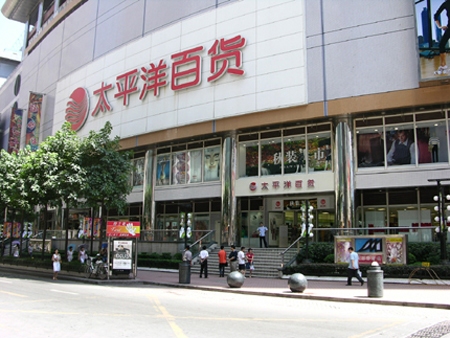 The Pacific Ocean Department Store in Chongqing is located in the commercial center of Chongqing city-the central point of the Monument to the People's Liberation. With a total business area of 22000 square meters, its stationed at the Southwestern Superstar- Chongqing Metropolis Square. It units shopping, sightseeing, entertaining and eating into one. It lives on perfect service, good management, first class commodity with high quality. Its the driving force behind the raise of Chongqings consumption class, the emergence of new consumption concept, and the creation of new shopping current. The category that the company manages contains the articles of daily use, products of audio-video picture and text, clothes shoes and hats, cases bags and leather articles, household electric appliance and bedding, body-building apparatus, gold and jewelry, coffee shop, bread workshop, food plaza, tobacco and wine and all kinds of food.
Yintai Department Store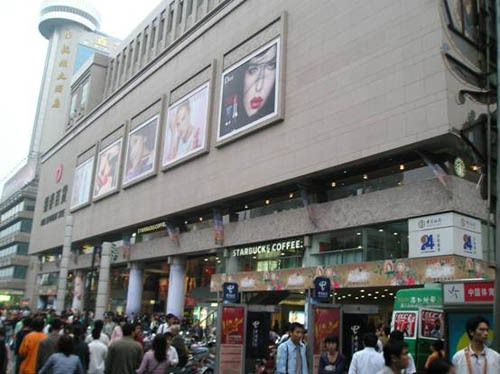 Yintai Department Store is located in the Bayi Road of the Monument to the People's Liberation. The total business area adds to 40,000 square meters, distributed on six floors. Yintai Department Store introduces many famous international and internal trademarks. Its sale is adjusted according to the rhythm of climate change of Chongqing as well as international trend, thus imaging itself as fashionable and friendly to the white-collar class who are of mid-high income level.
Jinying Women's Street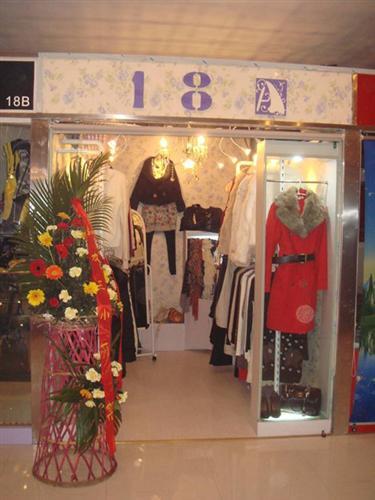 The Jinying Womens Street is located in the center of Jiefangbei (the Monument to the People's Liberation) Pedestrian Street in Chongqing. There are two floors. One is Flat Street, and the other is Underground Floor. There is branch store in the Shapingba Pedestrian Street. Everything that women want to buy can all be found in the Jinying Womens Street and the price is absolutely reasonable. All types of ladys shoes, fashionable satchels, necklaces, earrings and tidal current attires can be found somewhere here.
Three Gorges Cultural Square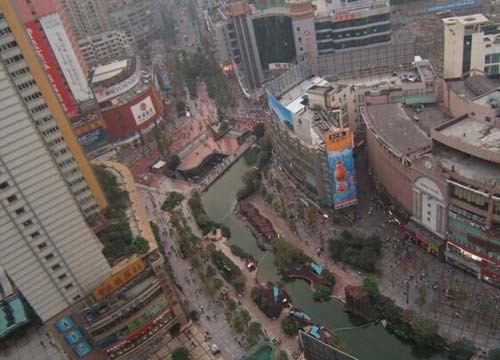 The Three Gorges Cultural Square is located in the commercial zone of Shapingba. It began to be built in August 2001. The total area is 21,600. Its a multi-purpose square combining leisure, tour and trade together. In the square, there are many micro imitation of the scenic spots of the Three Gorges, such as Chaotianmen, Baiheliang, Ghost City in Fengyu, Nymph in Wushan and Big Dam of the Three Gorges. The 1600-meter-high cycle waterscape shows the supernatural and magnificent sight of the Three Gorges. There are leisure places, which combine culture with trade together, such as Shanyoudong Tea House, Shixian Wine House, etc. The underground floor is the underground commercial pedestrian street with an area of 25,000 square meters.
Wangfujing Department Store Inchongqing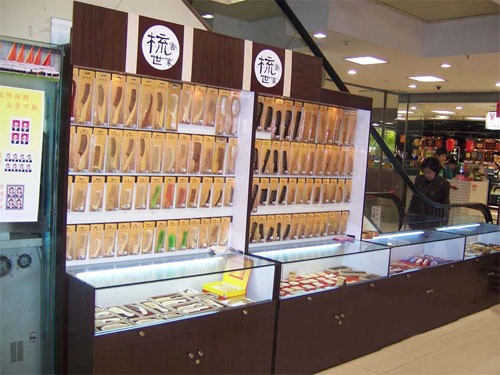 Wangfujing Department Store in chongqing gathers a great number of international and internal consumption breeds, including consumption breeds from Hong Kong and Taiwan. It brings in hundreds of popular trademarks from all over the world. It unites shopping, recreation, entertainment into one body. It builds a completely new commodity world for Chongqings consumers. On the first floor, there are large-size food supermarket for daily use and special food street.
Recommended Tours: