Binhai Road
Binhai Road is beside the south seashore of Dalian city, which is one of the best roads for tour. Binhai Road was built in 1970s for combat readiness, which was guarded by army. Deng Xiaoping suggested to open it to tourists when he visited Dalian at the beginning of 1980s, from then on, it became a tour road.
Binhai Road is 32 kilometers long, running through 12 main sceneries along the coastline. Whenever spring blossoms come, if you drive on this road, you could see rolling ranges with mixed coniferous broad leaved forest and piedmont with red azalea on one side, and a wide expanse of misty waters on the other side, with reefs and islands in great variety of shapes and forms in it, all of these make the scenery extremely beautiful. 
The southern section of Binhai Road start from Tiger Beach Ocean Park , end at Fu's  houses estate, which is the most famous part of this road with maximum tourists , with several excellent scenery along the way, just like "Great North Bridge", "Birds nest mountain rang",  "Charming Moon peak", and so on.
The Western section of Binhai Road is from Fu's houses estate to Xinghai Square, with Fu's estate park, silver sand-beach, white-cloud Mountain, great south pavilion, Xinghai Square along the way. This is the shortest part of BinhaiRoad. Besides, there are a lot of hotels, sanatoriums, holiday resorts and villas around the area from Fu's houses estate to silver sand-beach. 
The northern section of Binhai Road is from Aura-Sea Square to the front gate of Mallet Island, which is the steepest part of this road, so that this part has a late start of exploitation. It also has lots of good sceneries along the way, like "Aura-Sea Square", "Eighteen Bends odd slop", "Rooftop sun rise" and so on, this part of BinhaiRoad is called "Northern Ocean Park".
And the Eastern section of Binhai Road is from Mallet Island scenic area to Tiger Beach Ocean Park, along the way, you could see Mallet Island scenic area, stone cistern scenic area and Tiger Beach Ocean Park.
How to Get There?

Starting point of all the BinhaiRoad sections are: Xinghai Square entrance, Fu's estate entrance, Tiger Beach entrance, Mallet IsLand entrance and Aura-Sea Square entrance.
More Tips:

BinhaiRoad is also called "Valentine's Road" in Dalian. Almost all of the Dalian lovers have a walk here more or less. Near the area of Birds nest mount range and Great Northern Bridge; you could always see newly-married couples taking wedding photos there. Binhai road is totally 32 kilometers long, since there is no convenient public bus running through the whole way, you could choose to join a tour group, or do an independent tour with a charted vehicle. 
Walking or ridding bicycles through one or two road sections is also okay, combined with visiting sceneries along the way. But you could seldom find restaurants or shopping center along Binhai Road; most of them are concentrated on the areas of Tiger beach, Fu's estate and Xinghai Sqaure. So please prepare enough water and food if you want to walk though BinhaiRoad, and do it separately by road sections.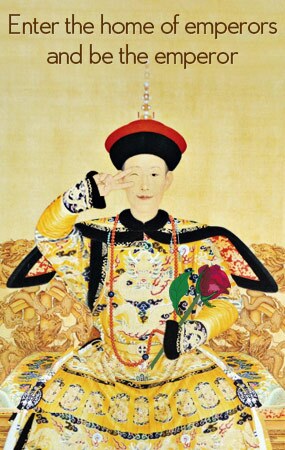 For an authentic travel experience, contact one of our travel advisors. Our local experts are always ready to create a hassle-free tour for you.