Dalian National Coast Geopark
Dalian National Coast Geopark is located in the north western coastal zone, made up with four areas of Jinshitan national tourist resorts, Great Black Mountain, south seashore and Lushun port.
Jinshitan area is the central part of Dalian National Coast Geopark, divided into three scenic areas; they are golden beach scenic area, eastern scenic area and city-mountain top scenic area. Among them, the eastern scenic area has the most geology spectacle of stone, made up with rose garden, dinosaur garden, south beauty garden and turtle beach. There are not only beautiful scenery lay on the beach and fancy stones stands in great number, also variety kinds of overlay stones and Trilobita fossil which could be used in geology research.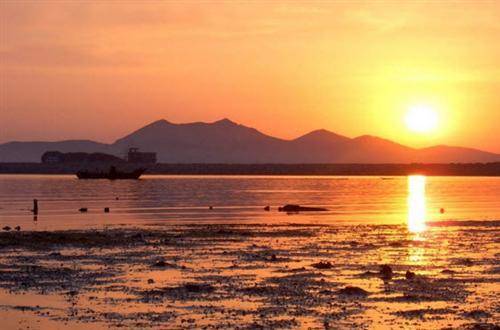 Jinshitan Tourist Area
The main tour zone of Dalian National Coastal Geopark is marine erosion physiognomy, which is the only Coster landscape at coast zone in China. Fancy stone on the cliff are in variety sharps and forms, speaking likeness, like dinosaur's watching the ocean, mysterious turtle's looking for kids, griffin's flying…… all of the countless fancy stone scenery brought beautiful names for this par——"congealed animal world" and "God sculpted park" . Besides, this is the only sea area you could see wild dolphins.
Geology theme square, Cliff Bridge, trestle wooden road along the cliff, leisure platform, leisure walking street are built in Dalian National Coastal Geopark, with hundreds of intact wonderfulness of natural sculpted fancy stones distribute in it, make up a whole beautiful scenic view together with four exquisite beach. All of these could also meet your variety need of outdoor activities.
Rose Garden: This pink marine garden is made up with alga fossils 700,000,000 years ago. Inward turning of the rock textures are just like group of blooming rose, blooming there for several thousand thousands years. Fancy stones in Rose Garden include "stone monkey's watching the sea", "fierce tiger's turning head" , "marine turtle's landing " , "mysterious dog's barking to sky", and so on.
Dinosaur Garden: Dinosaur Garden is famous with the "Dinosaur's playing with the sea" scenery. While rising tide, water rises till the dinosaur's neck, people could boat on the sea; while ebb tide, the whole dinosaur shows up, just like the water is drank by it, so it is called "dinosaur's swallowing the sea" . The Dinosaur Garden also has some other fancy stone scenery , including "Beethoven's head sculpture ", "the General stone", and so on.
South Exquisite Garden : The griffin is flying on the sea wave, fishing girl is becoming a missing stone in the ocean after saving the dragon's son, nine-dragon cliff is forecasting your future luck —— this is South Exquisite Garden. Main sceneries in this garden are "griffin's flying", "hedgehog's hutting" , "missing stone", "nine-dragon cliff", and the like.
Ticket Price:

Tickets / Time
70 RMB / Person (By walking) 120 RMB / Person (By yacht)
Yachts service is from April every year, not available in winter.
Opening Hours:

Open time: 8:30 AM ~ 5:00 PM (In peak season)
More Tips:

You could take the City Trambham could arrive Jinshitan station, then change the circle bus line in Jinshhitan national trourist resorts, which pass by Dalian National Coastal Geopark. 20 RMB/ Person for the bus ticket. You could take the bus at the tourist bus station, without time restriction during the whole day. There is one bus pass by every 10 minutes during festivals and holidays, and every 20 minutes on other days.
Battery cars could be taken for the Geopark tour, if you like.
Drive: If you drive along the super highway from Shenyang to Dalian, then drive to No.5 road in Dalian Developing Area to Jinshitan, follow the main highway to the orientation of Jinshi Golf playground. The Geopark is at the terminal.
Sailing: You could take the liner to Jinshitan port, then changing the buses or tourmobiles to the Dalian National Coastal Geopark.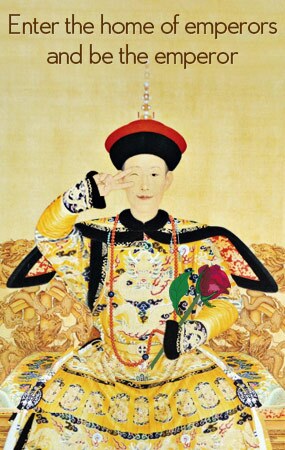 For an authentic travel experience, contact one of our travel advisors. Our local experts are always ready to create a hassle-free tour for you.