Mt. Hengshan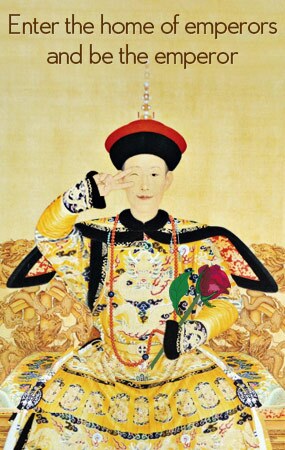 Mount Hengshan, also known as Ziyue, Hengzong, or Changshan Mountain, lies some 60 kilometers south of the city of Datong, Shanxi Province. The mountain, whose highest peak reaches an altitude of 2,017 meters, is the most northernmost of the "Five Sacred Mountains of China," or "Wu Yue," as they are called by the Chinese in recognition of the mountains' link to Taoism.
This grand mountain has historically been a venue for Taoist activities, though it was not always possible to pursue these activities on Mt. Hengshan, given that the entire region was under the domination of invaders for long periods of time. This put pilgrimages at a premium; it is perhaps for this reason that the mountain later came to be shared by Taoists, Confucianists, and Buddhists alike.
However, a sacred mountain cannot escape its destiny, as it were, so Mt. Hengshan remains a consecrated place in Taoism. Indeed, legend has it that Zhang Guolao, one of the Eight Immortals in Chinese Taoist mythology, secluded himself on Mt. Hengshan where he continued to follow the teachings of Taoism.
The Scenic Highlights
Mt. Hengshan offers some spectacularly beautiful scenery. The soaring mountain peaks and the undulating curves of the mountain ridges, the steep, precipitous cliffs, the grotesque and fantastic caves, the dense and verdant tree cover, the gurgling, meandering brooks, full of the singing and chirping of birds, not to mention the canopy of clouds and mist that flow in and out—and to varying degrees—veiling and unveiling the mountain and the skies that surround it. These magical variables of nature all bear witness to how Mt. Hengshan was able to call attention upon itself as one of Taoism's "Five Sacred Mountains."
The destination's famous Tianfeng Hill and Cuiping Hill are divided by tree-filled slopes, in the center of which lies Golden Dragon Gorge. From above, the gorge looks menacing due to its depth and narrow base being barely more than 10 meters wide. Golden Dragon Gorge has acted as a natural defense barrier of strategic importance to military commanders ever since armies first set foot on Mt. Hengshan. During the Northern Song Dynasty (960-1127), General Yang Ye and his sons managed to hold back invaders from the neighboring Liao Dynasty (916-1125) by using Golden Dragon Gorge as their ultimate line of defense.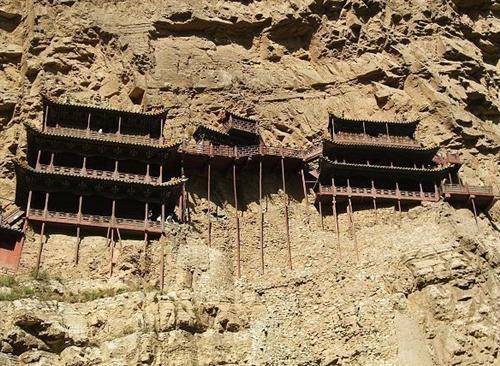 Mt. Hengshan's Temples
Other scenic sites on Mt. Hengshan such as Guolao Hill, Sisters-in-Law Cave, Flying Stone Cave, Huanyuan Cave, Tiger Wind Gap, Clouds Out Cave, and Big Character Sinus are not only full of color, they are also full of mystery. The cloud-and-mist cover on Mt. Hengshan changes impulsively; when it is clear and sunny, the entrance to Clouds Out Cave appears as inconspicuous as that of any cave, but when it is rainy or foggy, white mists and clouds will continuously waft out of the cave's entrance, giving it a surreal appearance.
The most fantastic natural wonder of Mt. Hengshan, however, is surely the Sweet and Bitter Wells located halfway up its slopes. In spite of the proximal juxtaposition of the two wells (hardly 1 meter separates them) the water of one well is "sweet" (tastes cool and refreshing and pleasant), while the other is "bitter" (has a decidedly unpleasant aftertaste). Another seeming oddity is that although Sweet Well is only a few feet deep, its waters are inexhaustible. Of course, these are spring-fed waters; in fact, during the Tang Dynasty (618-907), Emperor Xuanzong (ruling 712-756) christened this well as "Dragon Spring View."
One more defining characteristic of the mountain is its seemingly endless spreads of verdant trees. Many of the evergreen trees, mainly the Chinese Red Pine, have craggy, grotesque shapes. However, 4 of the most exquisite old Chinese Red Pines on Mt. Hengshan stand completely straight and tall, their roots visible like claws gripping the rocky mountainside. Ever since the Tang Dynasty era, they have been known as the "Four Great Men" of Mt. Hengshan.
Mt. Hengshan's Temples
Beiyue Miao, or Beiyuan Temple (also known as Shrine of the Northern Peak), is Mt. Hengshan's only Taoist (alternatively, Daoist) temple. It is situated on West Hill, concealing itself in true, humble Taoist fashion among dense pines.
The Hanging Monastery, Mt. Hengshan's most famous religious site, is in fact a Buddhist temple. It is regarded as "the first view of Mt. Hengshan." The old proverb "Hanging Monastery is just like 3 horsetails in mid-air" best describes the overall image of the temple.
Solo Adventure Tips:
Location:

Hengshan, Datong, China
How to Get There?


You can take the regular bus from the city of Datong to Hunyuan County; the fare is 15 yuan.
Ticket Price:

60 yuan
Opening Hours:
8:00-18:00
More Tips:


1) Minimum recommended time to allot to a sightseeing trip to the area: 1 day.

2) Suggested 1-day itinerary: Big Character Sinus→ Tiger Wind Gap→ Sacrificing Cliff → Flying Stone Cave→ Beiyuan Temple→ Tianfeng Hill.
Our local experts are always ready to create you a hassle-free tour. Get an authentic experience by contacting one of our travel advisors.