Datong Food
Last updated by nancy at 2017/4/26
Datong is mainly famous for its various wheaten food. Datong dishes are a little salty and oily. The most famous dishes and local flavour snacks there include Instant-Boiled Lamb, Cat Ear Noodlesm, Pea Noodles, Naked Oats Noodles, Dried Bean Curd, Yellow Cake, Crisp Soy-beans, Yanggao Dried Apricot and so on. Both of them are worthy tasting very much.
Datong Featured Food:
Guangling Dried Bean Curd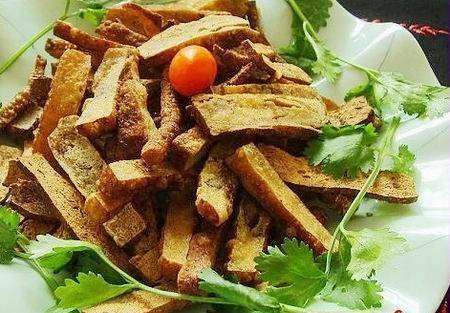 The bean curd, brined with five spices, is pliable but strong, chewy and tasty. It is regarded as the best optimal side dish and salad in the banquets. There are two kinds of Dried Bean Curd, the salty Dried Bean Curd and the smoked Dried Bean Curd. In Datong, Guangling Dried Bean Curd is a very common snack. You could buy them at almost every super markets or shops in the roads.