The section of Great Wall built in the Han Dynasty 5 kilometers west of Yumenguan Pass is extremely special because it is the only part of the entire Great Wall that was not built by stones or bricks. Its foundation was made from various types of timbers such as willow, reed and poplar; the walls were built from earth, grit and reed. Blocks were built individually and separately, and joined together later to construct the great wall. It looks amazingly like a winding dragon lying comfortably in the far-flung desert. For thousands of years it has come through the sandstorm and the gale in the gobi and is still standing gorgeously and proudly with the splendid history of warlords, expansions and constructions.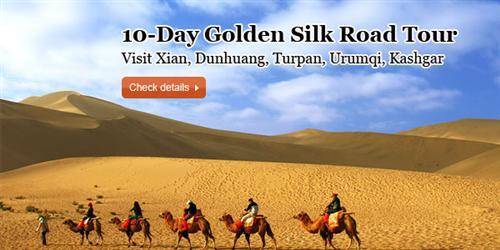 The Great Wall of the Han Dynasty has become a national pivot cultural relic conservation site in recent years. It is considered to be symbol of the Chinese spirits: diligence, toughness, stalwartness and braveness. Shined by the setting sun, standing upon the great wall, looking further away, it is such unforgettable marvelous scenery that was once described as "a plume of smoke rising up into the starring sky of the Great Desert while the Yellow River dimmed as the setting sun".
Solo Adventure Tips:
Location:

It is situated 5 km west of Yumenguan Pass.
How to Get There?

You can charter a bus to be there.
Ticket Price:

25 yuan
Opening Hours:

8:00-18:00
More Tips:

Information accuracy:
We try to make the information on China Travel accurate when we write/edit it. If you find any outdated information, please inform us.