Nowadays, travelers can enjoy boundless Gobi desert scenery. If you are lucky you might see mirage in Jade Gate Pass(Yumen Guan in Chinese). The beautiful scenery is composed of blue sky, golden desert, green plants and vivid natural sleep Buddha. When you climb to the top of the pass, you can see the Great Wall and beacon towers relics scattered in the vast Gobi desert.

Although Jade Gate Pass lost its historical functions, travelers can't see camel trade groups. As an AAAA attraction, Jade Gate Pass is a popular destination in Dunhuang. Occupying an area of more than 600 square kilometers, Jade Gate Pass castle made by loess is 245 meters long, 264 meters wide and 97 meters high.

The pass played an important role on the old ancient Silk Road. It got its name by Emperor Wudi of the Han Dynasty as it is the passage to transfer exquisite Hetian jades from the Western Regions in ancient times. Located at the western end of Hexi Corridor, it was the main passage for communication between the Central China and the western regions in the past.
History
Emperor Wudi ordered workers to construct Jade Gate Pass and Yangguan during 121 and 107 B.C. Situated at Small Square City of Dunhuang in Gansu Province, it was the key pass for military and the Silk Road in the Western Han Dynasty. Together with Yangguang, Jade Gate Pass played an irreplaceable role on the Silk Road Route in ancient times.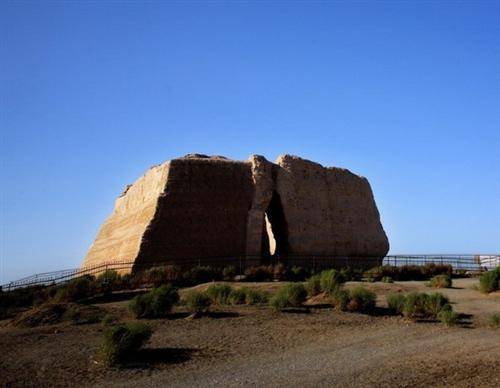 When people refer to Jade Gate Pass, Zhang Qian who was a remarkable explorer and diplomat in the Han Dynasty made a significant contribution to the ancient Silk Road. With his help, the south-north passage was opened linking the western regions and the Central China. Ferghana horse, grapes, alfalfa, pomegranate and flax were transferred to the Central China. Besides, ceramics and silk cloths from the Central China are spread into the western regions. The Silk Road improved the culture communication and trades between the western regions and the Central China.
Travel in Dunhuang
China Travel is specialized in Group Tours with Solo Adventure! If you want to visit Jade Gate Pass in Dunhuang, China Travel can tailor-make a tour including Jade Gate Pass for you, which can save your time, money, and trouble. Please feel free to tell us your tour ideas!
See more on China Travel:
Solo Adventure Tips:
Location:

90 kilometers in northwest Dunhuang city
How to Get There?

There are no public buses to Jade Gate Pass. Travelers need to rent a car or travel with a travel agency.
Ticket Price:
40 CNY
Opening Hours:
8:00-18:00
More Tips:

Tel: (0937)8821984
Nearby attractions: Dunhuang Ancient City, Crescent Lake, Mingsha Sand Dune, Dunhuang Mogao Grottoes and Yadan Geological Park.
Information accuracy:
We try to make the information on China Travel accurate when we write/edit it. If you find any outdated information, please inform us.