China 24-Hour Visa-Free Transit
The 24-hour visa-free transit in China, or 24-hour transit without visa (TWOV), means that international flight, ship, or train passengers who directly transit through mainland China and stay for no more than 24 hours don't need a visa. Passengers are required to hold onward tickets to a third country or region and have a confirmed seat.
Who can apply for a 24-Hour Visa-Free Transit in China?
Passport holders from most countries are eligible for the 24-hour visa-free transit, however there are some exceptions:
Afghanistan, Azerbaijan, Iran, Iraq, Kazakhstan, Kyrgyzstan, Malaysia, Oman, Pakistan, Saudi Arabia, Sri Lanka, Syria, Thailand, Turkey, Turkmenistan and Yemen
What are the port restrictions?
Most ports of entry in China provide 24-hour direct transit service except for the following :
Fuzhou Changle Airport
Huangshan Tunxi Airport
Mudanjiang Hailang Airport
Yanji Chaoyangchuan Airport
Note: Shenzhen allows 24-hour TWOV through the airport, not if coming/going to Hong Kong and not if using land transport. It is advised to inform your airline at check-in that you will be using Transit Without Visa so they enter your status correctly in the passenger manifest that gets sent to Shenzhen Immigration in advance of arrival.
What is an eligible transit route?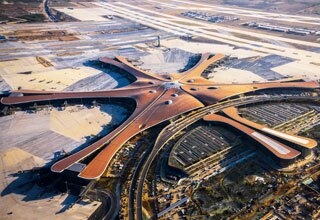 Beijing Daxing International Airport
Passengers must be in transit to a third country/region, i.e. Country/Region A → Mainland China → Country/Region C. Hong Kong, Macau and Taiwan are regarded as the possible third regions in this respect. Have a look at some examples:
√ USA – Shanghai – Hong Kong – USA
√ Canada – Beijing – USA
× UK – Guangzhou – UK
Besides, those who transfer through more than one city of mainland China within 24 hours, which means multiple stops, can also enjoy a 24-hour direct transit. For example, a passenger can transit without visa if his travel route is "Paris – Beijing – Guangzhou – Boston" and the total stopover time in China is less than 24 hours. But the passenger needs to apply for the temporary permit upon his arrival.
How to calculate the 24 hours?
The 24 hours count from your scheduled arrival time and end at your scheduled departure time. It doesn't matter if you your inbound flight arrives early or your outbound flight departs late. There are also 72- and 144-hour visa-free transit. You can search for the requirements to see whether you're eligible to get it.
What documents are required?
Passport valid for at least 3 months from the date of entry
Onward ticket to a third country/region with confirmed date and seat
Visa for a third country/region (if needed)
24-Hour Visa-Free Transit in 4 Steps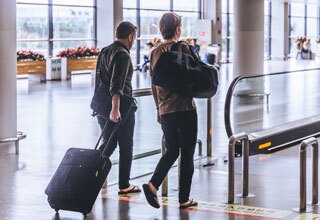 Transiting at an eligible airport
1. Inform your airline at the check-in that you want to use a 24-hour direct transit.
2. Fill the arrival/departure card form at the border inspection counter.
3. Locate the 24-hour visa-free transit area and show your documents to the immigration officer to get the temporary entry permit stamp or sticker.
4. Claim your luggage and go through customs as normal
Extra Notes:
Your application for the 24-hour visa-free transit may be refused when: 1) your travel route does not qualify; 2) you lack of any of the required documents listed above; 3) you have record of illegal entry/exit, stay, employment or getting visa refusal before.
Can I leave the airport during a layover in China?
Yes, you can. But you need to get a temporary entry permit after landing if you want to go out of the airport during the 24-hour visa-free transit in China.
Recommended Day Tours for Transit Passengers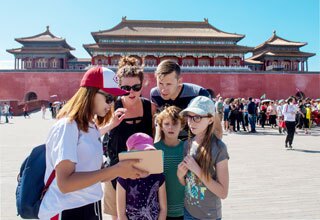 Visiting Forbidden City with us
China Travel is a travel agency with a team of expert travel advisors. We want to help you create a carefree tour which will meet your schedules and desires and maximize your visa-free layover in China. Please feel free to share your tour needs with us or just directly book a recommended day trip:
Get More Information about China Visa
For an authentic travel experience, contact one of our travel advisors. Our local experts are always ready to create a hassle-free tour for you.