A Typical Dish Potstickers with Prawns and Cilantro
This is one of the most typical, representative, and mouthwatering dishes in China, making the recipe for potstickers with prawns and cilantro well worth learning.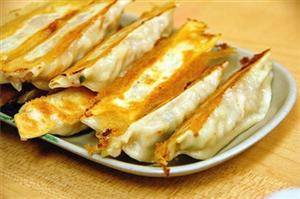 Ingredients:
1 package gyoza or wonton wrappers
1 egg, lightly beaten
1/4 teaspoon salt
1 cup ground pork (not lean)
4 ounces shrimp meat, finely chopped
6 shelled and deveined prawns, finely chopped
5 water chestnuts, fresh or canned, finely chopped
4 tablespoons shredded carrots
1/4 cup chopped fresh cilantro leaves
2 tablespoons minced green/spring onion
1 tablespoon minced ginger
1 tablespoon soy sauce
1 teaspoon sesame oil
Freshly ground black or white pepper, to taste
Preparation:
1. Lightly beat the egg with the salt. Place the pork in a bowl and add the shrimp, prawns, water chestnuts, carrot, cilantro, green onion, ginger, egg, soy sauce, sesame oil, and pepper.
2. Place a small bowl of water on the work area. Lay out one of the gyoza wrappers in front of you. Dip your finger in the water and moisten the edges of the wrapper.
3. Place a heaping teaspoon of filling in the middle of the wrapper.
4. Fold the gyoza wrapper over the filling and pinch the edges to seal it shut. (You may want to use a cornstarch/water mixture to make this easier).
5. Heat 2 tablespoons oil in a large skillet or wok. When the oil is ready, carefully add the dumplings and cook on high heat until golden brown (about 1 minute).
6. Without turning the dumplings over, add 1/2 cup of water and cover. Cook for about 1 minute to cook the raw filling and then uncover and continue cooking until most of the liquid is absorbed.
7. Serve the potstickers with the burnt side on top, with potsticker dipping sauce or soy sauce mixed with minced ginger for dipping.

Our local experts are always ready to create you a hassle-free tour. Get an authentic experience by contacting one of our travel advisors.