Bilingual Menu for Main Dishes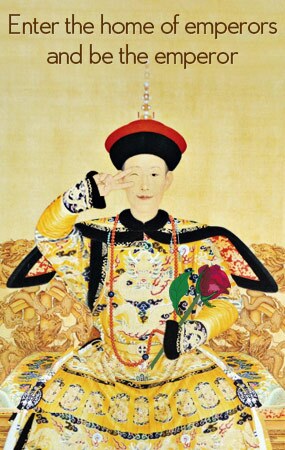 Chinese dishes feature diversity due to the vast territory and abundant resources. The dishes mainly taste sweet in South, salty in North, sour in East and spicy in West China. The main dishes that are generally accepted in China are eight famous cuisines, including Shandong cuisine, Sichuan cuisine, Cantonese cuisine, Jiangsu cuisine, Fujian cuisine, Zhejiang cuisine, Hunan Cuisine and Anhui Cuisine, based on different climate, geography, history, products and custom of food.
Chinese food varies from place to place. This bilingual menu lists some major Chinese food that people usually order both in Chinese restaurants and at home.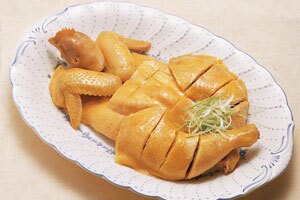 白切鸡: Boiled Chicken with Sauce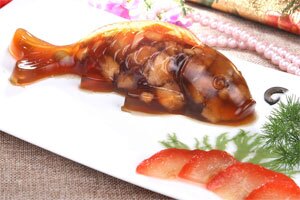 水晶鱼冻: Fish Aspic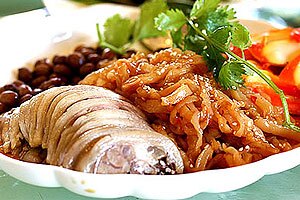 五味牛腱: Spicy Beef Shank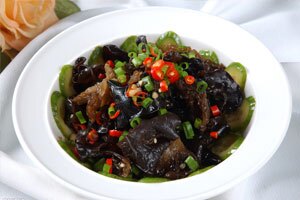 老醋黑木耳: Black Fungus in Vinegar
| | |
| --- | --- |
| 白切鸡 | Boiled Chicken with Sauce |
| 水晶鱼冻 | Fish Aspic |
| 老醋黑木耳 | Black Fungus in Vinegar |
| 五味牛腱 | Spicy Beef Shank |
| 盐水鸭肝 | Duck Liver in Salted Spicy Sauce |
| 白菜心拌蜇头 | Marinated Jellyfish and Chinese Cabbage in Vinaigrette |
| 三丝木耳 | Black Fungus with Cucumber and Vermicelle |
| 水晶萝卜 | Sliced Turnip with Sauce |
| 蒜泥白肉 | Pork with Garlic Sauce |
| 拌豆腐丝 | Shredded Tofu with Sauce |
| 琥珀核桃 | Honeyed Walnuts |
| 红油牛筋 | Beef Tendon in Chili Sauce |
| 大拉皮 | Tossed Mung Clear Noodles in Sauce |
| 朝鲜辣白菜 | Korean Cabbage in Chili Sauce |
| 爽口西芹 | Crispy Celery |
| 老北京豆酱 | Traditional Beijing Bean Paste |
| 酱牛肉 | Beef Seasoned with Soy Sauce |
| 卤牛腩 | Marinated Beef Brisket in Spiced Sauce |
| 川北凉粉 | Clear Noodles in Chili Sauce |
| 泡椒鸭丝 | Shredded Duck with Pickled Peppers |
| 糖蒜 | Sweet Garlic |
| 夫妻肺片 | Pork Lungs in Chili Sauce |
| 卤水鸡蛋 | Marinated Eggs |
| 拌茄泥 | Mashed Eggplant with Garlic |
| 蒜茸海带丝 | Sliced Kelp in Garlic Sauce |
| 酱香猪蹄 | Pig Feet Seasoned with Soy Sauce |
| 凉拌黄瓜 | Cucumber in Sauce |
| 凉拌金针菇 | Golden Mushrooms and Mixed Vegetables |
| 糖拌西红柿 | Tomato Slices with Sugar |
| 老醋泡花生 | Peanuts Pickled in Aged Vinegar |
| 卤水豆腐 | Marinated Tofu |
| 麻辣肚丝 | Shredded Pig Tripe in Chili Sauce |
| 五香牛肉 | Spicy Roast Beef |
| 皮蛋豆腐 | Tofu with Preserved Eggs |
| 孜然烤牛肉 | Grilled Beef with Cumin |
| 潮式椒酱肉 | Fried Pork with Chili Soy Sauce,Chaozhou Style |
| 干豆角回锅肉 | Sautéed Spicy Pork with Dried Beans |
| 番茄炖牛腩 | Braised Beef Brisket with Tomato |
| 鲍鱼红烧肉 | Braised Pork with Abalone |
| 猪肉炖粉条 | Braised Pork with Vermicelli |
| 黑椒牛柳 | Sautéed Beef Filet with Black Pepper |
| 川味小炒 | Shredded Pork with Vegetables, Sichuan Style |
| 尖椒炒肥肠 | Fried Pork Intestines with Hot Pepper |
| 烤乳猪 | Roasted Suckling Pig |
| 东坡方肉 | Braised Dongpo Pork |
| 四喜丸子 | Four-Joy Meatballs (Meat Balls Braised with Brown Sauce) |
| 咕噜肉 | Gulaorou (Sweet and Sour Pork with Fat) |
| 烩蒜香肚丝 | Braised Pork Tripe Shreds with Mashed Garlic in Sauce |
| 冬菜扣肉 | Braised Pork with Preserved Vegetables |
| 木耳肉片 | Sautéed Sliced Pork with Black Fungus |
| 溜丸子 | Sautéed Fried Meat Balls with Brown Sauce |
| 蒜香烩肥肠 | Braised Pork Intestines with Mashed Garlic |
| 红烧狮子头 | Stewed Pork Ball in Brown Sauce |
| 米粉扣肉 | Steamed Sliced Pork Belly with Rice Flour |
| 糖醋排骨 | Sweet and Sour Spare Ribs |
| 东坡肘子 | Braised Dongpo Pork Hock with Brown Sauce |
| 脆皮乳猪 | Crispy BBQ Suckling Pig |
| 腊八豆炒腊肉 | Sautéed Preserved Pork with Fermented Soy Beans |
| 糖醋里脊 | Fried Sweet and Sour Tenderloin (Lean Meat) |
| 回锅肉片 | Sautéed Sliced Pork with Pepper and Chili |
| 木须肉 | Sautéed Sliced Pork, Eggs and Black Fungus |
| 京酱肉丝 | Sautéed Shredded Pork in Sweet Bean Sauce |
| 红烧蹄筋 | Braised Pig Tendon in Brown Sauce |
| 葱爆肥牛 | Sautéed Beef with Scallion |
| 粉蒸肉 | Steamed Pork with Rice Flour |
| 葱爆羊肉 | Sautéed Lamb Slices with Scallion |
| 烤羊腿 | Roast Lamb Leg |
| 红烧羊肉 | Braised Lamb in Brown Sauce |
| 辣白菜炒牛肉 | Sautéed Beef with Cabbage in Chili Sauce |
| 蒙古手抓肉 | Mongolian Boiled Lamb |
| 红焖羊排 | Braised Lamb Chops with Carrots |
| 牛肉炖土豆 | Braised Beef with Potatoes |
| 烤全羊 | Roast Whole Lamb |
| 京酱龙虾球 | Lobster Balls in Sweet Bean Sauce |
| 香辣芙蓉鱼 | Spicy Fish Filets with Egg White |
| 芙蓉鸡片 | Sautéed Chicken Slices in Egg-White |
| 飘香手撕鸡 | Poached Sliced Chicken |
| 水煮鱼 | Fish Filets in Hot Chili Oil |
| 孜然羊肉 | Fried Lamb with Cumin |
| 鱼香鸡片 | Yu-Shiang Chicken Slices (Sautéed with Spicy Garlic Sauce) |
| 宫保鸡丁 | Kung Pao Chicken |
| 金汤烩鸡脯 | Braised Chicken Breast in Pumpkin Soup |
| 江南百花鸡 | Steamed Chicken Skin with Shrimp Paste |
| 葱油鸡 | Chicken with Scallion in Hot Oil |
| 贵妃鸡 | Chicken Wings and Legs with Brown Sauce |
| 清蒸全鸡 | Steamed Whole Chicken |
| 鸡丁核桃仁 | Stir-Fried Diced Chicken with Walnuts |
| 叫化鸡 | Beggars Chicken (Baked Chicken) |
| 脆皮鸳鸯鸭 | Two-Coloured Crispy Duck with Minced Shrimps Stuffing |
| 道口烧鸡 | Red-Cooked Chicken, Daokou Style |
| 口水鸡 | Steamed Chicken with Chili Sauce |
| 全聚德烤鸭 | Quanjude Roast Duck |
| 富贵鸡 | Steamed Chicken with Stuffing |
| 清蒸童子鸡 | Steamed Spring Chicken |
| 鲍汁扣白灵菇 | Braised Mushrooms in Abalone Sauce |
| 荷包蛋 | Poached Egg |
| 鸡肝炒蛋 | Scrambled Egg with Chicken Liver |
| 鸡油牛肝菌 | Braised Boletus in Chicken Oil |
| 蟹肉芙蓉蛋 | Crab Meat with Egg White |
| 豆腐烧鱼 | Fried Fish with Tofu |
| 竹香鲫鱼 | Fried Crucian Carp with Bamboo Flavor |
| 鲶鱼烧茄子 | Braised Cat Fish with Eggplant |
| 海鲜脆皮豆腐 | Fried Tofu with Seafood |
| 蜜汁蒸鲈鱼 | Steamed Perch Filet in Honey Sauce |
| 宫保凤尾虾 | Kung Pao Phoenix-Tailed Prawns |
| 豉油王蒸鲈鱼 | Steamed Perch in Black Bean Sauce |
| 奶油焗龙虾 | Baked Lobster with Fresh Cream |
| 香辣虾 | Fried Shrimps in Hot Spicy Sauce |
| 椒盐大虾球 | Deep-Fried Prawn with Spicy Salt |
| 川式红烧鱼翅 | Braised Shark's Fin, Sichuan |
| 酸菜鱼 | Boiled Fish with Pickled Cabbage and Chili |
| 清蒸石斑鱼 | Steamed Sea Bass |
| 佛跳墙 | Steamed Abalone with Shark's Fin and Fish Maw in Broth (Lured by its delicious aroma even the Buddha jumped over the wall to eat this dish.) |
| 黄酒脆皮虾仁 | Crispy Shrimps with Yellow Wine Sauce |
| 腰果鲜虾仁 | Sautéed Shelled Shrimps with Cashew Nuts |
| 杏仁炒南瓜 | Sautéed Pumpkin with Almonds |
| 白灼虾 | Scalded Prawns |
| 板栗白菜 | Poached Chinese Cabbage with Chestnuts |
| 红烧带鱼 | Braised Ribbonfish in Brown Sauce |
| 素咕噜肉 | Sweet and Sour Vegetables |
| 鱼香茄子 | Yu-Shiang Eggplant (Sautéed with Spicy Garlic Sauce) |
| 酸菜粉丝 | Sautéed Pickled Cabbage and Vermicelli |
| 素什锦 | Mixed Vegetables |
| 贝松扒菜心 | Sautéed Shanghai Greens with Minced Scallop |
| 干煸扁豆 | Dry-Fried French Beans |
| 豆腐乳炒通菜 | Sautéed Water Spinach in Preserved Tofu Sauce |
| 家常豆腐 | Fried Tofu, Home Style |
| 盐焗鸡 | Baked Chicken in Salt |
| 酱鸭 | Duck Seasoned with Soy Sauce |
| 麻辣牛筋 | Spicy Beef Tendon |
| 酿黄瓜条 | Pickled Cucumber Strips |