Bilingual Menu for Staple Food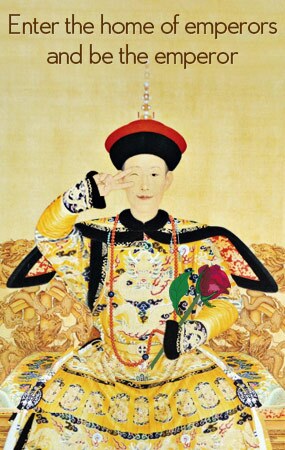 Traditional Chinese staple food is mainly plant-based food, including rice, wheat and corn, as the mode of production in Central Plains of China is mainly agricultural production. Chinese cooking culture is the axis of the oriental diet cultural circle, which has an effect on a number of countries, such as Japan, Mongolia, North Korea, Republic of Korea, Thailand and Singapore. It also has an indirect influence on Europe, America and Africa. Chinese vegetarian diet, tea culture, cooked wheaten food and herbal cuisine have spread worldwide.
Rice is the major staple food in China especially in south China. But in north China, people like Steamed bread and noddles.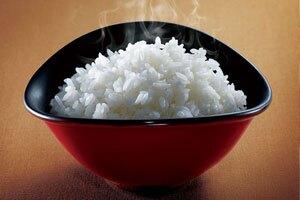 米饭: Steamed Rice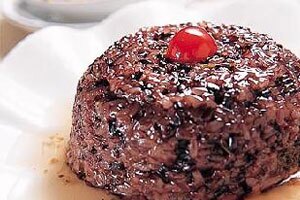 八宝饭: Eight Delicacies Rice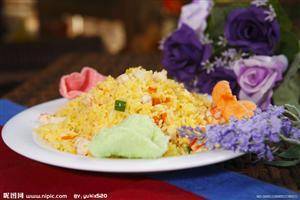 | | |
| --- | --- |
| Chinese | English |
| 米饭 | Steamed Rice |
| 八宝饭 | Eight Delicacies Rice |
| 糯米饭 | Glutinous Rice |
| 海皇炒饭 | Fried Rice with Seafood |
| 活虾炒饭 | Fried Rice with Fresh Shrimps |
| 黑椒猪肉饭 | Fried Rice with Pork and Black Pepper |
| 红烧牛腩饭 | Rice with Braised Beef Brisket |
| 红烧牛肉饭 | Stewed Beef Rice |
| 火腿炒饭 | Fried Rice with Ham |
| 鸡蛋炒饭 | Fried Rice with Egg |
| 腊肉炒饭 | Fried Rice with Preserved Pork |
| 狮子头饭 | Rice with Meatballs |
| 什锦炒饭 | Fried Rice with Meat and Vegetables |
| 卤肉饭 | Steamed Rice with Red-Cooked Pork |
| 香菇牛肉饭 | Rice with Beef and Mushroom |
| 咖喱猪排饭 | Rice with Spare Ribs in Curry Sauce |
| 鸡腿饭 | Rice with Stewed Chicken Leg |
| 虾仁炒饭 | Fried Rice with Shrimps |
| 鸡汤面 | Chicken Noodle Soup |
| 海鲜虾仁汤面 | Seafood Soup Noodles |
| 什锦汤面 | Mixed Meat with Vegetables Soup Noodles |
| 红烧牛腩汤面 | Soup Noodles with Beef Brisket |
| 红烧排骨汤面 | Soup Noodles with Spare Ribs |
| 馄饨汤面 | Wonton Soup Noodles |
| 刀削面 | Sliced Noodles |
| 素菜汤面 | Vegetable Noodle Soup |
| 炒面 | Sautéed Noodles with Vegetables |
| 什锦炒面 | Fried Noodles with Meat and Vegetables |
| 牛肉拉面 | Hand-Pulled Noodles with Beef |
| 排骨拉面 | Hand-Pulled Noodles with Spare Ribs |
| 北京炸酱面 | Noodles with Soy Bean Paste, Beijing Style |
| 担担面 | Noodles, Sichuan Style |
| 高汤鸡丝面 | Noodles in Shredded Chicken Soup |
| 凉面 | Cold Noodles with Sesame Sauce |
| 牛腩面 | Soup Noodles with Sirloin |
| 四川凉面 | Cold Noodles, Sichuan Style |
| 炒河粉 | Sautéed Rice Noodles |
| 酸辣粉 | Hot and Sour Rice Noodles |
| 菜肉饺子 | Jiaozi Stuffed with Pork and Vegetables |
| 猪肉大葱水饺 | Jiaozi Stuffed with Pork and Scallion |
| 猪肉茴香水饺 | Jiaozi Stuffed with Pork and Fennel |
| 鲅鱼水饺 | Jiaozi Stuffed with Mackerel |
| 鸡蛋韭菜水饺 | Jiaozi Stuffed with Leek and Egg |
| 蒸饺 | Steamed Jiaozi |
| 猪肉白菜水饺 | Jiaozi Stuffed with Pork and Chinese Cabbage |
| 高汤水饺 | Jiaozi in Broth |
| 猪肉芹菜水饺 | Jiaozi Stuffed with Pork and Celery |
| 酸辣汤水饺 | Hot and Sour Jiaozi Soup |
| 香菇油菜水饺 | Jiaozi Stuffed with Mushroom and Cabbage |
| 猪肉西葫芦水饺 | Jiaozi Stuffed with Pork and Marrow |
| 煎包 | Pan-Fried Dumplings |
| 叉烧包 | Steamed BBQ Pork Bun |
| 蜜汁叉烧包 | Steamed Honey BBQ Pork Bun |
| 肉末冬菜包 | Steamed Bun with Pork and Preserved Vegetable |
| 生煎包 | Pan-Fried Bun Stuffed with Pork |
| 奶黄包 | Steamed Creamy Custard Bun |
| 鲜虾生肉包 | Steamed Bun Stuffed with Shrimps and Pork |
| 豆沙包 | Steamed Bun Stuffed with Red Bean Paste |
| 三鲜水煎包 | Pan-Fried Buns with Three Delicacies |
| 酱肉包 | Steamed Bun Stuffed with Braised Pork in Sauce |
| 三鲜小笼包 | Steamed Bun Stuffed with Three Fresh Delicacies |
| 香菇鸡肉包 | Steamed Bun Stuffed with Chicken and Mushrooms Bun |
| 小笼汤包 | Steamed Bun Stuffed with Juicy Pork |
| 素菜包 | Vegetarian Bun |
| 肉末烧饼 | Sesame Cake with Minced Pork |
| 土豆饼 | Potato Cake |
| 芝麻大饼 | Pan-Fried Sesame Cake |
| 韭菜晶饼 | Steamed Leek Pancake |
| 甜烧饼 | Sweet Sesame Cake |
| 萝卜丝酥饼 | Pan-Fried Turnip Cake |
| 海鲜锅饼 | Pan-Fried Seafood Dumplings |
| 肉松松饼 | Shredded Pork Puff |
| 葱油饼 | Fried Baked Scallion Pancake |
| 春菇烧麦 | Steamed Shaomai Stuffed with Mushrooms |
| 牛肉烧卖 | Beef Shaomai (Steamed Dumplings Stuffed with Beef) |
| 翡翠烧麦 | Steamed Vegetable Shaomai |
| 脆皮春卷 | Crispy Spring Rolls |
| 三丝春卷 | Spring Rolls Stuffed with Three Delicacies |
| 芋丝炸春卷 | Deep-Fried Taro Spring Rolls |
| 海鲜春卷 | Seafood Spring Rolls |
| 上海春卷 | Spring Rolls, Shanghai Style |
| 肉丝炸春卷 | Spring Rolls Stuffed with Shredded Pork |
| 鲜虾春卷 | Spring Rolls Stuffed with Shrimps |
| 蔬菜春卷 | Spring Rolls Stuffed with Vegetables |
| 鸭丝春卷 | Spring Rolls Stuffed with Shredded Duck |
| 绿豆粥 | Congee with Mung Bean Congee |
| 腊八粥 | Porridge with Nuts and Dried Fruits |
| 小米粥 | Millet Congee |
| 地瓜粥 | Congee with Sweet Potato Congee |
| 皮蛋瘦肉粥 | Minced Pork Congee with Preserved Egg |
| 极品粥 | Assorted Seafood Porridge |
| 南瓜粥 | Pumpkin Porridge |
| 香菇鸡丝粥 | Porridge with Black Mushrooms and Shredded Chicken |
| 鲜虾小馄饨 | Shrimp Wonton |
| 红油抄手 | Meat Dumplings in Spicy Sauce |
| 酸菜龙抄手 | Wonton Soup with Preserved Vegetable |
| 北京鸡汤馄饨 | Wonton in Chicken Soup, Beijing Style |
| 虾肉云吞汤 | Shrimp Wonton Soup |
| 菜肉大馄饨 | Pork and Vegetable Wonton |
| 鸡汤云吞 | Chicken Wonton Soup |
| 炸云吞 | Deep-Fried Wonton |
| 浓汤鱼片汤 | Fish Filets Soup |
| 酸菜肚丝汤 | Pickled Cabbage and Pork Tripe Soup |
| 极品山珍汤 | Wild Mushroom Soup |
| 玉米鸡浓汤 | Sweet Corn and Chicken Soup |
| 番茄蛋花汤 | Tomato and Egg Soup |
| 龙虾浓汤 | Lobster Soup |
| 凤尾虾丝汤 | Phoenix-Tailed Prawns and Seaweed Soup |
| 酸辣汤 | Hot and Sour Soup |
| 豆腐菜汤 | Tofu with Vegetable Soup |
| 芋头排骨汤 | Spare Ribs with Taro Soup |
| 萝卜煲排骨汤 | Pork Ribs and Turnip Soup |
| 豆腐海带汤 | Tofu and Kelp Soup |
| 玉带芦笋汤 | Scallop and Asparagus Soup |