China Air Travel
Jump of the air traffic: 800 million passengers expected in 2014 in the world, especially in China.
"China will be the biggest supplier of new travellers ", underlined The International Air Transport Association (IATA)." On 800 millions, 360 millions will result from the Asia-Pacific area, among which 214 million will be linked to China ".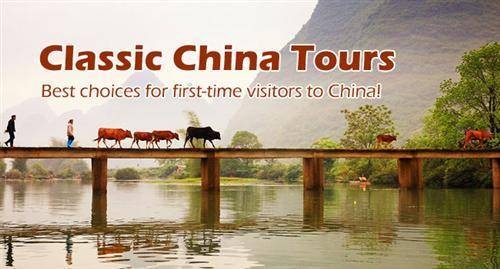 In China, airline companies deliver a high quality of services principally in terms of reception and safety. Indeed, the majority of airports in China are particularly well equipped and very welcoming, and the Chinese air fleet possesses some of the best existing planes.
China should purchase more than 2,500 planes in the next years, what will bring to 4,500 the total number of civil planes in the country at the end of 2015, announced Li Jiaxiang, acting director of the General Administration of Civil Aviation of China, during the 2012 China Civil Aviation Development Forum, opened in Beijing on Wednesday, May 23, 2012.
Mr Li noted the fast growth of the civil aviation of China, describing it as being an industry still in "the dawn of its development ".
Tony Tyler director general of the International Air Transport Association indicated that the Chinese market of the aviation is and would remain immense. He plans that the number of the passengers by air in the world would increase by 877 million before 2015 with regard to year 2010, and that a quarter of the new passengers would come from China.
China transports is at present the 7th largest number of air passengers of the world, and the 4th largest number of goods.
The Chinese administration of the civil aviation (CAAC) opened about 1,000 domestic air connections linking 140 Chinese cities using Beijing as airport platform. There are also 130 international air links and 20 regional lines serving 60 cities in 40 different countries.
Every passenger is limited in the weight of his luggage; the limit is fixed to 40 kg in first class, 30 kg in business class and 20 kg in economic class. No additional luggage is allowed for the little children paying their seat 10 % cheaper than the adults.
Hand luggage cannot exceed 5 kg and/or surpass the dimension of 20x40x55 cm. Check in two pieces of luggage is authorized for first-class passengers, differing from the travellers in business class or in economy class who are limited to one luggage. Additional costs will be charged in case of additional luggage or non conformity to weight and/or measurement.
Airports
The air traffic of China is especially connected to the airports of Beijing Capital International Airport (PEK), Hong Kong International Airport (HKG), Shanghai Pudong International Airport (PVG), Shanghai Hongqiao International Airport (SHA),  and Guangzhou Baiyun International Airport (CAN). They are, respectively, the hubs of Air China, China Eastern Airlines and China Southern Airlines.
Beijing has the greatest flow of passengers annually; Shanghai has the 2nd largest amount of air traffic in China through its two airports combined.
Shanghai Hongqiao International Airport was the main international airport of Shanghai before the construction in 1999 of the international Airport of Shanghai-Pudong. Now, it's the main domestic airport serving Shanghai, China, with limited international flights; only two international destinations: Seoul and Tokyo.
In spite of its relative short existence, the Hong Kong International Airport has already won numerous rewards in particular that of "Best airport ".
Among other major Chinese airports, we can point out: Nankin and Shenzen airport, Chengdu, Chongqing, Dalian, Hangzhou, Harbin, Hohhot, Kunming, Qingdao, Shenyang, Tianjin, Urumqi, Xiamen, and Xi'an.
China has plans to build almost 100 new airports by 2020 and one of them calculated for achievement in 2014, Nagqu Dagring Airport, may claim the title of highest airport in the world. It will sit at an altitude of 4,436 meters (about 14,553 feet, or about 2.75 miles above sea level) and so surpass Qamdo Bamda Airport.
China is also currently in the process of constructing the new Beijing Daxing International Airport -the name has not been made official yet-, which is scheduled to be finished and operational by 2015. It will become the country's biggest airport with nine runways and it will become the World's busiest airport by international passenger traffic surpassing London-Heathrow and will have more passengers than Atlanta, which is currently the world's busiest airport.
Airlines
Civil aviation in China originated after the founding of the People's Republic of China in 1949 with the establishment of the aviation authority and operator: General Administration of Civil Aviation of China. In 1987, China's government separated the airline operations of General Administration of Civil Aviation of China into six state-owned enterprises each named after the geographic region of the location of their headquarters and main operation areas:
Air China (which inherited the IATA and ICAO code of the original CAAC),
China Eastern Airlines (based in Shanghai),
China Southern Airlines (based in Guangzhou),
China Northwest Airlines (based in Xi'an),
China Northern Airlines (based in Shenyang)
China Southwest Airlines (based in Chengdu).
The regulatory role was retained by the General Administration of Civil Aviation of China which is now known as Civil Aviation Administration of China (CAAC).
The Civil Aviation Administration of China (CAAC) is the aviation authority under the Ministry of Transport of the People's Republic of China. In 2002, the government merged the nine biggest airline companies in three regional groups: Air China, China Eastern Airlines and China Southern Airlines.
These three companies operate most of the international flights. There are however numerous regional companies which joined them by 2005 such as: Hainan Airlines, Shanghai Airlines, Shandong Airlines, Xiamen Airlines, Shenzhen Airlines and Sichuan Airlines. Together, these nine airline companies had a fleet of about 1 580 in 2010, mostly Boeing from the United States and Airbus from France.
In addition of regional airlines owned by the Chinese government, a privately owned, low cost airline makes its mark over Chinese sky: Spring Airlines, the Shanghai-based airline. Spring Airlines is the aviation subsidiary of Shanghai Spring International Travel Service. It is China's only low-cost airline.
Tips to smooth your air travel
When proceed to the check-in?
For a stress less departure, to reach the airport 3 hours before the departure is suggested.
Be careful, the check-in counters close one hour before the departure of the flights. After this deadline, you will not be accepted any more on board and you would risk losing your ticket.
How check-in?
To obtain their boarding pass, every passenger has to present an identifier (ID card or passport used at the time of the reservation) along with other document made necessary by the customs, administrative and sanitary regulations to enter and go out of the territory. (Check the formalities)
Luggage must be prepared according to the regulation in force and needs to:
- Be individually labelled inside and outside (your names, first names, telephone and permanent address must be clearly indicated).
- Be locked.
During the check-in and until the boarding, a quite particular attention will be carried to the not accompanied children and to the people with reduced mobility.
So that "great departures" do not rhyme any more with "rush hours", specialized staff helps you to register to embark and to land calmly.
To travel serenely
To move towards your flight peaceful, catch the day before your departure one good night of sleep and do not leave with an empty stomach. Choose a light but nutritious meal.
As to your clothes, prefer the comfort to the elegance. Ample clothes and shoes in which you feel at ease will ensure a more pleasant flight.
At high altitude, feet tend to swell. To avoid the heaviness's in legs and feet, in particular on the long air travel, open or take away your shoes and make regularly slight movements:
-Do not stay in the same position for a long time especially if you cross your legs;
-While remaining seating, make some movements of rotation, flexions and extension of your ankles;
-Think of getting up regularly and walk a little bit, it is enough for toning up your blood circulation;
-And, if you suffer from circulatory problems, consult your habitual doctor who will prescribe you, if necessary, a preventive treatment.
If you are lucky to leave to the sun in winter, think of warm clothes for the return. The arrivals to the airport are often striking...
To more comfortable, plan ear plugs, anti-light mask, an inflatable headrest and a warm garment. On the long trips, to keep your toilet bag at hand, not without having removed the cutting sharp objects from it, is recommended. It is very pleasant to be able to refresh yourself during the journey.
Some advices to guarantee your security on board
At your arrival on board, tidy up your luggage in coffers planned for that purpose or under your seat to avoid the falls in case of turbulences.
Also switch off your mobile phone which provoke interferences with the equipments of navigation; the use of any portable electronic device is forbidden during the phases of takeoff and landing.
For an authentic travel experience, contact one of our travel advisors. Our local experts are always ready to create a hassle-free tour for you.