China Airline Baggage Allowance
For checked luggage: Adult and children are entitled to a free checked baggage allowance in economy class of 20kg /44 lbs, business class passenger 30kg /64 lbs and first class is 40kg /84 lbs). The size limit for each piece is 40x60x 100cmor 15.7x 23.6x 39.4 inches.
For carry-on luggage: each economy class passenger is allowed one piece of 5kg/11 lbs; first-class is allowed 2 separate articles of 5kg/11 lbs each. The size limit for each piece is 20 x 40 x 55cm or 7.8 x 15.7 x 21.6 inches.
For international flights, the carry-on luggage mustn't exceed 7 kilograms. First class passengers are allowed to carry 2 pieces of carry-on luggage, but passengers in other classes are allowed to carry only 1 piece. The weight of unchecked luggage mustn't exceed 10 kilograms and the volume for each piece mustn't exceed 20×40×55 cm. The weight of each piece of checked luggage mustn't exceed 50 kilograms, and the volume for each mustn't exceed 40×60×100 cm. The excess luggage must be asked for permission in advance. Besides, passengers in group are allowed to combine the luggage allowance once they check in together.
Prohibited Articles for luggage
The prohibited articles for both checked luggage and carry-on luggage include explosives, controlled knife, combustibles, poisons, corrosive materials, radioactive substances, dangerous goods, edge tools, animals, lethal weapon and arms.
Besides, vital document, important data, diplomatic pouch, securities, currency, bill of exchange and valuables are prohibited to put in checked luggage.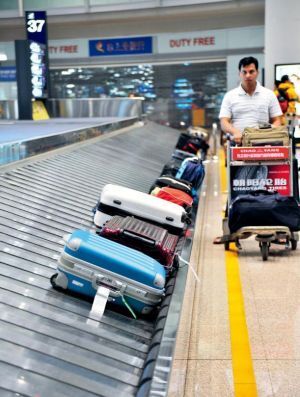 Carry-on Articles for Daily Use with Limited Quantity
The carry-on articles for daily use that passengers can carry include 1 bottle of fixature or collar cleaner (350 ml), 1 bottle of mousse or brightener (350 ml), perfume (500 ml), 1 bottle of insecticide (350 ml), 1 bottle of air freshener (350 ml), 5 lighters and 5 safety matches. The total volume or weight of the above articles mustn't exceed 1,000 ml or 1 kilogram.
For an authentic travel experience, contact one of our travel advisors. Our local experts are always ready to create a hassle-free tour for you.