Chinese Lacquer Ware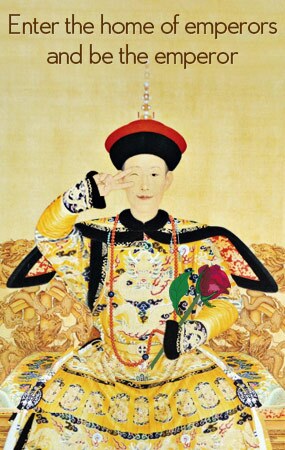 General Information
Since the advent of lacquer ware, it is an art combined with utility and aesthetic appreciation; material civilization and spiritual civilization. In the early time of New Stone Age, paint had great value of utility for its performance of resisting to acid, heat, friction and deterioration and it was easy to wash away, without off-flavor after it was smeared on woodenware and pottery. Meanwhile, it makes the ware light and durable and has high value of appreciation. It does not only have inviting luster but also makes the ware bright and colorful so as to motivate joyful feelings in vision. Therefore, the advent of lacquer brings convenience to people's life and spiritual enjoyment, which is a big progress in human civilization.
The earliest lacquer was discovered in China. In 1974, archaeologists discovered a red-painted wooden bowl in the third cultural layer of seven thousand years-old Hemudu archaeological site in Yuyao, Zhejiang Province. It was known as the earliest lacquer, which proved that lacquer ware was invented by Chinese and it was a great contribution that China made to human being. People around the world still bear in mind this great invention-creation of China nowadays. Mr. Si, the Speaker of International Lacquer culture assembly said: "Lacquer has its own lasting appeal of deepness, stoutness, bonhomie and elegance. Its inebriation and captivation has lasted for thousands of years and arouses the global focus and attention. It is honored as 'the Eastern Myth'. "
Chinese lacquer ware includes mural painting, screen, earthing panel, table screen and so on. Lacquer ware is classic of Chinese traditional craftwork, which originates from the War Period, developed in the Han dynasty and the Tang dynasty and culminated in late Qing dynasty. Lacquer engraving technics originated in the Tang dynasty. This technics is complicated but elegant. The knife method is mellow.
Dianluo is made by pasting a kind of refined material and color paint on refined wooden floor, with the characteristic of beauty and utility. Qixiandiao, which is the most ancient craftwork in China, has an elegant sculpt, bright color and magnificent cover, with great value of collection and admiration.
Beijing Lacquer ware
Beijing Lacquer ware appeared at least in the Yuan dynasty. In the period of Ming and Qing, it had been an important ornamentation in palace. After the founding of The People's Republic of China, Beijing carved lacquer is one of the important presents that our leaders send to foreign guests and also a kind of product to transact foreign exchanges, which then win the great support of the government officials. Thanks to devotion and innovation of the artists in Beijing, the carved lacquer has once won the prizes home and abroad for many times, which shows the world the important status of Beijing lacquer. Beijing carved lacquer, Xiang needlework in Hunan and Jingdezhen pottery in Jiangxi are on a par with each other and has reached the most far-flung corners of the globe, which were honored as "three advantages of Chinese craftwork and fine art".
Beijing lacquer ware has different sizes. The bigger ones function as an decorative furniture, the smaller one have practical use like bowl and plate, while both are craft work of Beijing style.
There are mainly two kinds of Beijing lacquer. One is carved lacquer, which ages in 14th century AD and has a long history. Carved lacquer can also use copper as the body, and is burnt to underwear enamel. The interface is gilded and the body needs pasting red, green and yellow paint and some need hundreds of layers of paint. It can only be engraved after the paint is dried. There are relief sculpture and hollowed-out sculpture.
Another is golden paint inlay, which is also Beijing specialty and is classified as color painted Goujin, inlayed Luoxi, gold and silver Pingtuo, Kehui and fricative paintings. Both of them are simple but radiant, with the royal vigor.
Fuzhoubodiless lacquer
Fuzhou bodiless lacquer was inverted by Shen Shaoan, a famous artist during Qianlong Period in the Qing dynasty. It has three hundreds years of history. Together with the cloisonné in Beijing and Jingdezhen pottery in Jiangxi, they are classified as three Chinese traditional craftworks.
Fuzhou bodiless lacquer has firm and light texture; elegant and chic contour and bright and magnificent luster. It is refined decorated, burly and durable, with unique nationalistic style and strong locality. It is fadeproof and has the advantage of resisting to being fragmentized, heat, acid, alkali and insulation, which has been applied to industrial products.
Fuzhou bodiless lacquer has an elegant and grand contour, light and handy texture, and the luster is as bright as mirror, rich and various ornaments, strong locality and unique nationalistic style. It is in deep favor of clients home and broad. Fuzhou bodiless lacquer is in vogue overseas, and is honored as "precious black gem".
inlayed lacquer
Yangzhou lacquer has a rich history. As early as the Han dynasty, more than 2000 years ago, it had won the honor all over the country. Based on refined paint, the traditional Yangzhou lacquer is made by emerald, agate, coral, white jade, ivory, rosewood, mica, luminated spiral, gold and silver etc. more than eight hundred kinds of precious materials. The decorated designs on lacquers are the painting and calligraphy of "Yangzhoubaguai" in great amount, which raise the value of artistic appreciation of Yangzhou lacquer.
Yangzhou lacquer is of rich sorts, exquisite craftsmanship, splendid and elegant color, simple and grand contour, combined with aesthetics and utility, vivid locality. According to the contour and use, Yangzhou lacquer falls into three categories: screen, furniture and sundries, in which screen and furniture accounts more than 80% of the total production of Yangzhou lacquer. According to the technics of ornamental craftworks, there are ten sorts, in which carved lacquer inlayed with jade, Pingmoluoxi and Dianluo are the major three ones which rank the best over the country and are famous home and overseas. Yangzhou lacquer has won the big prizes home and abroad for many times and been selected as the presents for the leaders to visit other countries.
Tianshui lacquer
Tianshui lacquer is produced by refined wood and paint combined with coral, agate, pearl, shell, etc. precious materials in the technics of the traditional engraving and filling and stone inscription crustification in Tianshui in Gansu province.
Tianshui lacquer is made by exquisite craftsmanship, grand and simple, with stereoscopic impression. And there are many other designs in reference with Dunghuang mural painting and Maiji Mountain, etc. ancient arts, with strong nationalistic style.
Chengdu lacquer
Chengdu lacquer is also named as "Lu" lacquer and famous for its long history, exquisite, splendid and mellow luster and florid designs. Chengdu lacquer originates in Shang, Zhou, which is more than 3000 yeas so far, culminates in the War period, the Han dynasty and the Tang dynasty, lasting for the Song dynasty, the Ming dynasty and the Qing dynasty. Chengdu lacquer now has been on the recommended list of the first national non-material cultural heritage as " Folk craftwork".
The lacquers produced in Chengdu have wooden body, flax bodiless paper body, etc. The contour is slinky and elegant, with handy technics, as transparent surface, as bright as the mirror. In addition, veiled design, latent design and portray ,etc new technics diversify lacquers. "Diaohuatiancai"is the main characteristics of craftwork. The artists use knife as writing brush and carve all kinds of designs on the bottom of the bodies then fill them with color paints, burnishing and polishing them for many times.
Chengdu lacquer is mainly produced in Chengdu Lacquer craftwork factory, which lies in NO.81 in Xigan Golden River Street in Chengdu. Their main products are lacquer screen, saving box, reproduction of excavation and lacquer painting art works.
Pingyao glassing lacquer
Glassing lacquer is an advanced lacquer ware of craftwork and is well-known for hand glassing. The famous craftwork in Shanxi is Pingyao glassing lacquer. It has a simple and elegant external appearance, bright and glittering. The painted decoration is resplendent and magnificent. It feels smooth and well-lubricated, durable, heat and damp-proof. It is the competitive products of lacquer.
Pingyao glassing lacquers are, in great amount, advanced screens, hanging panels, television cabinets, wardrobes of all sizes, cocktail cabinet wine cabinets, corner cabinets, show boxes, jewelry boxes, etc. The first layer of paint is mainly in inkiness, rosy red, apricot, green and purple. Then the designs of nationalistic style are painted on, such as the characters in the classical novels, plays, ancient legends and myths, etc. either by gold drawing or color drawing or graduating with cutter or engraving and inlaying . Then the palatial products have smooth lines and mild hue.
The material of Pingyao glassing lacquer is from the plant-lacquer tree, which is called "Old lacquer" or "Big lacquer". The process of production is very unique. First, select fine wood material, make it into the body of the lacquer, fill the aperture with pig blood and brick dust. Then past it with natural polishing, repeat this for several times. After that, dip benne oil, hand it till the luster, draw the picture with gold and color paint, then it appears the designs of water and mountain, birds and beasts, pavilion, rare plants and flowers, etc. Glassing lacquer glitters like the mirror, and is also called "Gold lacquer furniture". With a polishing surface, exquisite design, bright color, the drawing contrasts by vigorous and soft, it is light but firm, resistant to heat and damp, with unique nationalistic style and strong locality. It can be used for appreciation and decoration, and has practical use as well.