Chinese Music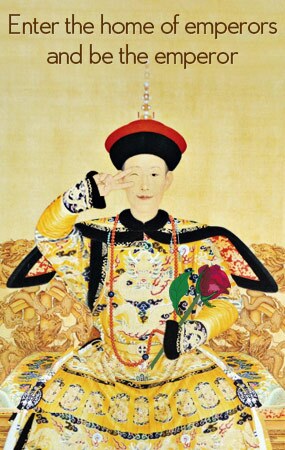 Development of Chinese Music
The ancient Chinese bamboo flute, which dates back 7000-8000 years was a relatively advanced instrument, showing that the development of Chinese music had reached a high level even by that early time.
As in many other nations, the arts of music and dancing were originally closely related during early Chinese cultural development and did not become independent branches of art until the Xia Dynasty. From then on, the development of Chinese music entered and glorious stage of "Bell and Drum Music", which that lasted for more than 1300 years. This lasted through many dynasties including Xia, Shang, and Zhou. During the 1200 years from the Qin Dynasty to the Han Dynasty, this music for dancing was the major form of Chinese music.
Until the Sui Dynasty, Chinese music was something of a luxury, reserved for nobles and monarchs. When the Sui Dynasty began, the public gradually had the opportunity to share, play and enjoy music in the temple fairs of Buddhist temples, in restaurants and in tea bars. The popularity of music increased during the Song Dynasty, especially in public areas such as opera theatres and cafes, and the music was often accompanied by dancing. Later, many other artistic forms involving music performance appeared such as Guzi Opera, Poetic Drama set to Music, and Local Classical Opera in South China.
After the Song Dynasty, "music of literateurs", a musical form that focuses on keyboard music developed, together with "music of the average". Many musical instruments, such as the lute, guzheng, flute, panpipe, and Chinese windpipe were also further developed at this time. During the Ming and Qing Dynasties, various musical forms, such as opera and speaking whilst singing, gradually matured and became enriched. String and band music features instruments like the fiddle played an increasingly important role in accompaniment to concertos and operas, such as the Peking Opera.
Traditional Chinese musical instruments have developed over thousands of years and a variety of types for different musical categories has evolved. In general, traditional Chinese musical instruments can be divided into ensemble and solo instruments. Ensemble instruments include the gong, drum, sauna, two-stringed Chinese fiddle, four-stringed Chinese mandolin, Chinese dulcimer, three-stringed Chinese guitar, Chinese bamboo flute, Chinese windpipe, and Chinese vertical bamboo flute. Solo instruments include the seven-stringed Chinese zither, two-stringed Chinese fiddle, four-stringed Chinese mandolin, time beater, Chinese bamboo flute, and 21 or 25 stringed Chinese zither.
After the foundation of the People's Republic of China, the Chinese government implemented a policy that encouraged numerous music schools to flourish. This gave rise to many great works that celebrated the national feeling and art and features other characteristics of the era. Examples include the epic The Red in the East, TV music Liu Sanjie, opera The Red Army at Honghu Lake, and the piano-based The Yellow River, etc.
Since China reformed and opened up to the outside world 20 years ago, Chinese music has been heavily influenced by music from western countries, and vice versa. This close interaction between western and Chinese music has ushered in a new era of rapid development and prosperity for Chinese music, influencing wide ranging aspects of Chinese musical culture including music creation, performance, music education, music theories, publication and the marketing of music.
The rise of new music and rapid growth of pop music are two of the most important phenomena in the process of recent Chinese musical development. In the last 20 years, Chinese musicians and musical groups have participated in various international events and contests aimed at improving communication regarding music. Many of them ranked highly, some even coming first. By travelling all over the world, they have displayed Chinese traditions and musical culture to the people of other nations, and at the same time have introduced the new ideas and music into China.
In order to enrich the musical life of Chinese people and raise their understanding and appreciation of music, large music festivals are regularly held throughout the nation. These festivals include "Spring in Shanghai", "The Beijing Chorus Festival", and "The Yangcheng City Music and Flower Festival". In addition, musical festivals performed by amateurs are also very popular, these festivals, which include "Blossoms in May", Music Party in October", "School Music Party", are held regularly in certain cities and generally prove very popular.
Folk Song
Folk Song is a form of music through which the working classes have traditionally expressed their emotions and feelings. It is inspired by, and is an integral part of, everyday life of the Chinese working classes and is passed down and elaborated from generation to generation. Folk music features simple language and, vivid imagery, and has many genres and forms, such as labor songs, mountain songs, major aria, minor aria, and part singing.
Chinese folk music has a long history. In the ancient primeval society folk music usually went together with dancing. It is said that there are eight divine songs by Ge Tian and they are always accompanied by dancing. Guofeng is a part of the Book of Songs and contains the lyrics of folk songs in 15 different areas from the West Zhou Dynasty to Spring and Autumn. In later times, Songs of the Chu Dynasty, Yuefu Music Style in the Han Dynasty, melodies in the Tang Dynasty, bagatelle in the Ming and Qing Dynasties, and other ballads from different regions in different dynasties are actually folk songs in nature. In more recent times during the revolution, people created many new styles of excellent folk songs. Some of these songs were created by combining new words with old melodies, while others by elaborating and developing the old melodies.
China is a large nation with a diverse array of ethnic groups, each of which has their own unique set of folk songs that constitute a solid foundation of Chinese musical heritage. The co-existence of different artistic forms, such as dancing, instrumental music, and opera, offer a fertile environment for the future development of Chinese music. Professional music is usually created by drawing materials from the folk songs of different ethnic groups. For this purpose, either the whole song can be used and performed or part of the song can be used as the basis for a more original work.
Folk Songs in North Shanxi Province
The North Shannxi Province is a divine land on Huangtu Plateau where the local people are honest and hard working. Local people here are plain and industrious. Males tend to be are serious and sober while females are open-minded and intense.
No matter where you stay in this region, be it on the top of high mountains, on zig-zagging paths, or on a wide expanse of flat land, you would hear the melodious songs sung by these people. This folk songs in the North Shannxi Province are very well known and are a unique art form.
Guangxi Folk Songs
The beautiful and rich Guangxi Zhuang Autonomous Region is known as the "Sea of Songs". Each year during the grand festival The Third Day of the Third Lunar Month, tens of thousands of young people from in and around the region will gather for the famous Geyu Festival (the party of songs). In the festival people joyously sing and dance wearing beautiful and elegant clothes. The singing is load and lasts for several days and nights. The Geyu Festival is an important ceremony for the people of the Guangxi Zhuang Autonomous region.
Pop Music
In the hinterland of China, pop music has been around for around 60 years. The birth and growth of pop music in China is the product of a combination of the Chinese music with that of western countries. Recent Chinese pop music captures a strong awareness of the Chinese nationality, heavily influences by music from all over the world.
About Song Zuying
Song Zuying is one the best young singers in modern China. She sings traditional Chinese folk music, but adds a carefully applied American voice to create a unique and expressive style.
Song Zuying's songs are widely appreciated both at home and abroad and among her most famous works are Little Back Bamboo-Basket, Soldiers all over China, Soldier Brother, and I became what you were when I grew up. Song Zuying also played the main female roles of "Sister Shan Mei" in Red Coral and Zi Jun in "Elapse" to great public and professional acclaim.
Song Zuying has released a number of albums and has performed in many televised concerts. She was invited to visit Europe, Australia, America, Canada, and Southeast Asia for artistic communication. Now she is a representative of the ninth National People's Congress, member of National Youth Federation, and associate of the Chinese Musician Association.