Christmas in China
It's hard to put a specific label on what Christmas is in China. In most Western nations, little is known about how this traditional Christian/European holiday is celebrated in the PRC. However, visitors during the Christmas season can find some refreshing holiday joy and cheer.
Is Christmas a Holiday in China?
Not exactly. Most Chinese do not celebrate Christmas, but foreign communities within China will usually have a range of Christmas social gatherings. Most individuals in China are also not Christian- in fact, the national religion is atheism- so there isn't a religious prerogative to celebrate Christmas either. It isn't even a work holiday for the vast majority of people who live in China. In rural areas and small villages, locals might not even know of Christmas at all.
Nonetheless, Christmas is a sort of unofficial holiday in Mainland China.
How do Chinese Celebrate Christmas?
Special Offers or Events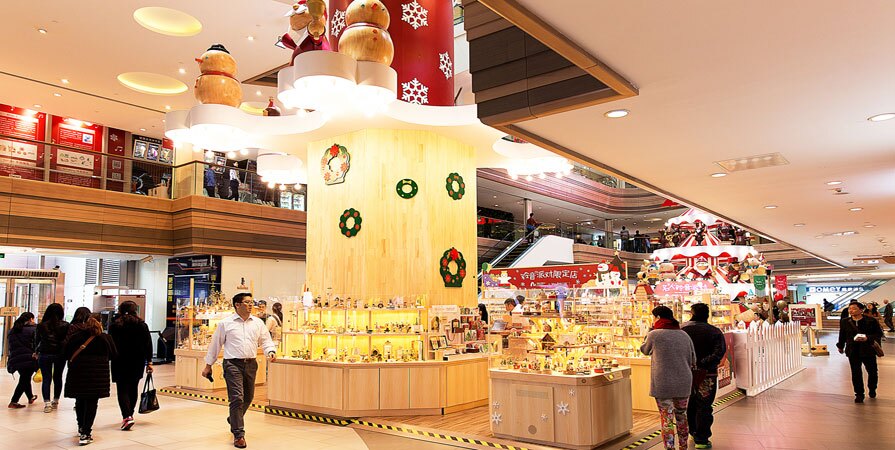 Christmas specials at a shopping mall
Christmas in China tends toward the more commercial- visitors will notice chain stores like Starbucks and Vanguard putting up holiday decorations and selling holiday goods.
Small businesses in large cities like Shanghai and Hong Kong, will also have sales, events, and Christmas specials. Some high-end (4 and 5-star) hotels and restaurants may offer special Christmas feasts, taking place on or around Christmas Eve and Christmas day. Some businesses will have a small party for their employees.
Christmas Decorations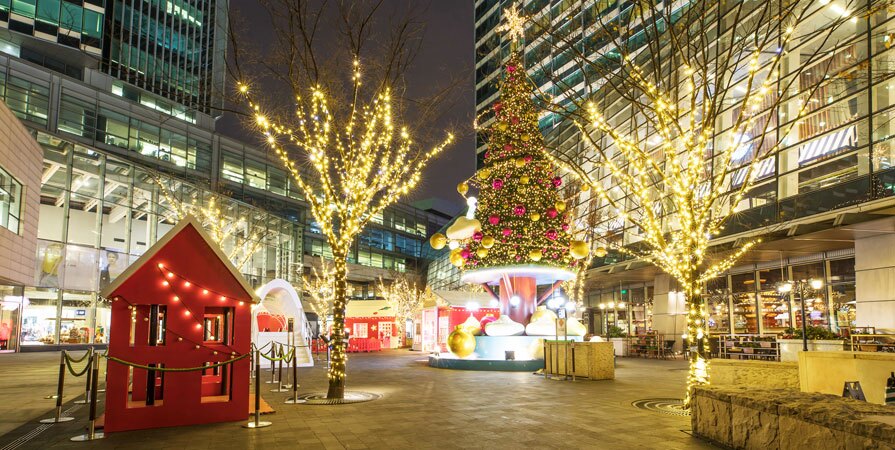 Christmas decorations
Decorations are common. Big cities become festooned with LED-covered trees and colorful lights, and many people enjoy the break from the drab monochrome of winter. You can expect to see big trees, lights, reindeer, and ribbon adorning shopping mall interiors throughout the country. Santa Claus playing the saxophone is a popular holiday décor.
Many younger Chinese enjoy celebrating, and young couples often go out on romantic dates to see the lights and decorations at Christmas time.
Small local businesses will often put up Christmas decorations in December as well, and never take them down. It's common to see Christmas decorations from previous the previous year (or years) still festooning doorways and windows in the summer months.
Christmas is not the same in China.
Other celebrations might include special Christmas events that may have nothing to do with Christmas at all. These events can range from too many activities to count, for example: having Secret Santa gift exchange; dressing as Santa and distributing gifts to the children; decorating trees for Christmas; making model Christmas trees; or having dressed as Santa and running a completely unrelated activity, like a dance class or fitness routine.
What will foreigners do on Christmas in China?
Hong Kong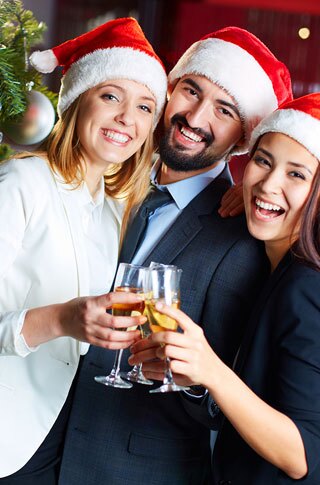 In Hong Kong, Christmas is one of 17 public holidays, and the city is usually gaily-decorated. Many expats who live in Mainland China will venture to Hong Kong for the holidays to get their desired allotment of Christmas cheer.                                                  
The Foreign Community
Most foreigners working in China have at least 1 day (Christmas Day) off, and many Chinese people will join the foreign community for celebrations and events. People will get together for potlucks, social gatherings, and feasts offered by restaurants and hotels.
The odds of finding a big foreign community with many Christmas events correlates to the size of the city you are in, as well as how international it is- Beijing, Shanghai, and Hong Kong, have by far the most going on at Christmas time.
Christmas Gifts in China
Gift-giving has always been popular in China (E.G. Hongbao, or red envelopes), however they are usually done for Chinese holidays and special occasions, rather than Christmas. Giving gifts for Christmas is much more-commonly celebrated among foreigners living in China. University/college students may hold some activities and exchange apples on Christmas Eve.
Christmas Food in China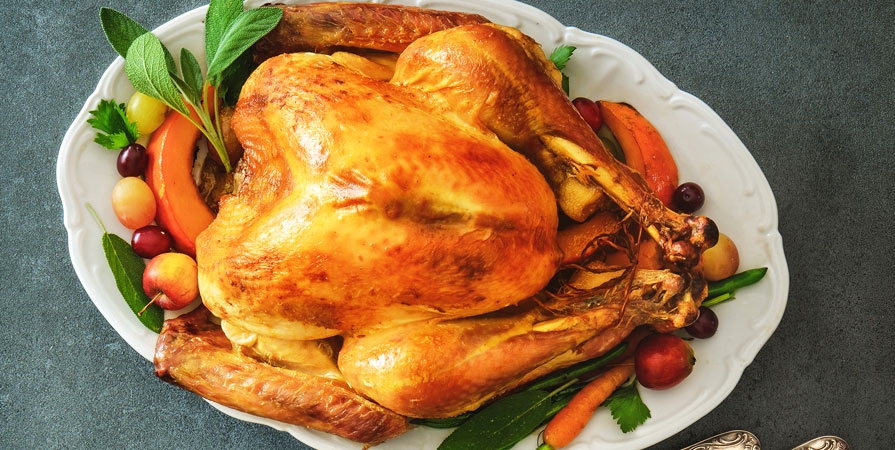 Turkey is hard to come by in China.
There are no particular foods that signify Christmas for the vast majority of Chinese, as most don't celebrate it. Although milk and chocolate become far more common and are reasonably-priced, other Western holiday food ingredients are non-existent or prohibitively expensive within Chinese borders. Turkey is hard to come by.
The Western food that has caught on in China, like cake, has been thoroughly localized. You can find green tea flavored cake, as well as chocolate and vanilla cakes topped with cherry tomatoes.
The best bet for a traditional Christmas feast is to pay attention to foreign restaurants, bars, and high-end hotels that will have a (usually) pricey range of holiday eats that you can find in the West.
Visiting China During Christmas
Why is China worth a visit during the holiday season?
1. Tourist Low Season- Northern China is cold and snowy, so many people stay home and don't bother getting out.
2. South China's Weather is Nice- Although Guangxi (where Yangshuo and Guilin are) can get uncomfortably cold, Guangdong, Hong Kong, and Macau have great weather. It is usually between 13-20℃ (55-68℉). The cool, dry, air, and warm sun makes the weather especially good for hiking, cycling, and other outdoor endeavours.
3. Northern China is Snowy- The blanket of snow not only makes far-flung mountainous regions like Xinjiang and Tibet great destinations because they look pristine and beautiful. The wild sections of the Great Wall are gorgeous in the snow.
Hong Kong and Macau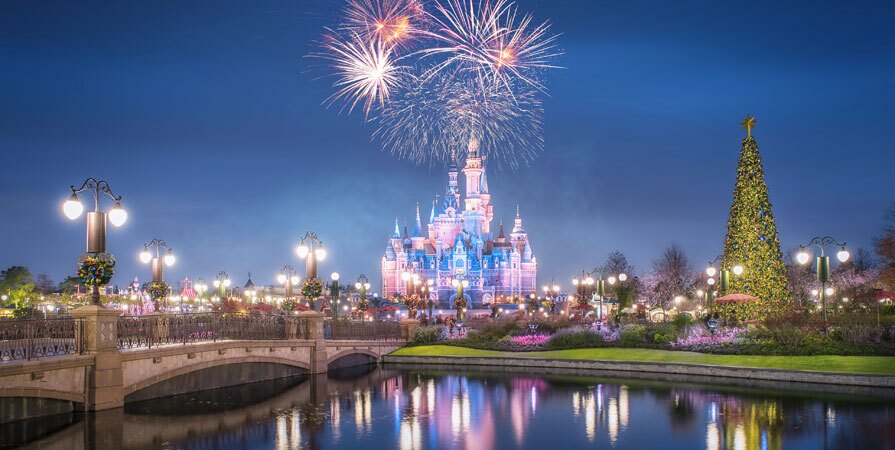 Disney World on Christmas
These two cities are special administrative reasons- you don't even need a Chinese visa to visit them. Both being former colonies of Western countries (Macau was a Portuguese colony and Hong Kong was British) there culture is more international and Christmas-friendly.
In these cities it will be easy to find Christmas markets, big feasts and events, and Christmas food in grocery stores. Additionally, wandering through these cities, visitors will see far more festive decorations and activities, like holiday specials at restaurants, fireworks, carolers, and Christmas Parties.
Special activities in Hong Kong include Christmas celebrations at Disney World, lighting of the Christmas lights, and fireworks.
Guangzhou
Guangzhou is the capital of Guangdong (formerly Canton) and the 3rd biggest city in China, boasting a population of 15 million, including a large expat community. There is a clothing drive for the city's homeless, a gargantuan amount of Christmas shopping, worship services at churches, and buffets and dinners.
Shanghai
There are multiple Christmas markets in Shanghai, numerous Christian churches with Christmas services, as well as one of China's biggest foreign communities. Shanghai boasts more community charity events, as well as a much larger assortment of buffets and dinners at hotels and expat bars than you can find in most cities in China.
Beijing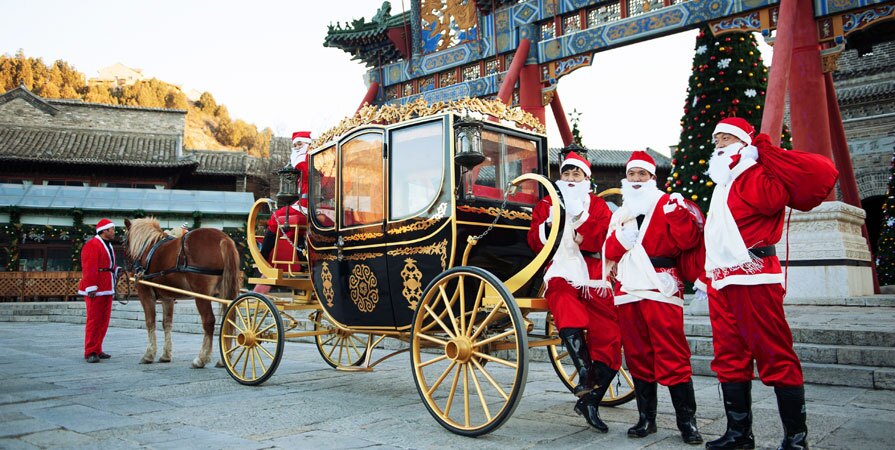 Santa Claus at Gubei Water Town in Beijing
Beijing is a populous cosmopolitan city. Many international workers, executives, business owners, diplomats, and more live there, so it has a much heavier international influence than much of China. Sure, most Chinese will work on Christmas or do little-to-nothing to celebrate it personally, but there is plenty to do.
Christmas markets and sales abound. Many malls and shopping centers have longer hours and lower prices. Be ready for the crowds.
Many of the Beijing hotels, bars, restaurants and other businesses have special Christmas events as well: fancy galas at high-end hotels, a Christmas performance at the Beijing playhouse, church services/choir performances, skiing outside the city, concerts, and more.
Harbin
Harbin, famous for its cold, snowy winters, is in China's farthest-north province: Heilongjiang. The Harbin Ice Festival is the world's largest ice festival, lasting from December 25th to February 25th. Besides hundreds and hundreds of ice sculptures, visitors can take a sled dog ride, go skiing, see traditional frozen-lake fishing, see Siberian Tigers on a winter safari, and more.
Christmas dinners can be found at the 4 and 5-star hotels in the city.
Where to Have Christmas Dinner
You can find a Christmas feast at the Hilton, the Shangri-La, the Four Seasons, the JW Marriot, and other 4 and 5-star hotels. Below, we have also listed some special, less-known foreign restaurants that have special Christmas meals and events.
Shanghai
Shanghai is a foodie's paradise and there are too many restaurants with Christmas offerings to list, so here are a few stand-outs: Wudeng Road (武定路), Fengshan Road (衡山路), and Fumin Road (富民路)all have multiple foreign bars offering Christmas gatherings and special Christmas menus.
Mr. & Mrs. Bund – Bund 18, 6/F, 18 Zhongshan E Rd, Shanghai
Mercato – Bund 3, 2/F Zhongshan E Road, Shanghai
Coquille – 29-31 Mengzi Road, near Xujiahui Road, Shanghai
Beijing
Mercante – 4 Fangzhuanchang Hutong (near Nanluo Guxiang Alley), Dongcheng, Beijing
Modernista – Baochao Hutong, Dongcheng, Beijing
The Schoolhouse at Mutianyu – at the foot of the Mutianyu Great Wall (You will have to take a bus for an hour or 2 outside the city to get to The Schoolhouse.)
Macau
Portugalia – 2-6 R. dos Mercadores, Macao
Festiva – G007, Galaxy Macau, Estrada da Baia de Nossa Senhora da Esperanca, Macao
Macau is full of high-end hotels with equally high-end restaurants, cafes, and buffets- take your pick.
Hong Kong
Hong Kong is both international and loaded with high-end Hotel chains. Visitors here can expect to have more food options than any other city in China- maybe even more than any other city in Asia.
The Globe – Hong Kong, Central, Graham St, 45-53A
The Pawn – 62 Johnston Road Wan Chai, Hong Kong
Madame Ching – 5-Star Street, Wan Chai, Hong Kong
Playt – 1F, 310 Gloucester Rd, Causeway Bay, Hong Kong
Kinship – 3/F LL Tower, 2 Shelley St, Central, Hong Kong
Have a merry Christmas, no matter where you are.
Send Christmas Cards to Your Friends
For an authentic travel experience, contact one of our travel advisors. Our local experts are always ready to create a hassle-free tour for you.