Christmas in China
Celebrating a Chinese Christmas Day
Christmas Decorations
Christmas is celebrated in China in various ways but the most common way is with Christmas decorations. As the Christmas approaches, department stores, shopping malls, official buildings will be decorated with Christmas trees (Christmas trees are usually decorated with paper chains, paper flowers, and paper lanterns), colorful lights and even Chinese lanterns. Christmas carols can be heard over the noise of the crowds and the Chinese "Father Christmas" helps to make the scene complete.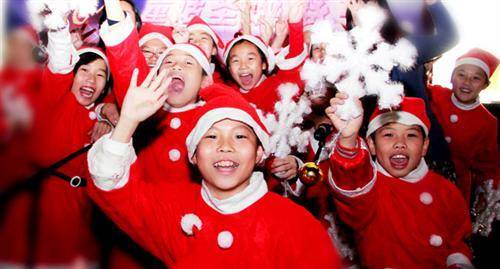 Exchanging Christmas Cards and Gifts
Exchanging Christmas Cards and Gifts is a very important part of Chinese Christmas Day. It is a chance to strengthen the relationships between friends, families and loved ones by exchanging Christmas cards and gifts. For many young Chinese people, Christmas Day is more like another Valentine's Day rather than the family-get-together of western counties. They invite their loved ones for celebratory dinner, exchange gifts and enjoy a romantic night.
Chinese Christmas Party
Chinese people are more likely to hold grand Christmas parties rather than a family-get-together on Christmas Day. The Christmas parties are usually held in big hotels, plazas and in pubs and bars. They are of various kinds and including performances, balls, and cocktail parties. The performances during the party are very special, featuring a combination of Chinese culture and western culture, such as Christmas Father performing a stilt walk, Beijing Opera and shadow play. On some occasions, Chinese Christmas parties are merely a display of Chinese culture.
Foreigner visitors will have the chance to experience Chinese culture like Chinese paper-cutting, making a Chinese knot and Chinese porcelain and enjoying Chinese Tea Culture, as well as eating delicious Chinese food at these events.
Express Goodwill and Philanthropy
Chinese Christmas Day is also an occasion to share goodwill and be generous to people in need like orphans, lonely old people, the sick and homeless people. Many Chinese people will bring gifts to orphanage, Old People's Home and hospitals to encourage these people.
Christmas in Major Chinese Cities
Christmas in Shanghai
Shanghai is the Chinese city where Christmas is most popular. Celebrating Christmas Day has become the main theme at the end of every year. It is really easy to buy Christmas decorations, food and gifts in Shanghai. Because Chinese goods are usually excellent quality and a reasonable price, many foreigners working in Shanghai buy lots of things Shanghai to take or send home to their family and friends as gifts.
2008 Christmas Celebrations
Xintiandi is newly refurbished area in Shanghai where old and new have been blended to form a district where fun and lifestyle are the operative words. Christmas is happening at Xintiandi. Performances such as the "Winter Boogie", Children's Christmas Choir singing carols, "Heir of Insanity" performed entirely inside a bubble four meters (13 feet) wide, and even a Christmas play entitled "Come Home for Christmas" will make this a Christmas to remember in Shanghai. A Magician and an Accordion Player will be roaming throughout the Xintiandi to entertain the passersby.
If you like shopping, Nanjing Road and Xujiahui commercial street will be a great place to get into the Christmas spirit with many bargains available.
If you want to spend a quieter Christmas Day, you may consider going to one of the cinemas in Henshang Road to enjoy one of your favorite movies.
Christmas in Beijing
Christmas came later to Beijing, however over the last few years foreigners living in Beijing have found Christmas Trees and all kinds of Christmas decorations on sale at the markets in most places.
Beijing Christmas Day
Beijing is gearing up for the upcoming Christmas. Christmas decorations can be seen throughout the city. Various activities will be held in the Shijingshan Amusement Park and Happy Valley. The celebrations will include Christmas music, shows, campfire party and other interesting games. Colorful lights and decorations and Christmas Carols will make the scene complete.
Travel Tips
1. Christmas Day is not an official holiday in mainland China. Travel and the hotel rooms will be normal.
2. Major cities of China such as Shanghai, Beijing, Hong Kong, Macau are good destinations to celebrate Christmas Day for there are lots of festivities and parties.
3. Beware of pick pockets, especially on public buses, in supermarkets and in large crowds.
Our local experts are always ready to create you a hassle-free tour. Get an authentic experience by contacting one of our travel advisors.