Dragon Canoe Festival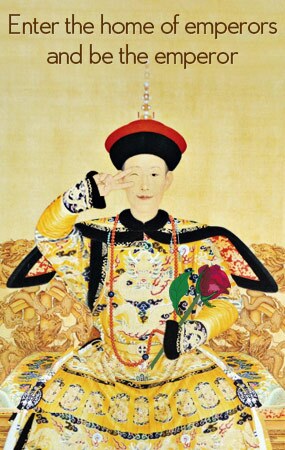 Date: the 25th to 27th day of the 5th lunar month every year
Location: Sidong County in Guizhou Province
The Dragon Canoe Festival is one of the 4 most important festivals celebrated by the Miao ethnic minority who live on the banks of the Qingshui River in southwest China's Guizhou Province. The other 3 main festivals held by the Miao group include the Miao New Year, the Lusheng Festival, and the Sister's Meal Festival.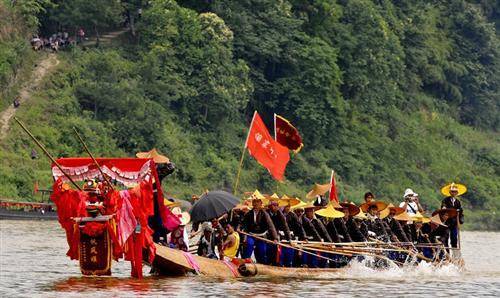 Dragon Canoe Festival of Miao Ethnic Minority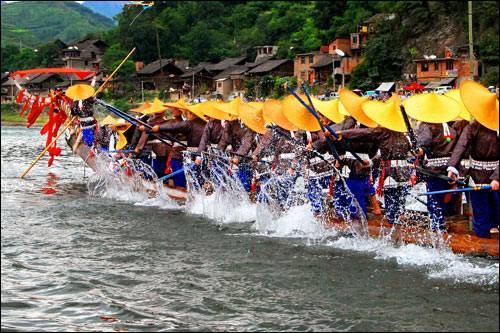 Dragon Canoe Festival of Miao Ethnic Minority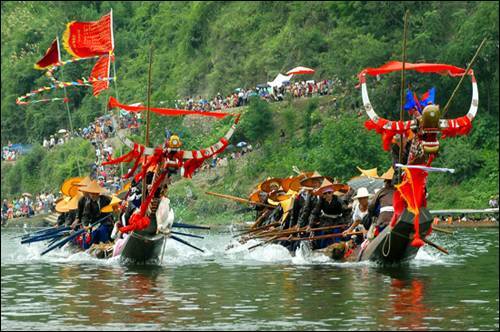 Dragon Canoe Festival
The day before the annual Dragon Canoe Festival, a very iconic and traditional Chinese Dragon Head figure attire is assembled, then meandered down to the river in magnificent pomp and ceremony in a procession that is led by the village's most elderly and respected member. The head is exquisitely carved and decorated with red stripes and has 2 long horns, one at either side. Then, the Dragon Head is fixed to a canoe body and the race commences.
On the main day of the Dragon Canoe Festival, the villagers all dress up in their holiday best and assemble on the banks of the Qingshui River. The crew of each race team wears purple jackets, blue trousers, and golden bamboo hats, with silver stripes swathed around their waists.
The canoe race is naturally the climax of the event, and is a spectacle to behold. Unlike typical canoes, which are for single occupants, Miao canoes are can hold a number of people. The rhythmic strokes of each boat crew strike the surface in unison, sending splashes of glittering water in the wake of the paddles. The accompanying sound of beating drums and gongs, plus the encouraging cheers from onlookers, spur on the canoe crews and create an atmosphere of drama and high stakes. Hearing the percussion booms, the racers redoubled their efforts, spreading excitement in the hearts of the audience.
After the conclusion of the canoe race, the Dragon Head is returned to its place of reverence in the home of the village elder, where it will be carefully disassembled. The relic is considered a sacred object, and is thus honored by the Miao people. After the Dragon Head has been safely returned to its home, a wonderful fireworks display celebrates the end of the competition. Then, the Miao villagers assemble to rejoice the successful completion of yet another Dragon Canoe Festival by participating in a sumptuous village feast.