Easy DIY Recipes
China is home to one of the world's most popular cuisines and, with its emphasis on fresh ingredients and quick cooking, also one that is highly rewarding to emulate at home.
What means "Chi le fan mei you?(吃了饭没有?)" It is one of the most usual Chinese greetings. It means "Have you eaten yet?" That greeting says a lot about the role food plays in Chinese culture. Chinese people spend an average of 40% of their income in food. Every region has its own delicacies.  Whatever they are, people are passionate about them, and they will go to any length and expense to enjoy them on special occasions.
And what do you suppose "DIY" means? The acronym means Do-it-yourself. Here are three simple and easy to follow Chinese food recipes!
Saozi Noodles (臊子面)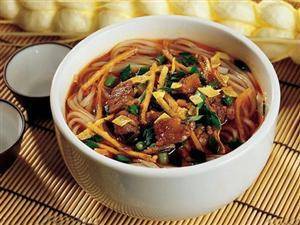 Ingredients:
Hand-pulled Noodles, carrot, dried bean curd, pork, shallot, garlic, potato, green pepper, agarics, mature vinegar, salt, sugar, soy, oil and hot pepper powder. The seasons as mature vinegar, salt, sugar, soy, oil and hot pepper powder are added according to your favor.
Instruction:
There are three main steps to make Saozi Noodles:
First, make hand-pulled noodles. The authentic Saozi Noodles are made of hand-pulled noodles, but it is too hard for people who have never been trained to pull paste into noodles. You can buy noodles at supermarkets.
Second, make Saozi, This is the most important step.
(1). Chop the pork, garlic and ginger and cut carrot, dried bean curd, shallot, garlic, ginger, potato, green pepper and agarics (mushrooms) into small slices. Heat the pan; put some oil, and sauté the chopped pork while stirring continuously.
(2).When the pork is medium rare, add the chopped ginger, the small pieces of carrot, dried bean curd, garlic, potato, green pepper and agarics, and then add small salt and sugar. Continue to sauté the ingredients while stirring continuously.
(3). When the chopped pork is medium well, add some mature vinegar, and then some soy sauce. Continue to sauté the ingredients while stirring continuously.
(4). When the chopped pork is well done, put some hot pepper powder, and add a litter water.  Braise for few minutes.
After that, Saozi is well done and standby for the next step.
Third: Make soup.
Clean the pan and add some oil. After the oil has been heated, put some mature vinegar and salt and water (not too much). After that put Saozi into it and boil the soup. Meanwhile, cook the noodles in another boiler; after the noodle is well done, drag the noodle without water. When the soup is boiled, add some hot pepper powder and small pieces of shallot, and then the soup is done.
Pour the soup on the noodles and mix them well. The Saozi Noodle is done and you can enjoy it now.
Wheat Starch-Tapioca Flour Dough
This dough is a favourite of the master dim sum chefs, the dai see fu, of the Chinese kitchen, because it can be shaped and sculpted. It is perhaps the most traditional of dumpling dough, which is used for a variety of dim sum preparations and is not at all difficult to form. The small, individual pieces of the dough, used to fashion the dumplings are called pei, or "skins" in the Chinese kitchen.
1 cup wheat starch
½ cup tapioca flour
¼ teaspoon salt (optional)
1 cup boiling water
1 ½ tablespoons peanut oil
To form the Dough
1. - In a bowl place the wheat starch, the tapioca flour, and the salt. Mix well. Pour in boiling water and mix quickly. Add peanut oil and continue to mix. Mixing is best with a pair of chopsticks or a wooden spoon. The consistency should resemble a biscuit mix, dry and slightly crumbly. Mix until the dough, while still heated, is sufficiently cool to the touch, and can be kneaded.
2. - Knead with your hand in the bowl until a smooth mass of dough is formed. Remove from bowl, knead a few times, then cut the dough in half and place both halves in a plastic bag. Allow to cool and to sit for at least 30 minutes before working with it.

To form the Skins
1. - Before working with the dough, oil the work surface. Soak a paper towel in peanut oil and repeatedly rub across the blade of a Chinese cleaver across the folded towel so that the blade is slightly oiled.
2. - Roll each half of the dough into a sausage-shaped length. The lengths will vary with the sizes of the dumplings made, as you will see, but each length will be cut into 1-inch segments. Each segment will be rolled into a small ball, and then pressed down with the palm of the hand, then finally pressed flat with the broad side of the Chinese cleaver to create round dumpling skins. (These rounds will vary in size as well, with dumplings made, but the technique employed is identical).

Note: When working with the dough half, use one at a time and keep the other in the plastic bag. For each of the following dumplings that use this skin, you should make five skins at a time. The remaining pieces should be kept under plastic wrap. Always do your dumplings in multiples of five. This ensures the dough will remain moist and pliable.
Note: When making each individual skin, a tortilla press rubbed with peanut oil may be used. The skin produced will be thicker, however. Preferably use the cleaver blade, the classic way of the dim sum chefs.
Shrimp Dumplings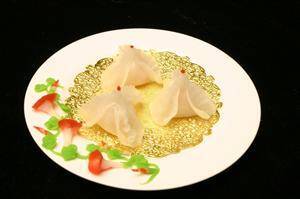 Har Gau is the most famous dim sum in China, and if one is to judge by the number consumed at dim sum restaurants everywhere, perhaps in the world. It is light and delicate and flavoured by all. Chinese children regard Har Gau with the same reverence that American children give to Hamburgers.
½ pound shrimp, shelled, deveined, washed, dried, and diced
½ teaspoon salt
1 ½ teaspoon sugar
1 egg white, jumbo size, beaten
1 ½ tablespoons tapioca flour
2 teaspoons oyster sauce
1 ½ teaspoons sesame oil
Pinch of white pepper
¼ cup water chestnuts, diced
1/3 cup white portion of scallions, finely chopped
¼ cup bamboo shoots, diced
1 Wheat Star-Tapioca Flour Dough recipe
Makes 30 dumplings
1. - Place shrimp in a large bowl.
Add salt, sugar, egg white, tapioca flour, oyster sauce, sesame oil, and white pepper and mix together. Add water chestnuts, scallions, and bamboo shoots and combine thoroughly and evenly. Remove the mixture from the bowl, place it in a shallow dish, and refrigerate uncovered for 4 hours, or overnight, covered.
2. - With Wheat Starch-Tapioca Flour Dough, using the techniques as described, make two sausage-shaped lengths of dough, 15 inches each. Cut each length into 15 one-inch segments. Make dumpling skins 3 inches in diameter. Form 5 at a time, keeping dough not being used under plastic wrap.
3.- Form the dumplings:  Place 1 ½ teaspoons of shrimp filling into the centre of each skin, then fold the skin in half, forming a crescent or half-moon shape.
4. - Hold the dumpling securely in your left hand, then begin to form pleats with the fingers of your right hand along the curve of the crescent. Continue to form small pleats until the dumpling is completely closed. Press the top pleated edge of the dumpling between your thumb and index fingers to seal it tightly. Tap the sealed edge lightly with your knuckle to give the dumpling its final shape. Repeat until all dumplings are done. (As your proficiency increases, increase the filling to 2 teaspoons)
5. - Steam the dumplings for 7 minutes and serve immediately.
Serving Suggestion: Some people prefer eating Har Gau without a sauce or dip, but try them with a bit of Hot Mustard, or with a mix of the mustard with Chinese chilli paste.
Note: Har gau may be frozen for future use. They will keep at least 3 months when piled neatly and wrapped in a double layer of plastic wrap and then in foil. To reheat, defrost, and then steam for 3 to 5 minutes.

Sichuan Ma Po Beancurd  (Si Chuan Ma Po Doufu, 四川麻婆豆腐)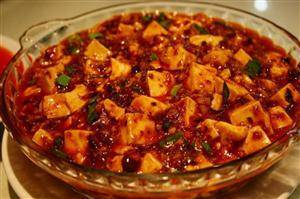 4-6 portions with other dishes

3-4 cakes bean curd (tofu)
2 tablespoons salted black beans
4 tablespoons vegetable oil
180g (6 oz) minced or ground pork or beef
Salt to taste
Pepper to taste
3 slices root ginger, finely chopped
60g (2 oz) Sichuan pickles, chopped
3 spring onions (scallions), chopped
2 dried red chillies
5 tablespoons chicken stock
2 tablespoons light soya sauce
1 tablespoon chilli sauce
1 tablespoon Sichuan hot bean paste (optional)
2 tablespoons rice wine or sherry
1 tablespoon corn flour (cornstarch) blended with 3 tablespoons water
2 teaspoons sesame oil
This is a simple but distinctive dish of the common people. First cooked by a woman who had a pock-marked face –for that is what ma po means in Chinese- it has always been popular in the East and is now gaining recognition in the West.
Method: Cut the bean curd into dice. Soak black beans in warm water for 5 minutes, then drain and finely chop.
Heat oil in a wok or in a frying pan. When hot, add the meat, salt and pepper and stir-fry over high heat for 2 minutes. Add black beans, ginger, pickles, spring onions and chillies and mix together over high heat for another 2 minutes. Add stock, soya sauce, chilli sauce, hot bean paste and rice wine or sherry. Stir the mixture into sauce. Add the bean curd cubes to the sauce and turn them over to coat with sauce. Cook gently for 3 minutes. Add corn flour mixture and sesame oil. Stir the contents over medium heat for 1 minute and serve.
Serving: Serve in a deep serving bowl with ample rice.
Egg Flower Soup
This simple, healthy soup is flavoured with fresh ginger root and Chinese five-spice powder. It is quick and delicious and can be made at the last minute.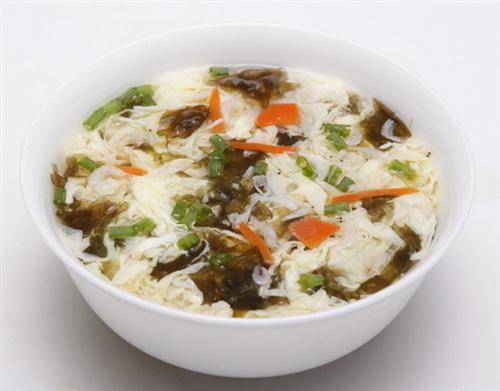 SERVES 4
1.2 litres/2 pints/5 cups fresh chicken or vegetable stock
10ml/2 tsp peeled, grated fresh ginger root
10ml/2 tsp light soy sauce
5ml/1 tsp sesame oil
5ml/1 tsp five-spice powder
15-30ml/1-2 tbsp corn flour (cornstarch)
2 eggs
Salt and ground black pepper
1 spring onion (scallion), very finely sliced diagonally, and 15ml/1 tbsp roughly chopped coriander (cilantro) or flat leaf parsley, to garnish

1. Put the chicken or vegetable stock into a large pan with the ginger, soy sauce, oil and five-spice powder. Bring to the boil and allow simmering gently for about 10 minutes.
2.Blend the corn flour in a measuring jug (cup) with 60-75ml/4-5 tbsp water and stir into the stock. Cook, stirring constantly, until slightly thickened. Season with salt and pepper.
3.In a jug (pitcher), beat the eggs together with 30ml/2 tbsp cold water until the mixture becomes frothy.
4.Bring the soup back just to the boil and drizzle in the egg mixture, stirring vigorously with chopsticks. Choose a jug with a fine spout to from a very thin drizzle. Serve at once, sprinkled with the sliced spring onions and chopped coriander or parsley.
Chilli and Pak Choi Omelette Parcels
Colourful stir-fried vegetables and coriander in black bean sauce make a remarkably good omelette filling, which is quick and easy to prepare.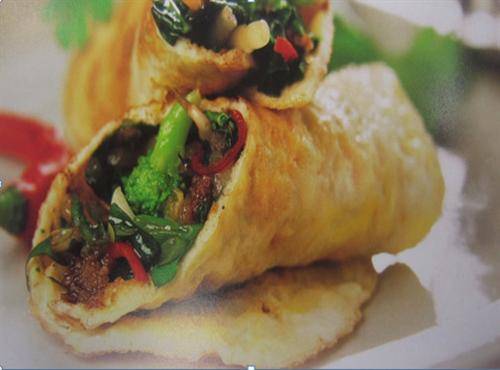 SERVES 4
130g broccoli, cut into small florets
30ml/2 tbsp groundnut (peanut) oil
1 cm piece fresh ginger root, finely grated
1 large garlic clove, crushed
2 fresh red chillies, seeded and finely sliced
4 spring onions (scallions), diagonally sliced
175g/6oz/3 cups pak choi (bok choy), shredded
50g/2 oz/3 cups fresh coriander (cilantro) leaves, plus extra to garnish
115g/4oz/2 cups bean sprouts
45ml/3 tbsp black bean sauce
4 eggs
Salt and ground black pepper

1.Bring a pan of salted water to the boil and blanch the broccoli for 2 minutes. Drain, then refresh under cold running water, and drain again.
2.Heat 15ml/1 tbsp of the oil in a frying pan and stir-fry the ginger, garlic and half the chillies for 1 minute. Add the spring onions, broccoli and pak choi, and toss over the heat for 2 minutes more.
3.Chop half of the coriander and add to the pan. Add the bean sprouts and stir-fry for 1 minute, then add the black bean sauce and heat through for 1 minute more. Keep warm.
4.Mix the eggs slightly in a bowl with a fork and season well. Heat a little of the oil in a small frying pan and add one-quarter of the beaten egg.
Tilt the pan so that the egg covers the base, and then sprinkle over one-quarter of the reserved coriander leaves. Cook the egg until set, then turn out the omelette on to a plate and keep warm while you make 3 more omelettes.
5.Spoon one-quarter of the stir-fry on to each omelette and roll up.
Cut in half crossways and serve, garnished with the remaining coriander leaves and chilli slices.
Fried Rice with Beef
One of the joys of wok cooking is the ease and speed with which a really good meal can be prepared. This delectable beef and rice stir-fry can be on the table in 15 minutes.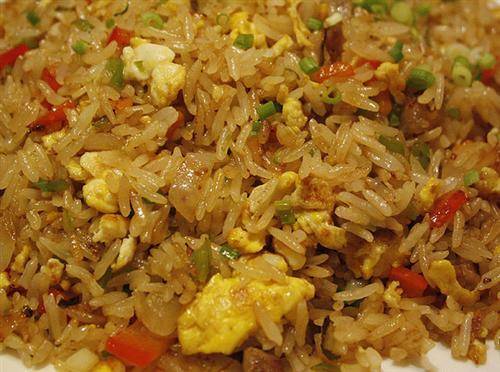 SERVES 4
200g/7oz beef steak, chilled
15ml/1 tbsp vegetable oil
2 garlic gloves, finely chopped
1 egg
250g/9oz/2 ¼ cups cooked jasmine rice
½ medium head broccoli, coarsely chopped
30ml/2 tbsp dark soy sauce
15ml/1 tbsp light soy sauce
5ml/1 tsp palm sugar (jaggery) or light muscovado (brown) sugar
15ml/1 tsp fish sauce
Ground black pepper
Chilli sauce, to serve

1.Trim the steak and cut into very thin strips with a sharp knife.
2.Heat the vegetable oil in a wok and cook the garlic over a low to medium heat until golden brown. Do not let it burn. Increase the heat to high, add the steak and sit-fry for 2 minutes.
3.Move the beef to the edges of the wok. Break the egg into the centre.
4.When the egg starts to set, stir-fry it with the meat. Add the rice and toss all the contents of the wok together, scraping up any residue left on the base and mixing it in. Then add the broccoli, soy sauces, sugar and fish sauce and stir-fry for 2 minutes more.
5.Season to taste with pepper and serve immediately, in individual bowls, with chilli sauce.
Bean Sprouts with Salt Fish
This simple peasant dish has been elevated to gourmet status. If you can find them, use salted fillets of snapper or a tropical fish called threadfin (ma yeow yu in Cantonese).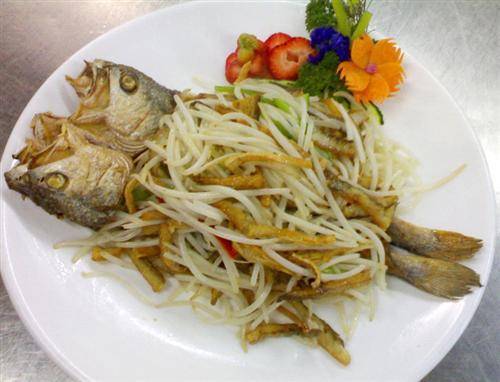 SERVES 4
100g salt fish fillet
60ml/4 tbsp vegetable oil
600g/ 1lb 6oz/2 1/3 cups bean sprouts
2 spring onions (scallions)
30ml/2 tbsp crushed garlic
15ml/ 1 tbsp light soy sauce

Cook's tip
Sprout your own soya beans, if possible. If you do buy the sprouts, however, look for ones with large heads, as these are the healthiest option.

1.Cut the salt fish into small chunks. Heat the oil in a wok and fry the pieces of salt fish until fragrant and slightly brittle. With a slotted spoon, transfer them to a board. Let them cool slightly, and then shred them roughly.
2.Wash the bean sprouts, drain them thoroughly and remove any green husks. Cut the spring onions into 5cm/2in lengths.
3.Pour off all but 30ml/2 tbsp of the oil from the wok. Heat the remaining oil and stir-fry the garlic until golden brown. Add the bean sprouts and salt fish and stir-fry rapidly for 2 minutes.
4.Add the spring onions and stir-fry for 1 minute. Drizzle over the soy sauce and stir for 1 further minute. Transfer to four warmed bowls and serve immediately.
Cashew Chicken
A popular item on any Chinese restaurant menu, this dish is easy to recreate at home. It is important to have the wok very hot before adding the chicken.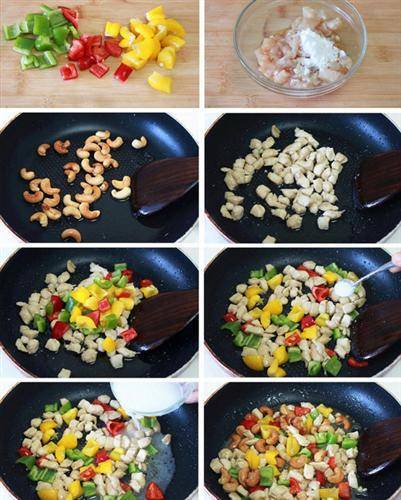 SERVES 4-6
450g/1lb skinless chicken breasts fillets
1 red (bell) pepper
2 garlic cloves
4 dried red chillies
30ml/2 tbsp vegetable oil
30ml/2 tbsp oyster sauce
15ml/ 1tbsp soy sauce
a pinch of sugar
1 bunch of spring onions (scallions), cut into 5cm/2in lengths
175g/6oz/1 ½ cups cashews, roasted

1.Trim off any excess fat from the chicken breasts fillets. With a sharp knife, cut the chicken into bite size pieces. Set aside.
2.Halve the red pepper, discard the seeds and membranes, and then cut the flesh into 2 cm dice. Peel and thinly slice the garlic and chop the dried chillies.
3.Preheat a wok and then drizzle a 'necklace" of oil around the inner rim of the wok, so that it coats the entire inner surface. Swirl the wok to make sure it is even.
4.Add the garlic and dried chillies to the wok and stir-fry over a medium heat until golden. Do not let the garlic burn, otherwise it will taste bitter.
5.Add the chicken breast pieces and stir-fry until cooked through, then add the red pepper. It the mixture is very dry, add a little water. Stir in the oyster sauce, soy sauce and sugar. Add the spring onions and cashew nuts.
6.Stir-fry for a further 1-2 minutes, until heated through, and then serve immediately.
Egg tarts
These delectable little tarts demonstrate the hybrid Portuguese-Chinese nature of the food from Macau, which was a Portuguese enclave for over four hundred years. Over the centuries, these have become a favourite throughout the region and is the only Chinese dessert containing cheese.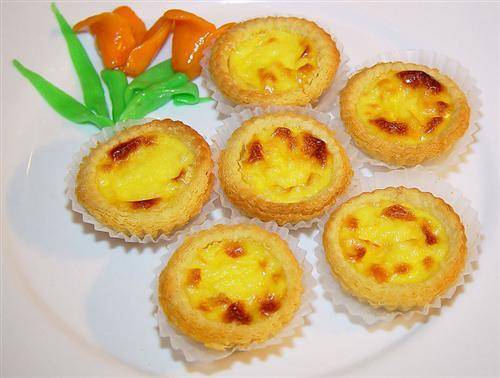 MAKES 24
150 ml- ¼ pints - 2/3 cup single (light) cream or whipping cream
75 ml/5 tbsp sugar
45g mild Cheddar cheese, grated
3 large eggs, lightly beaten
A pinch of salt
2.5ml - ½ tsp vanilla extract
175ml/6fl oz - ¾ cup full cream (whole) milk
450g/1lb short crust pastry, thawed if frozen

1. Pour the cream into a large, heavy pan and stir in the sugar. Heat gently, stirring continuously, until the sugar dissolves, then bring to the boil, still stirring. Be careful not to let the mixture stick on the bottom or it will burn.
2. Add the cheese to the cream mixture and cook over a low heat until the cheese melts and the mixture is smooth. Remove the pan from the heat and set aside until the mixture has cooled a little.
3. In a bowl, beat the eggs lightly with the salt. Add to the cream mixture with the vanilla extract and milk. Strain through a fine sieve (strainer) into a clean bowl.
4. Preheat the oven to 220*C/400*F/Gas 6. On a lightly floured surface, roll out the pastry to a thickness of around 3mm and cut out 24 rounds with a pastry cutter. Fit these into two 12-hole tartlet tins (muffin pans), pressing them down gently.
5. Pour the filling into the pastry cases, filling them almost to the top. Bake for 20 minutes or until the filling has set and is golden brown. Remove from the tins and cool on wire racks. Serve warm.
Restaurants
LukYu Tea House
24-26 Stanley St, Central, Hong Kong
A 1930s tea house with a classic atmosphere: dark wooden booths, marble backed chairs, brass spittoons and surly waiters; some of the best dim sum in town.
Shu Zhai, Dim Sum Tea House & Chinese Cuisine
G-1/F 80 Stanley Main Street, Stanley, Hong Kong
Our local experts are always ready to create you a hassle-free tour. Get an authentic experience by contacting one of our travel advisors.