Electricity Telecommunication and Internet Access in China
In an era of information, there are three essential factors for tourists during their journey: Internet access, telecommunication, and electricity. Be aware of the differences between China and your country.
Electricity in China
The standard voltage of electricity in China is 220V 50 Hz, being twice the standard of North America and certain South American countries.
The most common plugs are the two power conducting pins and three power conducting pins. Households in China follow these standards (Hong Kong is 200V; Taiwan is 110V).
If you are not sure about what kind of voltage your devices function with, you may need an electrical converter and adapter.
Electrical Converters
Over 30 countries use the voltage of 110–130V and most European countries use the voltage of 220–230V, but different voltages may cause unpredictable damage to your electronic equipment. Check the voltage level on your battery charger and be aware of the minimum and maximum voltage it could sustain. The input specification means the voltage your device can take.  
If the voltage in China has exceeded that of your electronic equipment, you'd better buy an electric converter. It can protect electronic equipment from being burned out because of the high voltage.
Insert the electronic converter into the socket; when the converter works, the voltage will be controlled at around 110V. Then insert the battery charger into the converter and, with the help of the electronic buffer, the equipment will not be damaged.
You can buy electrical converters through the Internet or at the airport shops, and the price is usually around US$10.
Some of the chargers may have dual voltage, which can control the voltage at either 110V or 220V. The latest electronic equipment, such as smartphone chargers and laptop converters, are designed to adjust to different voltages in different countries.
Electric Adapters
An electric adapter is a compact and portable power supply transformation device.
Different countries have different kinds of plugs. In order to adapt to the specific situation in China, most of the manufacturers have produced specialized electric adapters for 2-prong straight plugs and 3-prong angled plugs. An adapter cannot control the voltage of the apparatus, only an electrical converter can.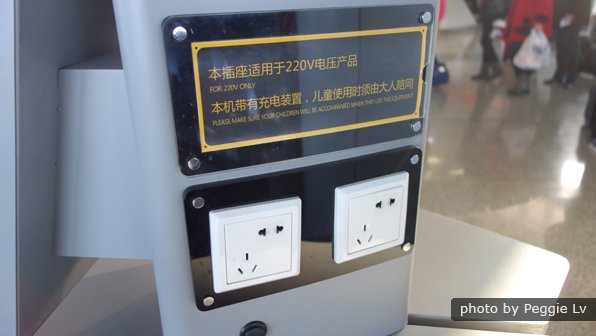 A travel adapter set is a very convenient and useful tool to have during your trip. You can buy a travel adapter set through the Internet or find one easily in a shopping mall. The price is usually around US$5–10.
Luxury hotels in China provide different types of adapters for foreign travelers. General hotels and youth hostels won't have this service.
You will see UK-style sockets in Hong Kong, so choosing the right type of adapter can be of great help.
As well as adapters you can also buy a USB charger, which relies on a USB line for transmission. The output voltage is 110V and it is convenient for charging smartphones and tablets.
Cell Phones in China
Wherever you go, the only thing you need to connect you to the rest of the world is your cell phone (smartphone). Connecting with your family and friends is easier than ever. The Internet and cellular data have made the world seem much smaller.
Not all cell phones can be used in China. A different signal format determines whether the cell phone can be used normally. Most smartphones, such as an iPhone, Samsung, etc., are able to identify signal formats automatically and adjust to the network mode. However, old cell phone models do not function like that.
If your cell phone has opened the international calls service, the first thing is to check the fee rate of the service in China. International calls are extremely expensive at about US$0.3 – $1/per minute. Be aware of the roaming charges.
Even if you are using a Chinese phone number, you will pay for roaming charges when calling local numbers from one province to another province. Using some apps or services through your smartphone may help you get information about the roaming charges.
Roaming charges may be deducted without informing you.
To make an international call from China you should remember the following: (area code) (phone number)
First is the country code, then the phone number.
For example, for the US: 001 XXX XXXX XXXX
Domestic calls: 0773 XXX XXXX     
VPN
Tourists in China always complain about things, such as, "Why can't I log-in to Facebook or Twitter?" Based on Chinese political factors, these kinds of websites have been blocked by the Chinese government. However, travelers to Hong Kong will have normal access to these websites. If you depend on Google's services, you can try a VPN app.
A VPN, virtual private network, "breaks the rules that are set by the Chinese government". Download the VPN app on your smartphone, connect to the network via the app, then you can log-in to these websites as usual.
Recommended Apps
WeChat: It is the most popular social app in China, with a simple interface, light size (low memory requirement), and easy operation.
Alipay: This is the most popular payment app in China.
Youdao Dict: This is a powerful online and offline translation app.
Internet Access in China
Internet Speed
Internet speed is developing extremely quickly in China. In 2006, the speed was around 1.0 Mbps but a decade later the speed is 100 Mbps (in Beijing and Shanghai). Luxury hotels and comfort hotels have Internet access.
Wi-Fi Coverage in China
The network is one of the fastest growing fields in China. Wi-Fi connection is becoming the most common tool in our daily lives. With the help of a router, it is convenient and easy to set up a wireless network.
The coverage rates in first and second tier cities offer free city-wide Wi-Fi in many public places, not just in hotels but also in restaurants and cafés. Some of the attractions also provide free Wi-Fi.
Free Wi-Fi is the best way for tourists to save money. Using apps, such as Skype or FaceTime, to connect with family and friends is cheaper than making international calls.
Places Where You Can Find Hot Spots
Hotels and hostels: The Wi-Fi signal will cover each floor in your hotel, so find the one with the strongest signal and enter the password on your room card. Some hostels only have Wi-Fi in the lobby; you may need to get the code to access the Wi-Fi connection.
Starbucks and McDonalds: Connect to their official websites to get the code.
Attraction entrances: Queuing up to purchase an entrance ticket? Have you searched for a wireless connection while you're waiting? Some of the entrances may have free Wi-Fi. Try it!
Local restaurants and cafés: Routers are cheap so setting up Wi-Fi in these establishments is probably a wise choice in order to attract more customers.
Downtown: The connection in downtown areas is set up by China Telecom or China Mobile. If your phone number doesn't belong to either of these companies then you can't connect to it.
As mentioned before, certain types of websites have been blocked by the Chinese government, such as Facebook, Twitter, YouTube, Google, and other social websites. Laptops and tablets also need VPN to access those kinds of websites. You need to adjust to the network problem in China and make preparations accordingly prior to your departure.
SIM Cards in China
There are three major telecom operators in China.
Different operators have different services for you to choose. All of them have branches in every city. You can buy a prepaid SIM card in mobile shops or telecom outlets. It is the easiest way to get a phone number in China and to save money.
When it comes to SIM cards, make sure you get the right size SIM card, which is suitable for your phone. With the development of the smartphone, the SIM card slot is getting smaller and smaller.
Usually, there are three sizes of SIM card: a traditional SIM card, a Micro SIM, and a Nano SIM. For example, an iPhone 4 uses a Micro SIM, and the iPhone 5 and iPhone 6 use a Nano SIM.
You must have an unlocked phone. An unlocked phone means you can use any mode of network in China. Most of the phones sold in the US are locked. You can search on the Internet to find out how to unlock your phone.
If you need mobile data, a prepaid SIM card with 1GB of data is about US$10 for a month. This service has mobile data only — no voice or message services are included. When the mobile data limit is exceeded, you will have to pay the extra fee of US$0.6/MB.
Tips
"Do as the Romans do." The lifestyles and policies in China are quite unique. Learn more about them before you set off.
Our local experts are always ready to create you a hassle-free tour. Get an authentic experience by contacting one of our travel advisors.